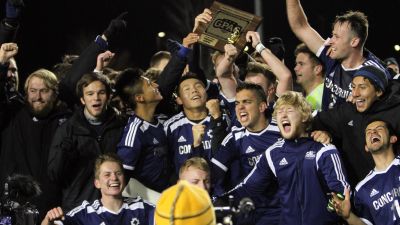 Considering the perennial conference supremacy of the opponent faced on Nov. 12, 2015, the outcome seemed to be something of a foregone conclusion. The Concordia University men's soccer team was supposed to be just the latest victim as 19th-ranked Hastings moved forward for yet another national tournament appearance. A sixth seed in the conference tournament, the Bulldogs had crashed the GPAC postseason championship game party in a run that was already a Cinderella story.
A year later (in 2016), the Broncos would go on to win an NAIA national title. But on this particular night, it was head coach Jason Weides' program that would celebrate a breakthrough moment. Even on a chilly evening, a cooler of icy water dumped over Weides felt quite refreshing.
Said Weides in the aftermath of the season, "I'll never forget the moment in which we captured the GPAC tournament title – just the excitement on the guys' faces and how happy they were. They put in a lot of hard work to get to that point. It was great to see them be rewarded."
There had been some close calls, but Concordia had not defeated mighty Hastings in men's soccer since 1998. No one knew it at the time, but this GPAC championship clash would mark Chris Kranjc's final game leading the Broncos, a program he had guided to a 2010 national championship. A confident Bulldog team spoiled the night and shut out potent Hastings, 1-0. It was an outcome few people saw coming. At one point that season, Concordia stood at 1-3-1 in conference play after being blown out at home by Nebraska Wesleyan.
Such results could not have foreshadowed the postseason run that was yet to come. Starting in the quarterfinals of the GPAC tournament, the Bulldogs rode a 74th-minute goal from Sean Doran to a 1-0 victory at third-seeded Northwestern. Concordia was back on the rode four days later for a stalemate of a battle at No. 2 seed Midland. Another memorable evening unfolded under the lights as the Bulldogs emerged in front, 4-3, in the PK shootout that followed a 0-0 draw.
The road to a GPAC tournament title could not get any more challenging. With Hastings up next, Concordia would have to beat each of the conference's top three seeds – all on their home turf – in order to secure the program's first-ever bid to the opening round of the NAIA national tournament. It made the accomplishment all the more thrilling – and impressive.
The emotions poured out from both sides when time ran out on that mid-November night. Hastings was shocked and its bid to nationals was now in jeopardy (the Broncos were eventually left out of national tournament). Conversely, the Bulldogs were jubilant. One of the more unique characters on the team, Mark Campbell had trouble toning down the excitement for a postgame interview.
Said Campbell, "I just can't believe it. This is what we've been striving for three or four years now. We've never beaten them. After last year and the heartbreak of losing in the last minute, this is what we deserve. We've deserved this. If you look around, the emotions and everybody – it's just amazing. We're going to nationals."
The only goal all evening came in the 66th minute when Tyler Jensen got behind Bronco defenders and slotted the ball past the keeper. A throng of Bulldog fans that made the drive to Hastings erupted. Suddenly, the prospect of an upset got serious. Of course goalkeeper Mark Horsburgh and the entire unit deserved praise for running through the postseason without allowing a single goal. Horsburgh made nine saves versus Hastings to preserve the clean sheet. The Broncos had averaged 3.0 goals per game and featured prolific striker Daniel Whitehall.
A talented Concordia squad had finally put things together after an up-and-down regular season. Not one Bulldog was selected as a first team all-conference selection, although forward Julian Amaya, midfielder Lewis Rathbone and defender Justin Lawrie picked up second team honors. Somehow, they still believed after some bumps in the road.
"I think the biggest thing was that guys continued to believe in what we had laid out for expectations," Weides said in reflection of the postseason run. "They continued to believe in what we could accomplish as a team. They were steadfast in thinking about their goals and not letting themselves stray from that. I think the fact that our mentality didn't change despite the challenges was what propelled us."
The victory over Hastings carried the Bulldogs into the national tournament (a 3-0 loss at No. 2 Oklahoma Wesleyan) and provided momentum into the future. Concordia went on to appear in the GPAC final again in 2016 and 2017. The '17 squad is arguably the best in program history. It went 16-3-1 while setting a school record for wins in a season. However, it was the '15 squad that set a new bar and broke down barriers.
Said Horsburgh back in 2015, "To be the underdogs throughout the whole postseason tournament is something we relished and it makes winning the GPAC title even sweeter. We never doubted our team once and I think that brought all of us closer this year."
Thoughts from the players (provided in 2015) …
CARLOS ACOSTA
It's always good to beat one of the powers in the conference and nationally - but beating them in the conference final is what makes this one of the best feelings in my life! That's why I love football. It always gives you a second chance. We all remembered the 2014 season when they beat us with just one-minute-and-thirty-seconds left in the game. That was on my mind until that 12th of November of 2015. This is the result of all the hard work and discipline that the team has been putting in. It was amazing. I wouldn't trade that moment and that feeling for anything in my life!
I'm proud of this program since the moment I decided to become a Bulldog. This program has been taking huge steps from season to season. Being part of the history of the program and the history of the school is something different. I'm so proud of playing with this team. Instead of the word "team," I would name this group of people a "family." That's one of the huge factors that helped us to achieve this. We were a family with everyone supporting everyone. I really don't know how to express what I feel right now. It's really amazing. This team will be always remembered for being the first GPAC champions in history of Concordia men's soccer. That will be forever. Concordia Bulldogs - 2015 GPAC champions!!!
MARK CAMPBELL
When the clock had five seconds left and I saw other players celebrating I nearly had a heart attack because Hastings still had the ball. Once we cleared that last ball forward and the whistle went, never in my life have I felt a feeling like the relief, the adrenaline rush and sheer elation like the feeling I had at that point. To be able to celebrate with my brothers was the happiest moment I've ever had in my life.
After I came to Concordia and learned about the history of results and feats that had never been reached by the soccer team, my goal was to graduate having left a mark on the program. I did not want to just come and go, but to be remembered. It means everything to be written into the history books. We are the team that achieved what every team before us strived to achieve and the team that every future team will look to try and replicate. That's special.
SEAN DORAN
I was ecstatic. It was like an out-of-body experience. For me, it didn't fully sink in until the following day.
I think it sets the standard for future CUNE soccer teams and to say that I was apart of that legacy, means everything. It is something I will never forget.

MARK HORSBURGH
The feeling that overcame me the most was complete euphoria. We had worked extremely hard since losing there last season and it was all worth it for that moment we had together on the Hastings field. To see the excitement on teammates' faces you have gotten to know so well is something I will never forget. To be the "underdogs" throughout the whole postseason tournament is something we relished and it makes winning the GPAC title even sweeter. We never doubted our team once and I think that brought all of us closer this year.
To be written into the history books as a team is something special because we didn't rely on individuals to win us this title. We did it as group and as a team. To be able to say "we are GPAC champions" is something that we have been working towards for three or four years now and many years before us. Wow that we can say it, it is just unbelievable not just for us but everyone who has been a part of the soccer program here. I think it is a huge step for this program and I am looking forward to taking another step forward next year.
MICAH LEHENBAUER
Honestly, when the final whistle blew I just collapsed on the field. I was so tired that it took me a minute just to gather my thoughts. When I finally realized what we had just done, all that I was thinking was, "finally, finally our hard work paid off." We knew what we had to do from the beginning and we went out and did it. The blood, the sweat, the tears, the broken bones, it wasn't for nothing this time. This time there is no 'what if.' This time it's only "look what we did."
Being a part of this team means everything to me. I think of each and every one of those guys as my brother and to go out and make history with my family is the best feeling in the world. There aren't many chances that you get to do something that no one else has done before. I just can't thank God enough for giving us that chance to prove that we are more than just a team. We are the GPAC champs.
LEWIS RATHBONE
Once we scored the first goal, we knew we were going to go on and win the game. It was a feeling of accomplishment. We believed all year that we would make playoffs, and it was our aim to get to the GPAC final and make nationals. So to win the GPAC is a start of future success for the men's soccer program.
For me, the talent on our team deserved to win the GPAC championship. We knew we started the season slowly and we had challenges that we had to overcome all year, but we found our form when it really mattered in the playoffs. We played the best soccer we had played all year and we all definitely believed in ourselves throughout the playoffs. This is when we knew we were about to make history for the men's soccer program.