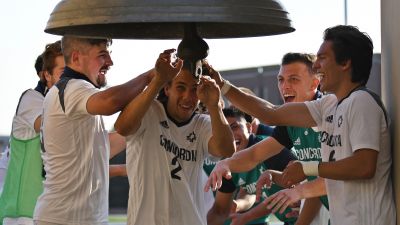 SEWARD, Neb. – The run through conference play continues to go about as hoped for the Concordia University Men's Soccer team. The goals were produced by unusual suspects on Saturday (Oct. 10) while the Bulldogs cruised to a 4-1 afternoon home victory over Jamestown. Pleasant fall temperatures in the upper 70s greeted the two sides, which played to a 1-1 draw in the 2019 meeting.
Thirteenth-year Head Coach Jason Weides' squad has won six-consecutive games (including four inside conference play) to move to 6-1 overall. Concordia (4-0 GPAC) is one of five GPAC teams without a conference loss in 2020.
"We feel happy about it overall," Weides said. "Certainly Jamestown tested us in some good ways. I thought we stood up to the challenge pretty well. It's nice to get a comfortable lead in the first half, but we knew we would be challenged in the second half. What we lacked today is getting that fourth goal earlier to put the game to bed. That's not easy to do against good teams. It was a good team win."
A key component of the back line and the reigning GPAC Defensive Player of the Week, freshman Iker Casanova had himself a fine day. He was the beneficiary of two well-placed corner kicks by Carlos Orquiz. Casanova capitalized with a goal apiece in the 41st and 42nd minutes. Those were back-breakers for the Jimmies, who found themselves trailing 3-0 at halftime.
Orquiz (one goal and two assists in the game) also found the back of the net in the 35th minute via a penalty kick. Some credit goes to Jamestown for not folding after those moments. The Jimmies' lone goal was a pretty one. After a corner ping-ponged around, Diego Valle scored on a bicycle kick from close range.
Casanova and his teammates still believe they have yet to reach their peak as a team. Said Casanova, "I think we're capable of a lot of better stuff. We're not having perfect games, but our momentum is really good. We didn't have a great match today, but we're winning. We have a lot of space for opportunity to be better."
The Bulldogs owned the shot count by a margin of 16-6 (8-4 in shots on goal). Concordia's co-leading goal scorers Moises Jacobo and Garrett Perry (five goals apiece) were held off the board on Saturday. Both put one shot on frame. In the final seconds of the contest, Ryan Wokutch put a cherry on top with his third goal of the season. He took advantage of some lazy play in the back by Jamestown (1-3, 1-3 GPAC).
During the current win streak, the Bulldogs have outscored their opponents by a combined total of 20-3. Based on the league standings right now, Concordia knows its toughest challenges are yet to come. There are some signs that the Bulldogs will be ready.
Said Weides, "I think we were prepared defensively to limit Jamestown's chances. The guys did a good job of that … it will be a challenge for us at Mount Marty at their place. Tomorrow we'll get some rest and recovery and go through some tactical stuff. We just want to make sure the guys can bounce back."
In a quick turnaround, Concordia will be at Mount Marty (1-3, 0-3 GPAC) on Monday for a 1 p.m. CT kickoff from Yankton, S.D. The Lancers proved to be much improved last season when they took Hastings to double overtime. The Bulldogs beat Mount Marty, 2-0, in 2019.