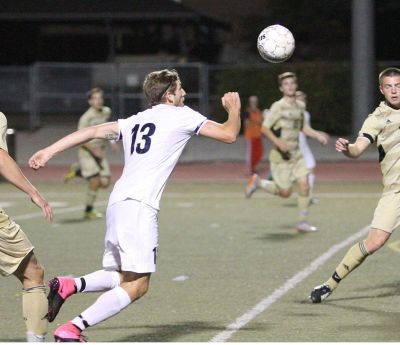 Bulldogs pull away from Nebraska Wesleyan, 3-1
Concordia University picked up a key 3-1 men's soccer win over Nebraska Wesleyan University at Bulldog Stadium on Tuesday evening. The Bulldogs improved to 5-4-2 overall on the season with a 3-2 mark in conference play. Concordia is currently tied for fourth place in the GPAC standings. The Prairie Wolves fell to 3-8-1 overall and dropped to 2-3-1 in the GPAC with the loss.
Todd May put the Bulldogs on top 1-0 with a goal early in the first half. It was May's second goal of the season, and it followed a corner kick by Aaron Skipworth. Skipworth scored later in the first half to put the Bulldogs up 2-0. Skipworth is second on the team with four goals on the year.
The score remained the same until late in the second half. Wesleyan's Brad Fullerton scored his third goal of the year to pull the visiting Prairie Wolves within one at 2-1 with just under seven minutes remaining in regulation.
Concordia's Kolt O'Kelly scored his second goal of the season in the final minute to put the finishing touches on the Bulldog win. O'Kelly's goal increased the Concordia lead to 3-1, and Nathan Douglas was credited with the assist.
Concordia held a commanding 22-9 advantage in shots. The Bulldogs totaled 11 shots in each half and also held a 10-4 advantage in shots on goal. Chris Podlich made three saves to pick up the win in goal for the Bulldogs. Scott Sutherland made seven saves in a losing effort for Nebraska Wesleyan.
Concordia hosts the Dordt College Defenders on Saturday. Game time is scheduled for 3 pm at Bulldog Stadium.