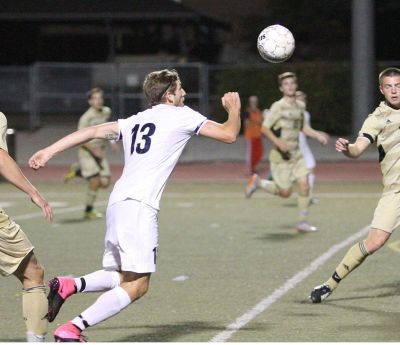 Bulldogs play to 2-2 tie with Morningside College
Concordia played to a 2-2 GPAC men's soccer tie with Morningside College on Saturday in Sioux City. The Bulldogs moved to 9-3-2 overall and 3-2-1 in the GPAC. Morningside moved to 3-11-1 overall and 1-5-1 in the GPAC.

Concordia struck first with a goal by Aaron Skipworth (Colorado Springs, Colo.) in the 21st minute. Kurt O'Kelly (Littleton, Colo.) picked up the assist on Skipworth's ninth goal of the season. Concordia took the 1-0 advantage into halftime.

Morningside tied the game with a goal just four minutes into the second half. Kory Kraker scored off an assist by Forrest Maxon. The host Mustangs took a 2-1 lead later in the half on a goal by Blake Fostvedt. Erick Ortiz had the assist.

With less than 10 minutes remaining in regulation, Nathan Douglas (Winnipeg, Can.) scored on a penalty kick to knot the score at 2-2. No goals were scored down the stretch or in either overtime period, so the teams settled for the 2-2 tie.

Concordia finished with 23 total shots (12 on goal) in the game. Tim Soenksen (Lincoln, Neb.) led the way for the Bulldogs with six total shots. Douglas added five shots with four on goal. Both Skipworth and Douglas have nine goals on the year to lead the team. Chris Podlich (Brisbane, Aus.) made four saves in goal for the Bulldogs.

Morningside finished with 13 total shots (six on goal). Kraker and Mike Marian each had three shots to pace the Mustangs. Daniel Whithorn made 10 saves for Morningside.

Concordia hosts Nebraska Wesleyan on October 19 with scheduled start time at 7:15 p.m. at Bulldog Stadium.