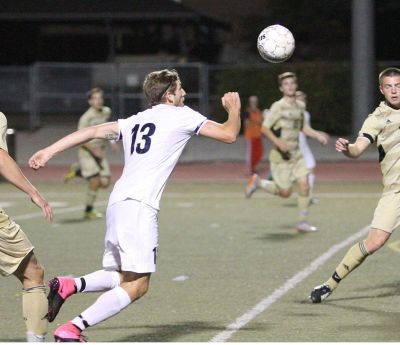 Bulldogs knock off Nebraska Wesleyan for 10th win of season
Concordia took the lead just before halftime and pulled away for a 4-0 men's soccer win over Nebraska Wesleyan on Wednesday evening. The Bulldogs are 4-0-1 in their last five matches and now sit at 10-3-2 overall and 4-2-1 in conference play. Wesleyan dropped to 5-10 (3-4 GPAC).

With less than two minutes remaining in the first half, Tim Soenksen (Lincoln, Neb.) scored his third of the season to put the Bulldogs on top. Aaron Skipworth (Colorado Springs, Colo.) picked up the assist. Fairly early in the second half, Concordia got back-to-back goals from Ian Euler (Lincoln, Neb.) and Nathan Douglas (Winnipeg, Can.) to take a 3-0 lead. The goals were scored less than two minutes apart. Matt Brink (Lincoln, Neb.) added a late goal for Concordia for the final score of 4-0.

The Bulldogs held a slight 23-19 shot advantage in the contest. Chris Podlich (Brisbane, Aus.) played the first 77 minutes in goal and made three saves on the night. Brendan Buchanan (Broomfield, Colo.) made two saves in the final 12 + minutes of play. Turner Mead made seven saves but took the loss in net for the Prairie Wolves.

Concordia hosts Briar Cliff this Saturday evening on Senior Night at Bulldog Stadium.