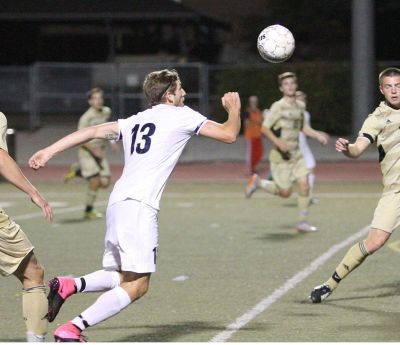 Bulldogs cruise past York College, 7-2
Concordia snapped a short losing streak with a convincing 7-2 men's soccer win over York College on Tuesday afternoon in York. The Bulldogs held a 3-1 halftime advantage and pulled away in the second half. Aaron Skipworth highlighted the Concordia win with a hat trick. Concordia improved to 7-3-1 on the year. York College dropped to 3-7-2.

The game featured five yellow cards and a pair of red cards. The teams also combined for 14 fouls in the contest. Skipworth (Colorado Springs, Colo.) opened the Bulldog scoring with a goal in the fifth minute. Raul Lopez (El Paso, Texas) picked up the assist on the opening goal. Less than seven minutes later, Concordia added to its lead with a goal by Kurt O'Kelly (Littleton, Colo.). Ian Euler (Lincoln, Neb.) had the assist for the Bulldogs. In the 17th minute, Concordia's Chris DeFeyter (Scottsdale, Ariz.) put the Bulldogs up by three off an assist by Skipworth. York College got on the board with less than 10 minutes remaining in the opening half. Chris Kistenoglu had the goal for the Panthers.

Skipworth added his second and third goals of the game early in the second half, and Concordia quickly grabbed a 5-1 lead. Matt Brink (Lincoln, Neb.) and Kolt O'Kelly (Littleton, Colo.) added goals in the second half to increase the Concordia lead to 7-1. York's Rafael Batista scored with 12 minutes remaining for the final score of 7-2. Garrett Brown was credited with the assist on York's final goal.

Chris Podlich (Brisbane, Australia) saw the majority of the action in goal for the Bulldogs. Podlich made four saves in the game. Brendan Buchanan (Broomfield, Colo.) also saw time in goal in the Bulldog win. Skipworth now has a team-high eight goals on the year.

Luis Arevalo made five saves but suffered the loss for the Panthers.

Concordia returns to GPAC play on Saturday with a home game against Mount Marty. The game is scheduled for 7:30 pm on Homecoming Saturday at Bulldog Stadium.