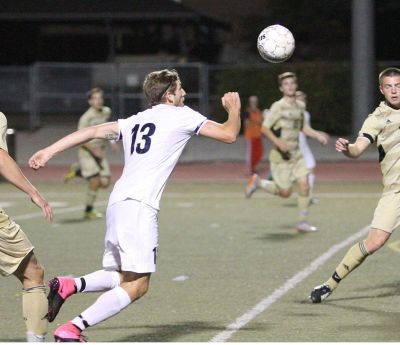 Bulldogs continue solid play with 3-0 win over Bethany College
The Concordia University men's soccer team continued its impressive start to the 2011 season with a 3-0 win over Bethany College on Thursday evening in Seward. The Bulldogs improved to 5-1-1 on the year with the victory, while Bethany remained winless at 0-6-1.
Concordia jumped out to a fast start and controlled play early in the match. Aaron Skipworth (Colorado Springs, Colo.) scored his fourth goal of the season to give the Bulldogs a 1-0 advantage. Chris DeFeyter (Scottsdale, Ariz.) had a nice assist on the play. Concordia had several other scoring opportunities in the first half but settled for the 1-0 halftime lead.
Early in the second half, Nathan Douglas (Winnipeg, Can.) scored his team-best fifth goal of the season to increase the Bulldog lead to 2-0. Skipworth was credited with the assist. Later in the half, Tyler Groskurth (Lincoln, Neb.) gave Concordia some insurance with his first goal of the season. Nick Esser (Lincoln, Neb.) had the assist, and the Bulldogs secured the 3-0 victory.
Bethany totaled 20 shots overall with 15 shots on goal in the contest. However, many of those came from distance, and Concordia goalies Chris Podlich (Brisbane, Aus.) and Brendan Buchanan (Broomfield, Colo.) had little trouble in the match. Podlich had four saves in the first half, and Buchanan totaled 11 saves in the second half.
Concordia hosts Dordt College on Saturday to open GPAC play. Dordt College (7-0 on the year) received votes in the latest NAIA Top 25 Poll. The match is scheduled to begin at 3:15 on Saturday at Bulldog Stadium.