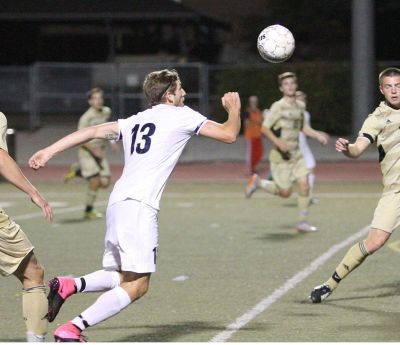 Bulldogs to be led by experience and added depth in 2010
The Concordia University men's soccer team will look to bounce back following a challenging 2009 season. The Bulldogs went 4-13-1 overall last year with a 2-9-1 record in conference play. Concordia was selected 11th in the GPAC Preseason Coaches' Poll.
Concordia brings back nine starters from last year's squad, and head coach Jason Weides is excited about the mix of his 2010 team. "It is a 50/50 blend between newcomers and returners," commented Weides. "Many of our underclassmen gained valuable experience last year, so while we are still very young, many of those guys have already been tested."
With several incoming freshmen and transfers added to the mix, coach Weides is also excited about the depth of this year's team. "We will definitely have quality depth," noted Weides. "Players 1-22 will be the strongest they've been since I've been the coach. We will have guys coming off the bench that are very capable, and we will experience no drop off when we substitute players."
Senior Jacob Lias, junior Raul Lopez and sophomore Chris Podlich will play key roles for the Bulldogs this year. Lias is a three-year starter as a defender and will be the team's leader this year. Lopez started every game for Concordia last year, and Podlich is the first returning goal keeper Concordia has had in several years. Aaron Skipworth also returns for Concordia this year. Skipworth played in 2008 and was an All-Conference forward during that season. The Bulldogs will look for him to be a consistent goal scorer this year.
"This team is hungry to prove themselves," said Weides. "Our young team faced a lot of challenges last year that will make us stronger and resilient. Last year, we were brilliant one half and poor the next or the other way around. We need to be more consistent half to half this year."
Concordia opens the 2010 season at William Penn University on August 27 at 7 p.m.