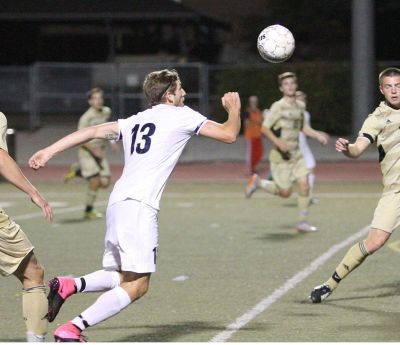 Bulldogs and Tigers play to 0-0 tie
Concordia University played to a 0-0 tie with Doane College in GPAC men's soccer on Wednesday evening in Crete. The Bulldogs moved to 11-3-3 (5-2-2 GPAC), while Doane moved to 7-8-1 overall (5-3-1 GPAC). Concordia is now third in the GPAC standings heading into Saturday's contest at Northwestern College.
Concordia totaled four shots in the opening half of play compared to three for the Tigers, but the game remained scoreless at the half. Each team totaled seven shots in the second half, but again, neither team could put home a goal. Doane played the final 16 minutes of the second half a man down following a red card given to Justin Hill.
Bulldog goalie Chris Podlich (Brisbane, Aus.) made six saves in regulation, while Doane goalie Greg Beall made four saves in the first 90 minutes for the Tigers.
Doane College held a 4-1 shot advantage in the first overtime period. Podlich made two saves in the period. Each team had one shot in the final overtime, but the game ended in the 0-0 tie.
Doane finished with a 15-13 overall shot advantage on the night. The Tigers put eight shots on goal compared to five for the Bulldogs. Aaron Skipworth (Colorado Springs, Colo.) totaled a match-high seven shots to lead Concordia. Jake Miller and Tom Heavey each had four shots for Doane. Podlich finished with eight saves on the night, while Doane's Greg Beall made five saves in the first 108 minutes of play. Eric Emerson finished the game in goal for the Tigers.