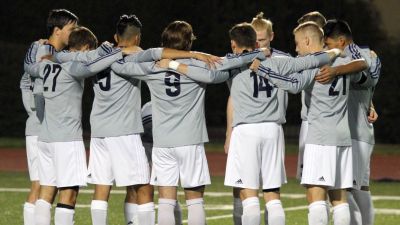 NOTE: A shortened version of this story first appeared in the winter edition of Concordia University's Broadcaster magazine. Below is the full version.
On Nov. 12, 2015, the Concordia men's soccer program celebrated an improbable GPAC postseason championship with an upset of arch nemesis Hastings in the title game. After years of dreaming about reaching such heights, the Bulldogs had truly arrived. Six years earlier, Concordia posted a 2-9-1 conference record.
The patience of even-keeled head coach Jason Weides paid off. He had taken over the program in 2008 as a then wet-behind-the-ears alum and a former All-GPAC player himself. The Kearney native spent the previous three seasons as an assistant on the Concordia staff, collaborating with head coach Art Busha on a team that went 4-14 overall in 2007. The creation of a winning culture was going to be a process.
A number of factors have paved the way for Concordia's climb up the conference ladder. Improved facilities and resources and the progression of Weides as a head coach have all played a role. At some point, the Bulldogs had to destroy the notion that they weren't supposed to compete for championships. After three below .500 seasons to begin Weides' tenure, the 2011 team produced a breakthrough, winning 11 games, one short of a program record at the time.
Says Weides, "We finally had a team that truly believed they were going to go out and beat teams. That team had a bit of a swagger. They believed they were the better team. They wanted to prove it. They were hungry. They had a very competitive attitude. Not that we didn't have that in years past, but it was the first year that I saw that all really come together amongst the whole team. They were one of the first teams that didn't make excuses as much. When teams don't make excuses you start to do some really good things."
That 2011 squad included just three players from outside the United States, though then sophomore Nathan Douglas (Winnipeg, Canada) would turn out to be one of the program's all-time greats. In the present day, Weides has faced a new challenge of having to fuse together teams featuring many different backgrounds and cultures. The 2017 squad included 10 players from outside the U.S.
Concordia men's soccer has truly gone global in its efforts to compete with perennial conference powerhouse Hastings. Born in Ascot, England, Toby Down moved to Hong Kong with his family at the age of three. He's been an impact player all four years as a Bulldog and is the type of recruit that perhaps would have eluded the program in the past. As a senior, Down has lived with teammates that represent Ecuador, England, Hong Kong, Spain and the U.S.
"It's so much fun and everyone learns new things," Down said. "It's a good example of how good you can be when there is a good culture. I think living together was so important this year. Just being together every day only makes your connections stronger. Coach Weides and his wife (Erin) were nervous. They thought having us all in one house might lead to some bad decisions, but we were all so committed to one goal that it actually worked out really well."
Weides and influential assistant coaches through the years such as Benny Hanaphy, Nick Holmes and Nico Luque and current grad assistants Jan Chvojan and Dan Ball have helped bring in the right mix of talents from pools near and far. Weides has stayed closed to home to acquire players like Lincoln native Gideon Soenksen, a 2014 first team All-GPAC choice. He's also ventured much farther to land others like Cordoba, Spain, native Florian Caraballo, a 2016 and 2017 first team all-conference selection.
While here, players of these many backgrounds have often melded to become more than just teammates under Weides' guidance. By 2013, the culture had been altered significantly. But top-of-the-GPAC finishes and postseason success were still out of the program's grasp. Things changed that fall of 2014 when Down and Micah Lehenbauer (Kathleen, Ga.) first arrived as freshmen.
"We had to get used to handling pressure situations," Lehenbauer said. "Seeing from my freshman and sophomore year, in these big games in pressure situations our team would sometimes crack and we couldn't handle the pressure. We would give away a cheap goal or something like that. I think that's something we got better at in my junior and senior year, handling those big moments and being able to see out games."
Concordia saw out exactly 16 wins in 2017, shattering the previous school record of 12 victories in a season. In the record-breaking 13th victory, Lehenbauer experienced one of his biggest collegiate thrills by surfacing with the golden goal in double overtime in a 2-1 triumph at Midland. Lehenbauer and a senior class that ran nine-deep went out on top, no matter what the scoreboard read in the GPAC championship game at Hastings. After a 2-1 season-ending defeat in the title contest, Weides offered, "We talk about leaving a legacy and they left a great legacy."
Added Weides, "Those guys have helped us set the bar high and expectations high. When you talk about the progression from 2011, that's part of it. When you do good things the next class is hungry to continue that or better that. We're still falling short in some ways as far as what we want to accomplish, but that previous year is showing us the pathway. Then we have to figure out how we can do that a little bit better."
Each year Weides seems to figure out a way to do things a little bit better. Down says Weides is the reason he came to Concordia, a place he decided to make his new home without even a campus visit. Once here, Down marveled at the first rate facilities, which provided the program an added boost. But it was a personal connection that made the difference in recruiting.
Says Lehenbauer, "I think the biggest thing about Coach Weides is he's just very detail oriented. He wants to get every little thing right. He's going to address any problem that he can. I think that's part of the reason we've been so successful. Whether it's on a personal level or the team level, he wants to address these things and make sure we get it right down to a tee."
Attention to detail. Ramped up international recruiting. Better facilities. A head coach finding his groove. An established winning culture. Due to a multitude of factors, Concordia men's soccer continues to climb. Summed up by Lehenbauer, the prospect of competing for championships, "over time, became an expectation instead of a hope."