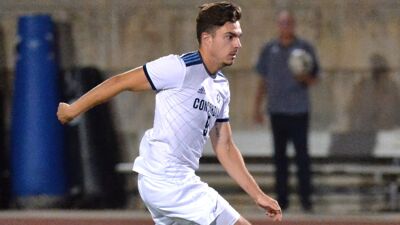 SEWARD, Neb. – As one of the league's most prolific goal scorers in 2022, Dominic Abdel-Ahad continues to garner recognition while representing Concordia University Men's Soccer. On Tuesday (Oct. 11), the native of Duesseldorf, Germany was named the GPAC/Hauff Mid-America Sports GPAC Offensive Player of the Week for the second week in a row. As a team, the Bulldogs have raked in four GPAC weekly honors this fall.
It's been a goal scoring binge of late for Abdel-Ahad, the transfer from NCAA Division II Northwest Nazarene University (Idaho). Abdel-Ahad has totaled six goals over the past three games, including three goals in last week's action (2-2 tie at Morningside and 6-0 win over Jamestown). At the beginning of the month, Abdel-Ahad recorded a hat trick in the 6-1 win over Dakota Wesleyan. He's now pushed his team high season goal count to nine. Among GPAC players, Abdel-Ahad ranks tied for second in goals and second in points (21). He's added three assists to his season stat line. Abdel-Ahad already owns a college degree having graduated from Northwest Nazarene, where he studied Marketing and Global Business.
Abdel-Ahad and the Bulldogs (10-2-1, 5-1-1 GPAC) will be back in action on Saturday when they are slated to host GPAC leading Hastings at 8 p.m. CT.