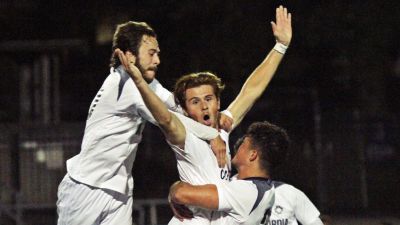 Under head coach Jason Weides, who completed his 12th season leading the Bulldogs in 2019, Concordia University men's soccer expects a lot of itself. The expectations soared especially high this fall when the Bulldogs started out 7-0 and were pushing for NAIA top 25 consideration. They also won their first four games within conference play as hopes built of a serious run at a GPAC regular-season title.
Such aspirations did not come to fruition. Injuries hit early and often and the depth of the roster was put to the test. Concordia fell back into a sixth-place GPAC finish, but the program managed to reach the 10-win mark for the ninth-straight year.
"No season ever goes quite as you expect," Weides said. "This was certainly a season like that. We hit our fair share of obstacles and some of those we were able to overcome and deal really well with. Then some other obstacles we struggled to overcome in the moment. I do think some of that will help prepare us for the future. Our own expectations are high enough that it makes it hard to think about all the positives that happened, but there were a lot of positives with this season."
The campaign saw the Bulldogs finish at 10-6-2 overall. As has happened so often in recent years, Concordia had its postseason run end at the hands of rival Hastings – this time in the GPAC tournament quarterfinals. The 2019 season will be remembered as one of opportunity for many individuals. Exactly 21 Bulldogs started at least one game. Freshmen such as Eduardo Alba, Renzo Bozzo, Moises Jacobo and Isaiah Shaddick made immediate impacts while players like sophomore Decker Mattimoe and junior Garrett Perry took obvious steps forward.
With the 3-1 victory over Northwestern that put Concordia at 7-0 on Sept. 21, Weides had surpassed longtime coach Dr. Jack Kinworthy for the most head coaching wins in program history. During that early-season stretch, the Bulldogs defeated perennially strong NAIA programs such as Bellevue University, MidAmerica Nazarene University (Kan.) and Oklahoma City University.
A bit of a youth movement was evident in the very first game when three freshmen appeared in the starting 11. Alba won the goalkeeper spot out of fall camp and even earned a GPAC Defensive Player of the Week award after the season's first two games.
"There were a lot of guys who had opportunities," Weides said. "There were some young guys who got a lot more playing time in the back half of the season and some guys took on greater roles as the season went on. Decker Mattimoe is one of those guys who became more and more important, stepped up and had a great sophomore season. He was a rock along our back line. Moises Jacobo stepped up early in the year and some guys like Matt Schultz and Mauro Figueroa really took advantage of the opportunities they had."
Injuries hit their hardest at an inopportune time. From a period that spanned from Oct. 9 – 19, Concordia played games against the four teams that wound up as the one through four finishers in the GPAC regular-season standings. At certain points, the Bulldogs had as many as seven key performers sidelined. In the Oct. 9 matchup with eventual national qualifier Midland, Concordia earned a 1-1 draw with the help of the team's highlight reel goal of the season, turned in by Garret Perry.
Unfortunately, that result did not lift the Bulldogs' play down the stretch. They went 1-4-1 over the final six games of the regular season. Instead of thinking about what could have been, Weides would rather his team focus on what it learned and how those lessons will make a positive difference moving forward.
"They know what the big games and the important games feel like," Weides said. "They've been through those moments now and they know what it's going to take individually and collectively. They know what it's like to have things go wrong in a season or things they didn't see coming pop up. Though we faced many challenges and fell short of our goals, I'm confident this will be a great opportunity to prepare us for next year."
For the seniors, there won't be a next year, at least not on the collegiate level. Seniors like Carlos Ferrer (12 games) and Roger de la Villa (eight games) likely came away feeling robbed after missing significant amounts of the season due to injury. Ferrer still picked up honorable mention All-GPAC honors. Though not 100 percent, Ferrer returned to play in the GPAC tournament at Hastings.
By season's end, Concordia had outscored its opponents by a combined total of 38-21. The goal scoring for the Bulldogs was a team effort. Jacobo contributed six goals and five assists, Perry notched five goals and three assists, Shaddick posted four goals and four assists and Ferrer recorded four goals and two assists. Meanwhile, Ryan LeTourneau turned in a hat trick in a blowout win over Presentation.
A run of five-straight postseason advancements to at least the GPAC semifinals ended this fall. The program appeared in the GPAC tournament final three-straight years from 2015 through 2017 with the GPAC tournament championship of '15 remaining a mountaintop moment in school history. A return to such heights will require some offseason rehab and a spring semester of significant growth.
Things are not necessarily getting easier within the GPAC. A third-place conference finisher this season, Hastings eventually reached the national championship game. The dream for Concordia is to someday make it to the final site of the national tournament.
"The message is that our season starts now," Weides said. "Why defer getting better? Our goal is to get better all the time. We want to use this time we have in January, February, March and April. How can they individually get better? I think this offseason is about trying to forge that mental toughness and grit that we demonstrated at times, but not consistently enough to achieve our goals. We're likely to face some challenges next season that we don't expect. If we're to meet them then we need to foster that mental grit."