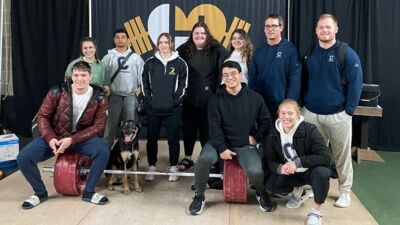 OMAHA, Neb. – As a precursor to the Collegiate Weightlifting National Championships in March, the Concordia University Weightlifting team entered seven athletes into action at the Heartland Open on Jan. 21. Five Bulldogs emerged from the open event with titles in a show of continued improvement for the program. The event, hosted by Heartland Strength in Omaha, Neb., featured roughly 70 lifters and marked the third outing of the 2022-23 season for Concordia Weightlifting. Collegiate weightlifting tests each athlete in the disciplines of snatch and clean and jerk.
Head Coach Freddie Myles was pleased to see that his athletes kept up with their training during the Christmas break. This marked the team's first competition since the Midwest Regionals on Nov. 5.
"Overall, it was a great meet for the team and a good steppingstone for those lifters competing at nationals in March," Myles said. "It showed they did their programs over break. They were all in good shape. They came in ready to compete only a couple weeks into the semester. Six of them are going to be going to nationals. I'm really pleased with their performances. They made a majority of their lifts and I think they're ready for a good showing in six weeks."
The first-place claims at the Heartland Open came from Mary Berris (49kg), Rylee Kara (92kg) and Sydney Wadsworth (87+kg) on the women's side and from Evan Fukuhara (81kg) and Mitch Myers (89kg) on the men's side. A native of Sacramento, Calif., Fukuhara joined the program this semester and competed as a Bulldog for the first time.
Highlights from the Heartland Open
· Mary Berris – went 4-for-6 and placed first in the 49kg class.
· Evan Fukuhara – went 6-for-6 and placed first in the 81kg class in his first career competition at Concordia.
· Rylee Kara – went 5-for-6, set a new clean and jerk personal record of 92kg and placed first in the 64kg class.
· Kayleigh Maloney – went 5-for-6 on her lifts.
· Mitch Myers – went 6-for-6, set new personal records, improved 6% from regionals and placed first in the 89kg class.
· Sydney Wadsworth – went 6-for-6, improved her total 3% from regionals in November and placed first in the 87+kg class.
Both Kayleigh Maloney and Joe Vega took things lighter while preparing to be at full strength come March. Concordia looks forward to nationals when it will be represented by Berris, Fukuhara, Kara, Maloney, Myers and Vega.
Said Myles, "We're hoping for everyone to get a few percentage points higher. I think they can all improve before the next meet and hopefully place as high as possible on the medal podium. It was good to get Evan a competition. He made all his lifts and he was only three kilos from his all-time best total. It was a learning experience for him as far as working with me and me warming him up. For me, I had to learn how he competes."
Collegiate Weightlifting Nationals are scheduled to run March 3-5 in Columbus, Ohio. Meanwhile, Myles will take the powerlifters to the Nebraska State Championships at Midland this Saturday (Jan. 28).