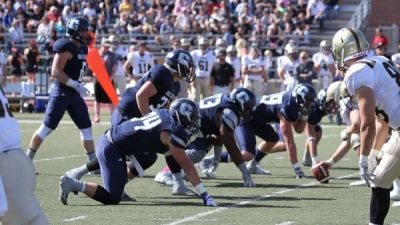 Defense suffocates Midland
SEWARD, Neb. – The Bulldogs overcame a pair of potentially costly mistakes thanks to a dominant defensive effort that led Concordia (5-4, 4-3 GPAC) to a 23-14 Senior Day victory over visiting Midland on Saturday. The Bulldog defense suffocated the Warrior offense in limiting them to 118 total yards.
"Defensively, it was just a great effort because that's an improving offense," Concordia head coach Vance Winter said. "They've been a much improved offense as the season's gone on. We put them in bad spots to set up the points we scored. It was a great performance."
The Midland (3-5, 2-5 GPAC) offense had one last shot to make up for a game's worth of struggles after a Joe Marshall punt pinned the Warriors back at their own one-yard line with 3:58 left in the game and Concordia holding onto a 16-14 advantage. However, Midland failed to move the chains even once and turned it over on downs as quarterback Mike Karls' pass sailed high on fourth and four.
Three plays later Bulldog running back Aaron Gillory plunged into the end zone from three yards out to put the game out of reach with under a minute remaining. The junior running back finished with 68 rushing yards on 16 carries for a ground attack that piled up 236 rushing yards on the day.
"We really made an emphasis this week that we wanted to run the football better," Winter said. "We did it well in spurts today. We really struggled with some inconsistency on offense and didn't finish some drives the way we would like, but our kicking game with Kenny (Zoeller) was big in making all three field goals."
But the biggest story on this day was the performance of a Bulldog defense that allowed only 24 passing yards. Midland's longest drive of the game was only 30 yards and it went three-and-out on five occasions.
"I think we played free for once," senior defensive lineman Michael Voelker said. "We knew the offense could take care of business. We just had to do our job. We just tried to play lights out. We were close. We gave up one touchdown – it was a cheap one – but we came out aggressive and we did our jobs."
One of the Warriors' more promising drives culminated with a turnover after junior cornerback Derek Blessing ripped the ball free from Martin Kene and junior Cody Hawk lunged on top at the Midland 41-yard line with 5:41 left in the fourth quarter. The turnover came on the heels of two Midland first downs as the Bulldogs clung to a 16-14 lead.
The Warriors took a 14-13 at the 5:34 mark of the third quarter when Marshall's punt was blocked by Derek Coufal and plucked out of the air by Riley Royal who raced 22 yards to the end zone. The touchdown marked the second of the day off of Concordia turnovers.
The Bulldogs regained the lead early in the fourth quarter when senior kicker Kenny Zoeller booted his third field goal of the day, and 15th of the season, to make the score 16-14. Zoeller's kick capped a 63-yard, 13-play drive that milked 7:16 off the clock.
Midland also led 7-0 after cashing in on a Riley Gross interception that positioned the Warriors at the Concordia 28 late in the first quarter. Dominic Blood scored Midland's only offensive touchdown of the day by pounding across the goal line from five yards away to finish a six-play scoring drive.
The Bulldogs responded quickly with a touchdown of their own on the next drive. Sophomore quarterback Von Thomas, who finished with a game high 107 yards on the ground, went off right tackle and sprinted 24 yards to the end zone to complete an eight-play, 75 yard drive that finished at the 12:06 mark of the second quarter.
Saturday's effort was the first 100-yard rushing game in the career of Thomas, who leads the team with 410 rushing yards on the season. Thomas is the second Bulldog this season to go over 100 yards on the ground, joining sophomore Mitch Reed who amassed 125 rushing yards in the rout of Briar Cliff.
Zoeller, who entered the game second in the NAIA in field goal makes, also connected on field goals of 36 and 32 yards on the day. The Spring, Texas, native has rebounded from a tough junior year to become of the top kickers in the nation this season.
"Coach Courtney Meyer has emphasized visualization," Zoeller said in deflecting credit for his stellar season. "That's what it is – visualize the kick going in and it's going to go in. I've been putting a lot of work into that and just remaining consistent. I also have to give credit to my snapper and my holder."
Voelker, Zoeller and 15 other seniors were acknowledged prior to the game as they prepared to play at Bulldog Stadium for the final time of their careers.
"Great guys," Voelker said of his fellow seniors. "Just a whole group of great guys that want to keep fighting and keep winning. We stuck around. We've been through a lot of trials and errors. It's a great group to work with. I love every single one of them. I love this whole team. It was a great win."
Voelker had five tackles, including one for loss. Junior linebackers Langston Jones and Dylan Heithoff tied for the team lead with seven stops each. Jones also added a sack on what turned out to be the final play of the game.
The senior class was part of a 2009 team that went 3-7 in Winter's first year at the helm. With five wins this season, Winter set a new personal high as Bulldog head coach.
Next up for Concordia is a date with first-place and undefeated Morningside (8-0, 7-0 GPAC) at 1 p.m. on Nov. 3.