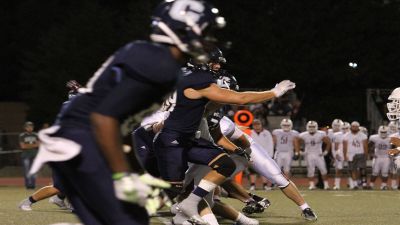 Wurdeman's Concordia career defined by on-field greatness, friendships off it
By Jake Knabel, Director of Athletic Communications
Every great athlete has a signature performance, that moment in time when people remember where they were as it unfolded. Fans in attendance at Bulldog Stadium on Nov. 17, 2001, surely recall the most unforgettable play ever made by then senior tight end Ross Wurdeman.
On a third-and-16 from its opponent's 32-yard line, Concordia lined up with a trips formation to the right. Wurdeman, split out as the far receiver, caught quarterback Jarrod Pimentel's pass at the 26, feinted a pitch to the inside slot receiver, spun around and raced to the end zone, leaving behind a trail of stunned defenders.
In a pivotal game, it was just one of many crucial plays made by the Columbus, Neb., native, who ended up with nine catches for 138 yards and two touchdowns. In arguably the most significant win in Concordia football history, the eighth-ranked Bulldogs defeated No. 13 St. Ambrose, 31-26, that day in the first round of the NAIA playoffs.
Wurdeman's spontaneous decision not to pitch the ball on a designed hook-and-ladder play put Concordia ahead for good early in the second quarter. Said Wurdeman at the time, "It was kind of a spur-of-the-moment thing when I kept it."
"Ross the hoss," as his teammates and coaches called him, always seemed to emerge when the Bulldogs needed him most. To this day, Wurdeman stands as the Concordia football program's all-time career receiving leader in catches (168), yards (2,458) and touchdowns (24). He was twice named an NAIA first team All-American and was tabbed to the Victory Sports Network NAIA football all-decade team of the 2000s.
Wurdeman recently received a call to join exclusive company as a member of the Concordia Athletics Hall of Fame. He will officially take his rightful place among Bulldog athletic greats at a ceremony to be held Friday, Oct. 9.
Said Wurdeman of his reaction to induction, "It's hard to explain. I was really excited. I couldn't wait to tell my wife and kids."
His head football coach for all five years, Courtney Meyer, called Wurdeman's induction "well deserved." Few players in Meyer's 19 years at the helm of the Bulldogs were as dynamic as Wurdeman, who redshirted his first season at Concordia and then quickly found his way into the starting lineup.
Between 1998 and 2001, Wurdeman posted receiving yardage totals of 647, 369, 795 and 647, respectively, as one of the nation's most productive tight ends. When the Bulldogs got near the goal line, Wurdeman was nearly indefensible.
"If he got close to the ball, he pulled it down," Meyer recalls. "He intimidated defenders, especially corners. When we'd get down near the end zone we would split him out. When we needed a touchdown he'd just go up and get it. He couldn't be defended in those situations. That's what I remember most about him as a player."
It's no accident that Wurdeman's Bulldog career turned out to be the most successful four-year period of the Meyer coaching era. With Wurdeman outjumping defenders for passes from 2010 Concordia Hall of Fame inductee Jarrod Pimentel, the Bulldogs got on a roll in 2001. They won their first eight games of the season, shared the GPAC title, stormed into the NAIA playoffs and completed the season ranked seventh in the NAIA.
Soon after a week two road win over eventual national runner up Sioux Falls (S.D.), Concordia cracked the nation's top 25 rankings. That was plenty enough to build a buzz that swarmed Wurdeman and company.
"Everyone seemed to be more excited," Wurdeman said. "The crowd seemed to get bigger and bigger every home game. I remember when we made playoffs. That was a big deal. Being able to host a playoff game, let alone win one at Concordia, that was a pretty special event."
The year 2001 was memorable for Wurdeman beyond just one incredible, game-changing play. It was the same year terrorists struck the World Trade Center on Sept. 11. It was also the year Wurdeman lost an aunt and a teammate (car accident) and, just before the season, he married Jill, whom he met at Concordia.
Despite everything going on around him, Wurdeman stayed focused and caught attention (and plenty of passes) for all the right reasons.
"As an athlete he's always been a good, sneaky player," said teammate, friend and current Concordia football assistant coach Corby Osten. "He never did anything flashy, he just did everything really well. He could catch anything. He had really good instincts. As a person he's just a good guy. He's down to Earth and humble."
Meyer never had to worry about what kind of performance he'd get on game day from his go-to pass catcher, who wore No. 3. The 6-foot-4, 250-pounder did his talking by dominating his opponents.
Says Meyer, "He was not real vocal, he just got it done. There was a humility about him, but also a swagger. He didn't talk a lot, he just did it. The offensive coordinator at the time was Bill McAllister and he used him very wisely. We had other receivers but without question Ross was the one who everybody feared."
Wurdeman's collegiate success came upon the heels of a largely pedestrian high school career on the gridiron. "No way, man. I'm a quarterback," Wurdeman, then a high school sophomore at Columbus High School, told one of his prep football coaches who suggested he learn how to play tight end. After watching Wurdeman run the floor at the state basketball tournament, Meyer was convinced that Wurdeman was playing the wrong position.
At Concordia, everything clicked for Wurdeman, who also played baseball, the sport he calls his first love, while a Bulldog. "A lot of people are high school standouts," Wurdeman said. "It wasn't until college that I realized my true potential."
On the diamond, Wurdeman supplied then head coach Jeremy Geidel's squad with a powerful, middle-of-the-order bat. Wurdeman blossomed as a sophomore, hitting .343 with nine home runs and a .655 slugging percentage. His 22 career home runs check in at No. 2 behind Pimentel on the program's all-time list.
"Ross was a big power hitter who was nice to have in the middle of the lineup," Geidel said. "He went up there and took his hacks. He was a great athlete from Nebraska. He was a joy to coach. He was just part of a fun group.
"We were very blessed to have him play both football and baseball. Being a dual-sport athlete was already becoming less prevalent. For him to do it his whole career was a testament to his dedication. He was able to compete at a high level in both sports."
Wurdeman enjoyed his time at Concordia so much that he says he would "go back and do it all over again." It's where he formed friendships with Osten, Pimentel, the Ekart brothers (Drew and Todd) and many others. Even for someone with such high honors as being bestowed honorary captain of the NAIA All-Nebraska team, Wurdeman says that his wife Jill is "the biggest prize I'll ever get out of Concordia."
Now a family man, Ross is the father to four daughters: Libby, Abby, Lauren and Nora. Everything has happened fast. He has a hard time believing that he graduated from Concordia more than 13 years ago. Still, the memories of that game-changing play linger on.
Said Wurdeman, "I could probably go on and on forever. That whole experience at Concordia was awesome."
Relive more memories from Wurdeman's Concordia career by taking part in the Hall of Fame festivities planned for Oct. 9. The event begins with dinner at 6 p.m. with the induction ceremony set to start at 7 p.m. Registration is required of attendees. To register, click HERE.
For more on this year's Concordia Athletics Hall of Fame class, click HERE.