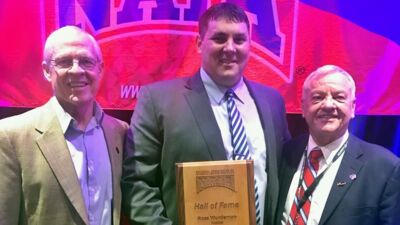 2022 Nebraska Football Hall of Fame Class
SEWARD, Neb. – Another Hall of Fame has come calling. On Monday (July 11), former Concordia All-American tight end Ross Wurdeman was announced as one of eight 2022 Nebraska Football Hall of Fame inductees. Previously, Wurdeman was honored as a Concordia Athletic Hall of Famer in 2015 and then an NAIA Hall of Fame selection in 2019. Wurdeman was one of the stars of the 2001 Bulldog Football team that won a GPAC championship and reached the quarterfinals of the NAIA playoffs.
Via Huskers.com: "The 2022 inductees were chosen by the Nebraska Football Hall of Fame, which is sponsored by the Nebraska Chapter of the National Football Foundation and the College Football Hall of Fame. The 2022 Hall of Fame class will be officially inducted at a Sept. 9 banquet in Lincoln and recognized the following day at the Huskers' home game against Georgia Southern."
By the time his collegiate career came to an end, Wurdeman '01 had been tabbed a two-time NAIA first team All-American, a two-time first team All-GPAC selection, the honorary captain of the Omaha World-Herald's 2001 All-Nebraska team and an NAIA 2000s All-Decade team member by Victory Sports Network. As a Bulldog, he caught 168 passes for 2,458 yards and 24 touchdowns. The reception total remains a program record. His first love though was baseball. Wurdeman also clubbed 22 home runs while at Concordia.
Wurdeman was coached in football by Courtney Meyer. Said Meyer of Wurdeman, "If he got close to the ball, he pulled it down. He intimidated defenders, especially corners. When we'd get down near the end zone we would split him out. When we needed a touchdown he'd just go up and get it. He couldn't be defended in those situations. That's what I remember most about him as a player."
A native of Columbus, Neb., Wurdeman is the sixth former Concordia football player/coach to be inducted into the Nebraska Football Hall of Fame. He joins Herbert Meyer, Gene Oetting, Gary Seevers, John Suhr and Erick von Fange.
The Nebraska Football Hall of Fame Class of 2022 also includes former Cornhuskers in Ron McDole, Lee Kunz, Ric Lindquist, Bruce Pickens, Toniu Fonoti and Prince Amukamara, and former University of Nebraska-Kearney coach Darrell Morris.