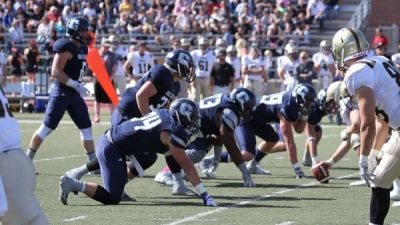 Woods: named BSN All-American; readies for D2 vs. NAIA Challenge
SEWARD, Neb. – Concordia senior safety Darnell Woods, the 2013 GPAC Defensive Player of the Year, has been named a NAIA first team All-American by Beyond Sports Network (BSN). In addition, Woods has accepted an invitation to play in the "D2 vs. NAIA Challenge" game to be played on Saturday, Dec. 21 in Myrtle Beach, S.C.
Woods is a first time All-American. The native of Phoenix, Ariz., has been named first team all-GPAC in each of the last two seasons. He is one of five GPAC players to be named to BSN's All-America first team.
The D2 vs. NAIA Challenge inaugurated in 2011 in an effort to provide more exposure for talented players at the NAIA and NCAA Division II levels. The game is designed to help promote players with aspirations of playing football beyond college.
Woods and others invited to play in the game check in at the Sheraton Convention Center Hotel in Myrtle Beach on Dec. 19 in preparation for the challenge two days later. For more information on the D2 vs. NAIA Challenge, click HERE.
Known as one of the GPAC's most devastating hard-hitters, Woods topped Concordia with a career high 88 tackles and added one interception, two pass break ups, a forced fumble and a blocked field goal on the season. Woods racked up 10 or more tackles five times, including a career best 17 versus then No. 1 Morningside, and led Concordia in tackles in five of 11 games.
Official NAIA All-American selections will be announced by the American Football Coaches' Association on Dec. 18. Last season Concordia was represented on the first team by kicker Kenny Zoeller.