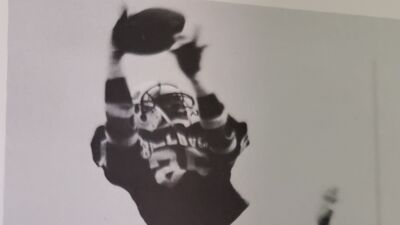 He's arguably the most talented football player to ever don Bulldog blue. In August of 1989, former game breaking Concordia receiver Clarence Woods got his shot at catching on with the NFL's New Orleans Saints. The undrafted rookie free agent made his way to training camp in La Crosse, Wis., site of experiences forever etched in Woods' memory.
Instead of clashing with rivals like Doane or Hastings, Woods found himself attempting to hold his own versus a fearsome Chicago Bears defense.
Says Woods, "I remember scrimmaging the Bears in training camp and we went up against Richard Dent, Mike Singletary and Ron Rivera – guys like that. It was amazing. You realize just how much you don't know. They were monsters. Not only is Mike Singletary tackling you, but he's yelling at you as he's tackling you. I was like, 'Okay, all right.' You saw something new every day. I had to take a step back and say, 'Wow, I am really here.'"
Woods was likely thinking something similar in the fall of 1984 when he first found himself in Seward, Neb. He chose the Bulldogs over walk-on opportunities at places such as the University of Cincinnati and Ohio State University. It's been 38 years since he first stepped on the Concordia campus, but the fond memories quickly come rushing back for Woods, an Organizational Management graduate. This September, Woods will take his place within the Concordia Athletic Hall of Fame.
It's a fitting award for someone who starred as perhaps the most feared skill player in all of the Nebraska Intercollegiate Athletic Conference in the late 1980s. His talent was so widely recognized that NFL scouts made trips to Seward just to get a look at the St. Louis native. Over his three seasons as a Bulldog, Woods racked up 125 receptions for 2,011 yards while finding the end zone a total of 16 times. His 951 receiving yards in 1988 remain a program record for a single season.
The recruitment of Woods was a major victory for then Head Football Coach Larry Oetting, who impressed Woods with his genuine personality. At 6-foot-1 and 185 pounds coming out of Lutheran High School North, Woods did not have much trouble attracting recruiting attention. He stood out as one of the top players in the St. Louis metro area. Said Woods of Oetting, "He made sure that I felt comfortable coming into it. I kind of like that, so there I was."
Woods received a scholarship for both football and track at Concordia. He admits he did not know exactly what life would be like in small town Nebraska. Woods grew up in the St. Louis suburb of Normandy, and as a young man, he was determined to make his mother proud. As it turned out, Concordia would be the place for Woods to grow into the man he eventually became. He just had to figure out where it was on the map.
"Coming from St. Louis to Nebraska was definitely a new experience," Woods said. "When we were first driving there, I was like, 'Where is this place?' I didn't know what I had gotten myself into. When I got into the community, Seward was very welcoming. The people were just nice. It made the transition easier. Seward turned out to be a really good place and I had a really good experience there."
That wasn't to say Woods didn't have some doubts about where he belonged. Woods became an immediate standout in 1984, but some thoughts lingered in his head. 'Could I make it at one of the bigger schools?' Close friend Steve Atwater had begun his decorated football career at the University of Arkansas and believed Woods could make the jump. Woods decided to give it a try and left for Fayetteville following the '84 season.
While things did not unfold as planned at Arkansas, Woods never forgot about how well he had been treated at Concordia. Says Woods, "When Steve and I were talking, he was like, 'Man, you can play down here.' I was like, 'Wow, that's really big football.' I wanted to try and see if I could make it. I went down there and the mix just wasn't there. I probably didn't prepare myself as well as I should have. I had to redevelop camaraderie and all that stuff. I left there and went back to St. Louis. I started getting recruited by other schools like Missouri Southern. I even had a coach from Missouri call me. I just decided that I had friends at Concordia and a solid base there where people genuinely cared about me."
It was the '87 and '88 seasons when Woods really took off. When Woods decided to return to Seward, he made a quick phone call to Coach Oetting. Formerly recruited as a defensive end/outside linebacker, Woods sat out the 1986 season before bursting onto the scene. He grew to 6-foot-3 and 215 pounds – and he could run like the wind. Woods and quarterback Phil Seevers developed a rapport that made the Bulldogs one of the most dangerous offensive teams in the NIAC. Said Phil of his go-to receiver, "He was a special talent. Offensively our senior year we had some really good things going. Clarence demanded double and triple teams most of that year. We had a good connection."
Dana College head coach Leo McKillip had particularly high praise for Woods back in 1988. Said McKillip, "Clarence Woods is probably the best single individual in the conference. He can kill you as a pass receiver, runner, punt returner and kick returner. He's going to be a problem."
He surely was a problem. It wasn't just that Woods was talented. He played with an edge – and he possessed that common receiver trait of desiring the ball on every play. On Saturdays, Woods did not believe there was anyone who could cover him, certainly not one-on-one. Go ahead and try being physical with him. It wasn't going to work. Laughed Woods, "They always had an eye on where I was. I just had to overcome it. I learned fast. A lot of time their game plan was to be aggressive and try to give me a lot of punishment. That rarely worked because I was a bigger receiver. I was giving out as much punishment as they were."
Woods called Seevers "one heck of a quarterback" and congratulated the former signal caller on his own Concordia Hall of Fame induction years earlier. Woods also credited Coach Oetting, Coach Tim Warneke and the rest of the staff for positively impacting him in those formative years. He also remembers the great moments (like his eight-catch, 193-yard, three-touchdown performance against Midland) and some of the not-so-good times – like when he was knocked unconscious on a kickoff return. When Woods came to, he saw do-it-all athletic staffer Stan Schlueter standing over him with smelling salts.
Just a few short months later, Woods was invited to training camp with the Saints. After being cut in late August of 1989, Woods also played stints in professional leagues in Canada and Europe. When the football career ended, Woods completed his college degree, moved out to Connecticut (he was born in Massachusetts), joined the corporate workforce, met his wife and became a father. While Woods continues to live in Connecticut, he never forgot about his time at Concordia. He remains in touch with several teammates to this day.
"The friendships and the camaraderie I achieved at Concordia was something different," Woods said. "It stood out to me that way. I have some lifelong friendships and people I stay in touch with. We all looked out for each other, and it was a really good time doing that. All those things contributed to making me the person I am. I have my faults like everybody else, but I've tried to live like my mother would have wanted. Concordia was part of that growth."