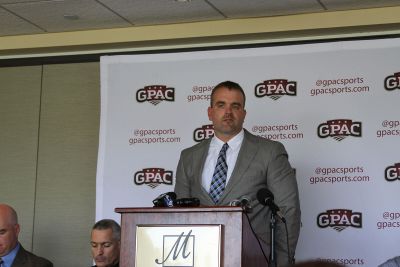 Winter updates 2015 Concordia football: we can 'really run'
SEWARD, Neb. – On Thursday (July 9) Concordia head football coach Vance Winter sat down to discuss a 2015 squad that he believes is long on athleticism and speed. An exciting group of skill players is the talk of Bulldog football entering year seven under Winter's direction. Football student-athletes begin reporting for fall camp on Aug. 14 with the season opener set for Sept. 5 at Southwestern College.
Here's a summer breakdown from Winter:
State of the program entering year seven under Winter
Talent wise, through the spring, we felt really good about a lot of our skill-position talent with how those guys have developed throughout the offseason and spring. I felt like a lot of guys stepped up this spring in terms of their work habits. We were pretty fired up with how we finished spring ball. We have some recruits coming in that we're excited about. I think this will be a team that can really run. We're still going to have some inexperience at spots, but I also feel like this is an athletic group. I think this is one of the more athletic teams (we've had). I felt the same thing last year. I thought we had a bunch of guys who were athletic and could run around. The experience (gained) is big.
Evolution of the offense
Two years ago when we finished 7-4, offensively we were really efficient. I think our longest play the entire season was 38 or 37 yards. Last year was kind of the opposite in that we were very big-play oriented. We need to find that happy medium. I think (offensive coordinator) Coach (Curran) White has just done a phenomenal job developing a mindset offensively and bringing a level of preparation and confidence each week. Last year we controlled our fate offensively about every game where we could have won the game with one first down here or there. That's spurred us on this offseason. I've seen great effort, great intensity. We've got some position battles that are going to be exciting this fall. I think there's a great familiarity with what we're doing offensively. We'll also be able to make some tweaks based off our personnel and what we have coming back.
Turning around close losses
It's everybody from coaches, players, everybody in terms of executing the final five minutes of a football game. I think a few of those games were (lost) on punt return type of things. As a staff we have to put our guys in great position and then we have to go out and execute. The frustration wasn't a matter of effort. I think in some of those situations it was a matter of trying too hard to do something and do something outside their abilities. A lot of times it was young guys making mistakes. We have to slow the game down and make some plays at the end of the game. That's been a theme for us all offseason. We realize last season that we had a stretch where everything could go wrong in the last five minutes went wrong for us. We have to stem that. We have to change that, because every game is going to be competitive. Every game is going to come down to the last five minutes. We have to make winning plays at the end of the game. Last year we didn't do that. I was proud of how we finished the season. In a few games where we had to make winning plays in the fourth quarter, we did that – and it was young guys doing it. There is an experience factor in it, but everyone has to take ownership on it. Coaches and players have to take ownership and we have to make it happen.
Quarterbacks
We were really pleased with how TJ (Austin) finished and played the last few games. I think that was a big boost for everybody with how he came in and competed and did well. He's a different type of guy than Von (Thomas) and brings a lot of things from a confidence standpoint and leadership standpoint that were noticeable. I also really value both Garrett (Folchert) and Riley (Wiltfong). Those are both great guys. They work hard in practice. They execute in practice. Riley is much more of a dual-threat type of guy. Garrett will come in and he knows the offense probably better than a lot of us. Those are two guys I feel really confident in too. I think we have a good nucleus and then some young guys coming in as well. TJ and Riley bring different dynamics in terms of the running aspect. Riley is kind of like a Von type of runner. I wouldn't say he's as fast as Von, but very good at running the zone read type of stuff. TJ is more of a fullback quarterback-type. I was really pleased with how all three of them played this spring. I thought there were some great things happening on a daily basis so I'm really excited to get into the fall.
Running Backs
Obviously Bryce (Collins) has had just an awesome offseason and has worked relentlessly. He's one of the hardest working guys I've ever been around. He's made really noticeable improvements in the weight room. Demarques (Saulberry) is the same way. They both have just incredible work ethics. Another guy this spring that opened some eyes – not necessarily coaches because we saw it on his high school film – but Jordan Slough had a good spring, too. Then we have a couple young guys who we really think can be dynamic guys. That's going to be an exciting group. I think we have to maximize all of their abilities.
Receivers
Jared (Garcia) has been around this summer. He's taken it up a notch with his work ethic and preparation. Last year as a freshman feeling his way through the whole season he still did some great things. I think Jared has the ability to be one of the more dynamic players in our league. He drew a lot of attention last year from teams in our league in terms of how they played him. I think he's got a chance to continue to grow. I want him to be an alpha dog. He's got a real quiet demeanor. I just believe he's ready to come out of his shell more and be that alpha guy. Carey Harrison was sort of the talk of our spring. He's really great in and out of his breaks. He's a guy we have to move around and utilize his athletic ability. He's pretty dynamic with the ball in his hands so we're excited about him and his growth this offseason. He was about 140, 145 playing last season and he played some significant minutes. He put on some weight and looked really good when he left for the summer. He's been working hard. I'm excited about him.
Tight Ends
It was big last year how (Seth) Fitzke stepped up and played. He looks great. He's improving as a receiver. He's already been a pretty dominant blocker at the point of attack for us. I'm really excited about his development. That was a big blow for our team last year when Josh (Slechta) got hurt during fall camp. I talked to Josh a little this summer and he's been working hard. I'm excited about him, too. That's as good of a tight end pair as there is anywhere. They're both physical, athletic tight ends. To have two guys like that is a huge boost to us and allows us a lot of versatility offensively.
Offensive Line
That's the huge question mark for us. In the spring we showed signs and flashes of getting better. I think Ben (Balduc) is obviously the leader of the group. We expect Ben to have a great senior year. He's improved every year. He's had a lot of experience and he's worked really hard. He's an outstanding player. We've got some other positions in flux, but I also feel we have some quality candidates whether they be newcomers or guys who have been in the program a couple years. There are some guys who have stepped up this offseason and see an opportunity. Developing a camaraderie that you want on the o-line is key. We graduated some really good football players up front and guys who played together a long time. That's a big question going into the fall but we have some great candidates and quality guys so we'll see how it shakes out.
Defensive Line
I thought they played real well this spring. I saw development and growth in what they're doing. Michael Gill, Ronald Jackson and Trey Barnes all showed a lot of growth through the spring. They have a chance to be a good group. They're all different types of players. Ron is a legitimate huge nose guard. His technique has improved so much. He's taken the necessary steps to become a dominant d-lineman. That's exciting for us. Obviously Trey's athletic ability shows up on film. I think we have him at the right spot where he can just play football. He's a great athlete for a defensive lineman. And Michael's been a solid, solid player for us. I expect him to continue to make more and more plays. In developing some depth, I think there are some guys behind them that have played real, real well. Rosten Coon I was really excited about with his growth this spring specifically. I think he has a chance to be a very good player. He's another physical type of nose guard.
Linebackers
The big thing is so many guys got an opportunity to play and it for a lot of them it was their first real college football experience. I think going into the offseason they took a lot from the experiences they had last season. I don't think it's any secret that we have to be better. We have to play better, but this spring I was really excited. I felt like there was more decisiveness in how they played. At linebacker that's a huge factor. You have to be a decisive player. All the way through it their improvement was great. There are some guys – Zach Jackson, Clay Mauro, Pat Skwara, Michael Hedlund – all competed really well this spring and worked hard. I believe strongly that they're going to be good college football players. The sooner the better. That's another group that's a question mark. We're going to find out and see who will be the guys. Hedlund moved to linebacker midway through last season because of injuries. He did some really good things. He has a knack making plays.
Defensive Backs
I like our secondary quite a bit. I think you have to have four-to-six solid corners who can play and compete in our league. I think (Tarence) Roby and D'Mauria (Martin) both had outstanding offseasons. I'm really fired up about their growth. Roby had never played corner until about two days before the Sterling game (season opener). He may have played a little in high school, but we moved him really late in the process. He's got a chance to be really special. For me, D'Mauria is right up there too. He had just an awesome spring and has the ability to be a shutdown type of corner. He really enjoys what we're doing. At safety (Tait) Sibbel, we moved him around a little bit. He played injured all last season. Toward the end of the season we finally saw what Sibbel's capable of in terms of what we expect and what his abilities are. He just gutted it out and played for his teammates, but he was hurt a lot of last season. I'm excited about his spring. He was one of the biggest playmakers all spring. Matt Keener is another guy. Sebastian Garces opened some eyes this spring. There's going to be a lot of competition. We're also excited about some newcomers who will fit right into that group.
Special Teams
I feel like Adam Meirose is one of the best kickers in the country. I love his consistency and what he can do for us from a kickoff standpoint. He's got a ton of experience and he's worked really hard at it. Sandy (Fisher) did a great job last season at punter. He had an outstanding year. He was pretty consistent all season as well and I thought that carried over into the spring. He was very good in the spring. Those two guys are outstanding. Kick return I feel really good about and who can put back there. The big question is who's going to be our punt return guy? We had to replace Derek Blessing, a guy who took every return for two years and was elite at it. We had great return averages but the consistency catching the ball and the amount of muffed punts was not acceptable. We have to be better there. We shuttled through about five guys last year and had no consistency. I want to find a guy that's going to take the job and run with it. That's the big area that hurt us last year.
Competing in the GPAC
It's going to be competitive week-in and week-out. We know that. For us it's finding that edge and what it's going to take to be a dominant team. We want to be finishers. Finish every play and finish the game in a better fashion than last year. That's been the theme of the entire offseason and I think it's resonated throughout our entire football team. I love our group. It's a good group of guys. They work hard. Their effort has been consistent. For a talented group, this group likes to work. The main thing too is we have to stay healthy. We can't have the same amount of injuries and we need to develop more depth throughout. That's going to be a big thing in the fall – finding out who will be the guys to step up and contribute. I felt we were worn pretty thin. We didn't have as much depth as two years ago and it hurt us. There were some guys bent a little bit playing all the reps defensively and all the special teams and maybe by the end of the game wearing down a little bit. The other thing is our conditioning has to be great. From seeing the guys this summer, the conditioning has been outstanding. We have a good group. They're fun to work with. I'm excited about our group and I like our guys. It's getting close. I'm pretty excited to get rolling.