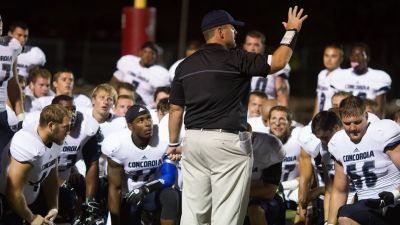 SEWARD, Neb. – Nearing the conclusion of his eighth season as head football coach at Concordia University, Vance Winter has announced that he will resign his post following the completion of the 2016 season. The Bulldogs have games remaining on Nov. 5 at Dordt and Nov. 12 versus Hastings. Winter is in his 12th season overall at Concordia. He first arrived in Seward as an assistant coach in 2005.
The national search is now underway to secure the 10th head coach in program history. Winter's staff includes three full-time assistants: Curran White, Patrick Daberkow and Corby Osten. Current leader of a nationally-ranked squad, Winter cited family reasons for his decision to step down.
"These 12 years spent at Concordia have been a blessing to my family and I," Winter said. "I have been truly blessed to be a part of the brotherhood and to coach some amazing young men. With two games left in this season, it is my hope that the focus remains on the players, particularly the seniors who have given so much to the program and this university. They are such a special group. My main goal in the short term is to ensure that we finish this season the right way. It's not about me. It's about our student-athletes.
"After prayer and careful consideration, I felt the best course of action for myself and for my family was for me to step down. I'm so thankful for the way my wife Tanya and our children have supported me and allowed me to go all in as a head football coach. I am proud of the work of so many people to improve our program from where it was at the start to the level it is now. The role of head football coach has become increasingly demanding in terms of time and energy. While I thoroughly enjoy my daily interactions with our players and the practices and game days, I have struggled with some other aspects of the job that have affected my time with my family. I wish nothing but the best for our student-athletes and this university."
Winter has helped elevate a program from a 1-9 season the year prior to being named head coach to a top 25 caliber NAIA program. Winter owns an overall record of 39-44 at the helm of the Bulldogs. He ranks fifth on the school's all-time wins list among the nine head coaches in program history. One more victory would pull Winter even with Walter Hellwege (40-32-9) for fourth place. In addition, Concordia has garnered a total of 13 national rankings during Winter's tenure.
Originally from Miller, S.D., Winter oversaw record-breaking quarterback Von Thomas, a 2015 graduate. The star signal caller piled up 6,988 yards of total offense over three seasons. Winter has also coached All-Americans in defensive lineman Trey Barnes (2015), safety Darnell Woods (2013) and kicker Kenny Zoeller (2012). The Winter era has seen Jared Garcia break the school record for touchdown receptions and Bryce Collins' climb to 3,000 career rushing yards. Another high point came in 2013 when Concordia won its first six games of the season and jumped to No. 14 in the national coaches' poll.
During his coaching career, Winter has made stops at Peru State College (defensive coordinator, linebackers 2004-05), Wayne State College (linebackers 2002-04), and Dakota State University (running backs 2000-01). Winter was a four-year letter winner while playing middle linebacker for Dakota State University. A team captain in 1999, Winter was a two-time honorable mention all-conference linebacker for the Trojans and the team's leading tackler in 1998 and 1999.
Vance and his wife Tanya have three children: a son Jackson, daughter Clara and son Jesse.
Statement from Devin Smith, Director of Athletics
Coach Winter shared his news with us last week and it really caught us all off guard. In my mind, I truly thought after the win over Midland University he would reconsider, but it seemed that each time he spoke about his desire to step away he became more and more at peace with his decision.
We thank him for his incredible passion that he has poured out over the years and we respect his decision to focus on his vocation as father and husband. Coaching is an intense business and it takes so much out of a person and we all understand his desire to be present with his family at this time.
As Coach Winter's service winds down it will be remembered as a time of celebration for all the great strides the program has made under his leadership. We went from just trying to get first downs in games to challenging the best in the Great Plains Athletic Conference. Winter's tenure and influence is marked by increased competitiveness on the field, incredible facility improvements, improved scholarship processes, staffing additions and budgets that put the Bulldogs in a position to foster a first class student-experience.
The last three to four years there was not one game where we did not think we had a chance to win and that is a testament to his guidance and planning. His persistence, passion and intense competitiveness influenced the student-athletes and staff to dig deeper during each practice and game day. Vance is greatly respected by our players, staff and alums for his desire to reach heights we haven't seen since 2001.
We thank him for all he has done to inspire pride in Bulldog football.
Former quarterback Von Thomas on Winter's impact
He's pointed this program in the right the direction. Some people wouldn't understand what kind of man he is unless they coached beside him or played for him. One event that sticks out to me that I will never forget is when him and Coach Daberkow allowed me to spend time with my family after my cousin was killed in Miami. That showed me he cared for me more as a human being than a football player. He has been with me through my ups and downs at Concordia. There was never a moment where I felt alone because I always knew I could contact him. He's a huge reason why I am the man I am today. He instilled certain qualities in me throughout my career at Concordia. I have nothing but love for Coach Winter. I wish nothing but the best for him and his family and will always be supportive of his decisions because he has done the same for me without hesitation.