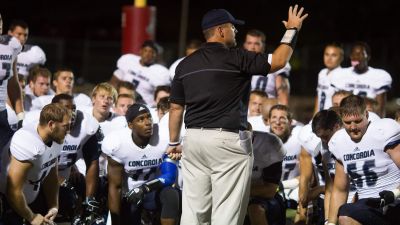 Voice of Concordia football Jayson Jorgensen chatted this past week with head football coach Vance Winter on all things recruiting. The following Q&A is a transcript of the interview that aired on the Bulldog Coaches Show, which can be heard every Thursday at 4 p.m. CT on 1370 KAWL-AM.
Jayson Jorgenson: Is it always a relief to get signing day out of the way?
Vance Winter: Yeah, it's always a big day. We really had a flurry of activity in the month of January. I'm pretty proud of our coaches and all the support staff around here for all the work they put in during the month of January. They've given people that come on campus a first-class visit.
JJ: 50 kids in this class. That's a big number. Was that the goal when this season started?
VW: I don't necessarily think that we were thinking in that range. Momentum built and it snowballed. I think it started way back last spring. We were in early contact with a lot of guys and developed relationships throughout the summer and throughout the football season we were able to have a lot of guys come see our football team and interact with our team on game day visits. We had a lot of guys standing on our sideline during games. I think the momentum built throughout the whole recruiting season.
JJ: It's a big class. What's your take on this class? Were you able to hit on some positions that you were really aiming for?
VW: I feel good about that. I really feel like we got a lot of guys that have a high ceiling and are going to develop into really good football players. I think that's the really exciting thing for me. I feel like we were able to hit on some areas where we lost some guys to graduation and strengthen some areas that maybe needed to be a little bit better.
JJ: When you bring in that type of class not everybody's going to hang in and eventually make it but when you bring in a class like this, what are your thoughts on how many of these guys will stick and help you out?
VW: We want them all to stick. All of these guys have an opportunity. There are going to be guys that are going to play a little bit earlier and we don't know who those guys are exactly right now. There are some that will play earlier and some that will develop and become players for us in their junior and senior years. The big thing we talk about in recruiting is we want guys to come in with the type of work ethic and mentality that we have on our team right now. We want them to help us take that next step as a program.
JJ: How's recruiting changed? You haven't been a head coach for a terribly long time, but it seems like this process continues to evolve, especially with social media now.
VW: It used to be if you had 15 guys on signing day as an NAIA school that was a big deal. Now everything's happening so much faster. It's attributed to social media, I would say. Twitter has become a big thing. Those things have become a huge deal in recruiting and connecting with people, also in showing people your facilities and athletic programs. It's amazingly different even since 2009. It's sped up the process so much.
JJ: You were able to get some Nebraska kids. I know that was a point of emphasis for you.
VW: We felt like last year we didn't do as well as we wanted to in Nebraska. We feel like we have a nice balance in this year's class. I'm really excited about the whole group. I feel like there are a lot of guys that will develop into very good football players and are bringing the right mindset to our program.
JJ: It looks like Texas was kind to you.
VW: Texas has always been kind. We're excited about some of the players we've gotten out of Texas, some really good football players. Everywhere is being recruited quite a bit so you're running into a lot of different places. We also feel good about an area of California that we were able to pull some really good football players from, too.
JJ: How's the offseason going for you? Before you know it spring football is going to be here.
VW: Guys are busting it. They're working hard. I'm really excited what coach (Todd) Berner and coach (Wes) Coomes are doing with our guys throughout the offseason. I think they're really fired up about the gains they're making. A big part of our program is development. A lot of those guys that didn't make a mark last season are working hard in the weight room to show their worth and to prove themselves this spring. We're excited. We have a lot of competition. I think we have close to 85-90 guys in our program right now going through offseason. That's a great number.