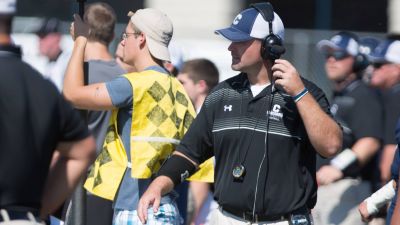 SEWARD, Neb. – An impressive haul of all-conference honors flooded in for the Concordia University football program after it completed its most successful season since 2001. Capping off his eighth and final season as head football coach for the Bulldogs, Vance Winter collected some hardware. The conference named Winter the Hauff Mid-America/GPAC Coach of the Year.
In addition, Concordia garnered five first team and five second team all-conference selections (see full list at bottom). Four Bulldogs also achieved honorable mention status.
After a second-straight dominant season, senior Trey Barnes found himself on the first team for a second year in a row. The Seward High School product is a first teamer at both defensive line and punter. In his final collegiate season, Barnes totaled 68 tackles, 22 tackles for loss, nine sacks, two forced fumbles, an interception and a fumble return for a touchdown. He led the nation in stops in the backfield per game (2.2). As a punter, Barnes topped the conference with an average of 40.7. This week he was also named GPAC special teams player of the week after a career day punting the football. One of his punts went a career long 75 yards.
Receiver Jared Garcia also makes his second-straight appearance on the GPAC's first team. He was a second team all-league choice as a freshman in 2014. This season the native of Pearland, Texas, posted career highs for catches (55) and receiving yards (825) while also grabbing 10 touchdown receptions. In 2016 Garcia became the program's all-time touchdown catches leader. Through three seasons as a Bulldog, Garcia has 140 receptions for 2,188 yards and 29 touchdowns.
Also on the defense's first team, senior linebacker Michael Hedlund moved up the ranks after a second team all-conference honor as a junior in 2015. Hedlund led all GPAC players with 107 tackles in 2016. It was the second-straight 100-tackle campaign for the O'Neill, Neb., native. Hedlund also picked off three passes this season. He concluded his career with a Winter-era high of 261 tackles. In addition, he recorded 11.5 tackles for loss and nine interceptions over his career.
An honorable mention choice in 2015, junior cornerback D'Mauria Martin has landed on the first team this year. Martin teamed up with Tarence Roby, the corner opposite of him, to hold opposing offenses to an average of 182.6 passing yards per game in 2016. Martin, who hails from Converse, Texas, made 24 tackles, intercepted a pass and broke up seven throws in 2016. Roby, a Rockford, Ill., native, has been named first team all-conference as a kick returner and second team All-GPAC as a defensive back. Roby recorded 39 tackles and five pass breakups. On kickoffs, he averaged 27.7 yards per return (11th best in the nation) while taking one kick 91 yards for a touchdown.
After first team All-GPAC honors as a sophomore and junior, running back Bryce Collins is on this year's second team offense. As a senior, the Boerne, Texas, native rushed 201 times for 881 yards and eight touchdowns while also catching 20 passes for 176 yards. His 3,547 career rushing yards rank second all-time in program history. His standout career also included 37 total touchdowns and 4,694 all-purpose yards over 40 games played.
The GPAC's second team defense is loaded with Bulldogs. In addition to Roby, senior defensive backs Cory Evans and Le'Dontrae Gooden made the list. So too did senior nose guard Ron Jackson. Gooden is making his second-straight appearance on the second team. Gooden (Sacramento, Calif.) ranked third on the team with 64 tackles. He added two interceptions. Evans (West Tampa, Fla.) made 39 tackles and picked off two passes. A run stuffer up the middle, Jackson (Houston, Texas) notched 38 tackles, including 3.5 for loss, and forced a fumble.
The honorable mention listed included two starting offensive linemen in sophomores Grady Koch (Doniphan, Neb.) and Matt Romero (Centennial, Colo.), who helped pave the way for Collins and the running game. Senior defensive lineman Nolan Schroeder (Davenport, Neb.) and senior fullback Erik Small (Los Alamitos, Calif.) were the other two Bulldogs to receive honorable mention. Schroeder contributed 22 tackles, two sacks and four pass breakups. Small's one catch this season went for a touchdown.
In his eight seasons as head coach, Winter went a combined 41-44. He produced winnings seasons in three of his final four years. The Bulldogs appeared at No. 18 in the NAIA national coaches' poll released on Sunday and will finish a season with a national ranking for the first time since 2001. Winter ends his career at Concordia ranked fourth among the nine head coaches in program history in terms of overall wins. Winter is the first Bulldog head football coach to be named conference coach of the year since Courtney Meyer in 2001.
2016 GPAC All-Conference
COACH OF THE YEAR: Vance Winter
FIRST TEAM
Trey Barnes, DL/P
Jared Garcia, WR
Michael Hedlund, LB
D'Mauria Martin, DB
Tarence Roby, KR
SECOND TEAM
Bryce Collins, RB
Cory Evans, DB
Le'Dontrae Gooden, DB
Ron Jackson, DL
Tarence Roby, DB
HONORABLE MENTION
Grady Koch, OL
Matt Romero, OL
Nolan Schroeder, DL
Erik Small, FB