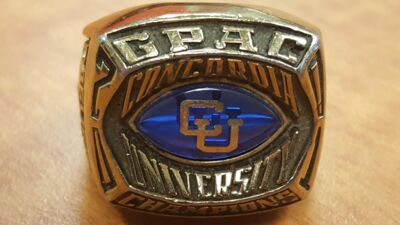 "Don't count us out in the (GPAC) championship race," said Head Coach Courtney Meyer prior to the start of the 2001 Concordia Football season. Confidence was growing inside the locker room after the Bulldogs finished the 2000 season (inaugural year of GPAC football) at 7-4 overall. That mark was a far cry from where the program had been just a few years earlier when it struggled through a 1-9 campaign in 1997. That offseason, following '97, the wheels began turning on a transformation that would change the trajectory of the program and lead to the most glorious season in Concordia Football history.
The book, Cultivating Men of Faith and Character: The History of Concordia Nebraska Football, detailed what took place leading up to the 2001 season.
Excerpt: A series of changes was initiated prior to the 1998 season, Meyer's ninth as head coach. First, the institution of the "top 10 program" meant that the coaching staff could give more money to 10 athletes it identified as difference makers, while still maintaining a specified scholarship average. Second, Bill McAllister was hired as offensive coordinator. He went to work on implementing a new offense – the Wing T – that could mask some of the size disadvantages the Bulldogs had at the time. Some other Great Plains Athletic Conference coaches even poked fun at McAllister's offense. But the 1985 Midland Lutheran College graduate compiled a record of 54-29 during nine seasons as a Nebraska high school football head coach, proving his system worked. One GPAC coach prodded, "When are you going to quit running that high school offense?" McAllister's response: "When you can stop it."
The changes didn't produce championships immediately, but Concordia went from 1-9 in 1997 to 4-5 in 1998 to 5-4 in 1999. Then came a breakthrough 7-4 campaign in 2000. Meyer, McAllister and defensive coordinator Tim Preuss were steadily stockpiling talent. They found a quarterback in Jarrod Pimentel of Merced, California. Somehow Pimentel had gone mostly unnoticed in the recruiting process. They discovered Ross Wurdeman who had perhaps been miscast as a quarterback at Columbus High School. They also went to Texas and landed safety Sean Stewart of Beaumont and picked up linebacker Erik DeHaven of Mesa, Arizona. Also from California, Alex Alvarez (Denair), a high school teammate of Pimentel, became a standout at running back. They didn't have to go far to recruit defensive back Troy Schlueter (York, Nebraska), another integral part of a sturdy defensive unit. The pieces were beginning to come together and a different vibe would soon spread throughout 800 North Columbia Avenue. McAllister could see something special developing as the first group of recruits he had helped bring in transitioned from freshmen to sophomores.
----------------------------------------------
During the 2000 season, Concordia spent more than a month-straight ranked in the top 25 and peaked as high as No. 13 after upsetting seventh-ranked Sioux Falls, a premier program in the GPAC. The Bulldogs went 4-3 in their final seven games of 2000 and were off the national radar heading into the fall of '01. Little did some outsiders realize, the most talented players on the roster were also the most veteran and experienced. Twenty-two seniors formed the backbone of a team determined to win the program's first conference championship since 1981. As Meyer said, "I sensed it was coming. We were just good. We had a good defense that could run and hit. It was the complete package."
The team's co-captains were Erik DeHaven, Troy Schlueter, Darin Suckstorf and Josh Turner. Meyer saw a team that enjoyed competing together as one. The '01 Bulldogs chose the team theme of "United in Purpose" (Psalm 133:1). As Meyer remarked back in the preseason of that year, "I expect that our team unity will be a difference maker for our season." He was right.
Game 1 – September 8, 2001: Concordia (0-0) at Sterling (0-0)
--Site: Sterling, Kansas
· FINAL SCORE: Concordia 21, Sterling 10
· Sterling's final 2001 record: 4-6
Concordia had dropped all four of its true road games during the 2000 season. In other words, the '01 season opener offered a chance to put an end to that streak as the Bulldogs kicked things off in Sterling, Kansas. A year earlier, Meyer's program had pummeled the Warriors, 55-7, in Seward. The '01 meeting appeared headed for a similar final score as Concordia led 21-0 at the end of one quarter. The visitors had quickly jumped on top after defensive tackle Anthony Porter fell on a fumble at Sterling's 16-yard-line. One play later, running back Alex Alvarez raced 16 yards for a touchdown. Before the quarter was over, quarterback Jarrod Pimentel had pitched two shovel passes to Regan Else for touchdowns.
The one thing that kept the Bulldogs from completely running away with it was the rash of turnovers. Concordia was intercepted five times and lost possession on two of its four fumbles. Fortunately, the 21-point hole was far too much for the Warriors to overcome against a stifling Bulldog defense led by linebacker Erik Dehaven. The Mesa native racked up 14 tackles (two for loss) as the defense held Sterling to just 18 yards rushing. In addition, Brian Samek and Troy Schlueter picked off one pass apiece and linebacker Josh Conrad added 11 tackles. Concordia enjoyed an advantage of 349-201 in total yards, but it walked away knowing it had to be better. This type of performance would not cut it a week later against vaunted Sioux Falls.
Meyer was especially disappointed in the turnovers but put a positive spin on it by saying, "A blowout would not have done us any good. We need to work on a lot of things and get better." One of the youngest units on the team, the offensive line, had done a nice job in paving the way for Darin Suckstorf to run for 94 yards and for Alvarez to pile up 70 of his own. That was something for the offense to build upon. An offensive line led by Wes Amberger was coming together, perhaps even faster than expected.
This was just the start for DeHaven, who would wind up with 110 tackles in what was his fifth and final year as a Bulldog. A rock for the Concordia defense, DeHaven shook off dyslexia and two separate broken foot injuries in his collegiate career. In the present day, he's a successful high school football coach. As Tim Preuss would later say, "I love Erik DeHaven for a lot of reasons. One reason I love him is he's an overcomer and that was inspiring to me as his coach. Erik was a great competitor. He's a strong leader and one of the things that made him a strong leader was that he was one of the most enthusiastic encouragers of his teammates that I've ever been around. He made everyone on the team better."
Game 2 – September 15, 2001: Concordia (1-0, 0-0 GPAC) at No. 8 Sioux Falls (2-0, 1-0 GPAC)
--Site: Sioux Falls, South Dakota
· FINAL SCORE: Concordia 17, Sioux Falls 14
· Sioux Falls final 2001 record: 12-2 (finished ranked No. 2)
It was four days after the World Trade Center in New York City was struck down by terrorists. That tragedy was enough to render any sporting event insignificant, but GPAC football trudged on, perhaps even providing a needed distraction for college football teams and fans across the nation. Following the game on Sept. 15, Coach Meyer stated, "As difficult as the week was for everyone in light of the tragic events in New York, we were able to focus on the game, play inspired football and save our best until the fourth quarter."
To this day, this is the game that members of the '01 team remember most fondly. The road woes of '00 were a thing of the past by the time the clock had hit all zeroes in Sioux Falls. The hard-nosed Erik DeHaven loved everything about it. Said DeHaven as part of his Concordia Athletic Hall of Fame induction speech in 2019, "It was a mud bowl and it was physical and it was everything you wanted that was right in the game." Rain had soaked the field in South Dakota, where Sioux Falls expected to avenge the previous season's loss in Seward. Turnovers were still a problem for the Bulldogs, who gave it away four more times, but they were just a little grittier than USF.
Concordia trailed 7-0 at the half and found itself facing a 7-3 deficit heading into the fourth quarter of a grinder. That's when the Bulldog rushing offense took off. Sioux Falls couldn't stop the sweep. Alex Alvarez busted loose for a 73-yard touchdown run with 12:04 left in the fourth quarter, a 15-minute stretch that featured more than 200 yards of offense for the underdogs. Clinging to a 10-7 lead, the Concordia defense came to the rescue with a fourth down stop on a 10-play Cougar drive that marched the ball all the way to the Bulldog 6. On the ensuing possession, Pimentel broke off a 73-yard reception on a trick play (throwback pass from Alvarez) and then found All-American tight end Ross Wurdeman for a touchdown with 2:40 left. Concordia owned a 17-7 lead and had essentially put the game away.
Senior linebacker Eric Hiner was awarded the GPAC Defensive Player of the Week award after making two tackles for loss, including a sack. Alvarez had run for 160 yards and a touchdown against the team picked to win the GPAC. Wurdeman hauled in seven receptions for 56 yards. It all amounted to one of the most memorable wins in the history of the program. Afterwards, Meyer credited all areas of the team, offense, defense and special teams, for their contributions.
As Wurdeman put it, "Once we got past Sioux Falls, we thought now it's our table to run." Suddenly, a GPAC championship felt realistic. Concordia Football was back on the national radar and established itself as the new favorite in the GPAC race. Concordia had slayed a giant. The question was: how would they respond to this success?
Game 3 – September 22, 2001: Concordia (2-0, 1-0 GPAC) vs. Midland Lutheran (2-1, 1-1 GPAC)
--Site: Seward, Nebraska
· FINAL SCORE: Concordia 38, Midland Lutheran 7
· Midland final 2001 record: 5-5
There were no signs of a hangover following the momentous win at No. 8 Sioux Falls. It may have been the 24-14 loss the Bulldogs endured at Midland Lutheran a year earlier that had them motivated as they played their 2001 home opener on Sept. 22. On the third play of the game, star safety Sean Stewart jumped in front of a pass and returned one of his three interceptions that season for a touchdown. Plays like that were far from unusual for the 6-foot-2, 210-pound native of Beaumont, Texas. Stewart would finish the '01 season with 102 tackles and as a First Team All-GPAC honoree.
Stewart took his place in the Concordia Athletic Hall of Fame in 2016. It was by the grace of God that Stewart found his way to Seward. If observers thought he looked like he should have been playing NCAA Division I, it's because he could have. Explained Stewart, "I had a box of letters that I received from Oregon, USC, Alabama, Oregon State – you name it. The coach from Arkansas came down to see me and wanted me to play for him. I didn't want to play football. My mom reached into this box and out of all the letters in that box – over 100 letters – Concordia University was the letter she grabbed. She called Coach McAllister or Coach Meyer and said, 'I want my son to go to school here.'"
An exemplary Christian off the field, Stewart lit people up on it. Every receiver running across the middle quickly became aware of No. 19. Stewart makes football coaches everywhere giddy when he says, "When I hit someone, I tried to take their soul."
A future serviceman in the Coast Guard, Stewart's big play helped make it a rout. Jarrod Pimentel threw for 188 yards on an efficient day that included two touchdown tosses to Regan Else. In support, Darin Suckstorf rattled off 79 yards on the ground while Alex Alvarez and Kellin Bretschneider both found the end zone once apiece. Defensively, DeHaven made 13 stops and the outmatched Warrior offense managed only 183 yards of total offense. Concordia's balanced offense had accumulated 381 yards. A quick start to the game was just what Meyer had hoped for – and he got it. A few days after the win over Midland, the Bulldogs leapt into the NAIA top 25 at No. 18. There was no more flying under the radar.
Game 4 – September 29, 2001: No. 18 Concordia (3-0, 2-0 GPAC) at Dana (1-3, 0-3 GPAC)
--Site: Blair, Nebraska
· FINAL SCORE: Concordia 37, Dana 0
· Dana final 2001 record: 3-7
A week earlier, Dana had hung within three points (21-18) of a Doane team that was now up to No. 8 in the NAIA coaches' poll. But Concordia was proving to be a much more dominant outfit than higher-ranked Doane. In the matchup with Dana, the host Vikings were completely overmatched as Ross Wurdeman showed off his athleticism while making two separate 20-yard touchdown catches and both Darin Suckstorf and Alex Alvarez went over 100 yards rushing. Meanwhile, the defense pitched a shutout against a Dana team that was without starting quarterback Chuck Wright. It wouldn't have mattered anyway.
The Dana pass offense, up against a secondary that featured the likes of Sean Stewart, Troy Schlueter, Brian Samek and Jeb Myers, completed only 13 of 43 pass attempts. Dominant defense allowed Concordia to easily overcome its 126 yards in penalties and three interceptions. Said Coach Meyer afterwards, "The defense set the tone." Dana Head Coach Jim Krueger couldn't help but be impressed by Wurdeman, the former high school quarterback. Said Krueger of the eventual Nebraska Football Hall of Famer, "He's a tremendous player, one of the best in the league." Wurdeman caught four passes for 77 yards and two touchdowns.
At 4-0, Concordia was beginning to raise eyebrows in a league that had five teams ranked in the top 25 entering that Saturday of Sept. 29. The Bulldogs were on a mission to continue avenging losses from previous years. A Northwestern program that had reached the 2000 national quarterfinals was up next. Surprisingly, the Red Raiders had already suffered two losses in 2001.
Game 5 – October 6, 2001: No. 12 Concordia (4-0, 3-0 GPAC) vs. Northwestern (3-2, 2-2 GPAC)
--Site: Seward, Nebraska (Homecoming)
· FINAL SCORE: Concordia 28, Northwestern 14
· Northwestern final 2001 record: 5-5
Northwestern had dropped out of the top 25 following a rare blowout loss, 33-3 to Hastings, the previous week. The Red Raiders had been ranked No. 3 in the NAIA preseason poll. In other words, Concordia found itself in a somewhat surprising position as a favorite to beat Northwestern on a homecoming Saturday in Seward. Entering the contest, the Red Raiders had defeated the Bulldogs in all 10 meetings since 1970. The circumstances simply added to the special nature of Concordia's 2001 season.
Quarterback Jarrod Pimentel and linebacker Erik DeHaven emerged as the stars of the day. Pimentel put forth what Coach Meyer called the fearless QB's "best game of the year" while completing 18-of-26 passes for 315 yards and two touchdowns. On the other side of the ball, DeHaven's monster day featured 24 tackles while Sean Stewart came through with 21. Northwestern countered with star running back Dave Perrigo, the NAIA's leading rusher in 2000. The Red Raider back happened to be stopped on a fourth-and-goal at the 1 with Concordia leading 14-0. It was the play of the game. Northwestern lost despite its offense being on the field for 84 plays that tested the will of the Bulldog defense.
Alex Alvarez found the end zone twice while rushing for 71 yards. Regan Else reeled in seven receptions for 111 yards and a touchdown and Ross Wurdeman caught four passes for 47 yards and even booted a punt 56 yards. Jonathan Chipman also went over 100 yards receiving with a touchdown. In other noteworthy happenings, Matt McCarty (who would go on to become Northwestern's head coach) took the game's first punt to the Concordia 29 (the Red Raiders failed to score) and Concordia was assessed a penalty for delay of game prior to kickoff because pregame ceremonies had gone too long, according to the head official.
Beating Northwestern would not have seemed possible a few years earlier. The upperclassmen gambled on Concordia, and it paid off. Pimentel, who came from Merced, California, had lost only one game during his high school career. This was more like it. Said Pimentel, "I had always been part of winning programs. This was the first time I was on a team that struggled. We started out really bad (in 1998). I remember calling my mom and dad and saying, 'Hey, I'm not used to losing.' There was about 15 to 20 of us that made a pact that we were going to stay together and work our butts off to try to win a championship."
The Bulldogs were now one step closer.
Game 6 – October 13, 2001: No. 11 Concordia (5-0, 4-0 GPAC) at Dakota Wesleyan (1-5, 0-4 GPAC)
--Site: Mitchell, South Dakota
· FINAL SCORE: Concordia 31, Dakota Wesleyan 3
· Dakota Wesleyan final 2001 record: 2-8
It was 5-0 Concordia on the road against 1-5 Dakota Wesleyan, but the records didn't seem to matter for a long stretch of the game in Mitchell, South Dakota. The 11th-ranked Bulldogs led just 7-3 at halftime and still held on to a relatively modest 14-3 advantage entering the fourth quarter. Finally, Coach Courtney Meyer could breathe easy as Jess Boyd connected on a 34-yard field goal the 14:50 mark of the fourth quarter before Darin Suckstorf rattled off a 16-yard touchdown run at 13:10 and Jeb Myers returned his second interception of the day 39 yards for a touchdown at the 12:07 mark. Concordia was now a marked team that got Dakota Wesleyan's best shot.
Said Coach Meyer, "It was a tough ballgame. It was a great road win that puts us in position for a big game against Nebraska Wesleyan (next week)." If not for a stark turn of events in the opening quarter, the Bulldogs would have found themselves trailing on the road in Mitchell. The Tigers fumbled the ball away at Concordia's 2 and the Bulldogs immediately countered with a trick play. A reverse shovel pass to Regan Else went for 23 yards before Else pitched the ball to Alex Alvarez, who raced 60 yards for one of his two touchdowns on the day. This was the genius of Offensive Coordinator Bill McAllister. Alvarez finished with 152 yards rushing.
The defense bent just a little bit, but it always came through in the red zone. Josh Conrad paced the defense with 13 tackles. Star of the day, Jeb Myers of Beaver Crossing, Neb., added three tackles to his two picks. Concordia was happy to win and move on. Said Coach Meyer, "Obviously we had some big fourth-quarter plays. We had to be patient for quite a while. We expected to get on track sooner than later and we didn't, and that's a credit to them."
Despite the first half struggles, the Bulldogs were sitting pretty at 6-0 with Nebraska Wesleyan up next on the slate. The Prairie Wolves had been ranked as high as 13th nationally earlier in the month of October. Wesleyan was another team that had beaten Concordia in 2000.
Game 7 – October 20, 2001: No. 11 Concordia (6-0, 5-0 GPAC) vs. Nebraska Wesleyan (3-3, 2-3 GPAC)
--Site: Seward, Nebraska
· FINAL SCORE: Concordia 31, Nebraska Wesleyan 17
· Nebraska Wesleyan final 2001 record: 5-5
With previously undefeated Doane in the process of suffering a 17-10 loss to Hastings on Oct. 20, Concordia was playing for a chance to take over sole possession of first place in the GPAC standings. With the stage set in Seward, the Bulldogs were on their way to 7-0 as they consistently put Wesleyan quarterback Troy Longe on his back. No way were the Bulldogs going to lose on their home field to their nearby rival. Senior defensive lineman David Schmidt came through with 2.5 sacks (3.5 tackles for loss) and another senior in Rob Rathmann collected 2.5 tackles and 1.5 sacks. In the secondary, Sean Stewart came up with a team high 10 tackles.
Jarrod Pimentel and the Bulldog passing offense also got rolling. Pimentel spun the football for 333 yards and three touchdowns on 35 attempts. Once again, the 5-foot-7 Alex Alvarez of Denair, California, gave an opponent headaches. He rushed for 74 yards and raced 51 yards for a touchdown on a screen play. He was one of four Concordia players to score a touchdown as Kirby Rising, Pimentel, Alvarez and Ross Wurdeman each found the end zone. It all added up to yet another win at a packed Bulldog Stadium on a perfect, 65-degree fall day.
The only real downside for Concordia was its 16 penalties for 123 yards. On the plus side, the offense gained 477 yards on its 80 plays. The Bulldogs had ensured that Wesleyan would not repeat as GPAC champs while standing alone as the league's single undefeated team. Said Coach Meyer afterwards, "We are in the driver's seat, but that's only for today." A showdown at Doane was coming up next. The Tigers were hoping to avenge the previous season's 18-17 Concordia win in Seward.
Game 8 – October 27, 2001: No. 9 Concordia (7-0, 6-0 GPAC) at No. 14 Doane (6-1, 5-1 GPAC)
--Site: Crete, Nebraska
· FINAL SCORE: Concordia 14, Doane 3
· Doane final 2001 record: 6-3
Perhaps the most significant Concordia-Doane matchup in series history took place on Oct. 27 as both teams carried NAIA top 15 rankings and GPAC championship hopes into the contest. A reported 1,800 fans gathered that day in Crete for what turned into a defensive slugfest. It was exactly the type of game that linebacker Erik DeHaven and the defense preferred. The Bulldogs stifled Doane in limiting the rival to 94 yards of offense on 61 plays. Tiger head coach Fran Schwenk credited the opposition in saying, "The Concordia defense is good, aggressive and fast." DeHaven had come through with a key sack to thwart a prime Doane opportunity that followed a blocked punt. At safety, Troy Schlueter made 10 stops and a sack and was subsequently named the GPAC Defensive Player of the Week.
Offensively, the Bulldogs did just enough. Leading 7-3 early in the third quarter, Concordia felt like it may have already put the game away when it converted a 3rd-and-13 from its own 27 – and then went on to punch the ball in. On that third down play, Regan Else leapt high into the air to snare a pass from Jarrod Pimental at midfield. Else proceeded to race all the way to the Doane 10. Three plays later, Alex Alvarez was celebrating a touchdown that made it a two-score game. The Tigers had no answer while up against the GPAC's top-rated defense in terms of both scoring and yardage. With Doane keyed up to stop All-American Ross Wurdeman (limited to one catch), Else grabbed six receptions for 121 yards.
The mood in the postgame locker room rivaled that of the GPAC opener at Sioux Falls. As offensive lineman Corby Osten recalled, Coach Meyer danced along with his players in celebration of clinching at least a share of the GPAC title. After returning to his alma mater as head coach in 1990, Meyer had brought glory back to Concordia Football. He did so while steering the program through rocky waters. Ever fervent in his faith in the Lord, Coach Meyer is the type of guy who never seems to be having a bad day. It all made his players want to win for him so badly. Of course, the postgame consisted of singing The Doxology and then "walking the dog," as tradition insists.
Coach Meyer had graduated from Concordia in 1965 and played two seasons of football for Head Coach Ralph Starenko. Meyer got his first college head coaching gig with Concordia-Wisconsin. He was then called back to Seward. The veteran head coach would often refer to the sun as "big red" as it rose during a morning practice. When it rained, he would say, "skin is waterproof," and he liked to borrow from New York Yankees Hall of Fame catcher Yogi Berra when advising, "Ninety percent of the game is mental. The other half is physical." A linebacker during the 2003-2007 seasons, Patrick Daberkow recalled a time when Meyer checked in on a defensive meeting in preparation for a game with Hastings. Meyer proceeded to hop on top of a table, and while on all fours, barked like a dog. "It was probably the most bizarre thing I've seen a coach do," said Daberkow, an admitted Meyer loyalist. "Everyone has stories about Coach Meyer that are funny, but everybody has this reverence for him. I have a lot of respect for him."
Game 9 – November 3, 2001: No. 9 Concordia (8-0, 7-0 GPAC) vs. No. 20 Hastings (6-2, 5-2 GPAC)
--Site: Seward, Nebraska
· FINAL SCORE: Hastings 20, Concordia 16
· Hastings final 2001 record: 8-2
A perfect run through the GPAC and outright conference championship were at stake on Nov. 3 when 20th-ranked Hastings paid a visit to the ninth-ranked Bulldogs. A reported 2,400 fans were present. Host Concordia hadn't beaten Hastings since its monumental upset over the Broncos in 1995. In the 2001 matchup, Hastings looked to spoil things for the Bulldogs and enhance its own playoff chances. Unfortunately, Concordia would ultimately settle for a GPAC co-championship while failing to capitalize on two late red zone drives when trailing 20-16. In the final couple minutes, the Broncos' Aaron Smith intercepted a pass in the end zone to seal it. The biggest difference in the contest came in the running game as Hastings held a 269-88 advantage in that category. On a positive note, Concordia safety Sean Stewart made 18 tackles.
Said Coach Meyer, "The way the first half went, the way Hastings established itself physically, maybe we felt the pressure a little more. It is a setback, but I think they'll rebound well."
At this point, all nine GPAC football programs had finished their eight-game conference schedules. Concordia and Sioux Falls were tied at the top with identical 7-1 GPAC records. Next in line were Hastings (6-2) and Doane (5-3). Two teams that shared the league title in 2000, Nebraska Wesleyan and Northwestern, tied for fifth place, along with Midland, at 3-5. The basement was held down by the likes of Dana and Dakota Wesleyan (both 1-7). In the final week of the GPAC regular season, Sioux Falls defeated Doane, 22-14, to pull even with the Bulldogs.
Game 10 – November 10, 2001: No. 10 Concordia (8-1, 7-1 GPAC) vs. Mount Senario (3-6)
--Site: Seward, Nebraska
· FINAL SCORE: Concordia 62, Mount Senario 6
· Mount Senario final 2001 record: 3-7
There isn't much to say about this one, other than it was a get-right game for the Bulldogs, who couldn't afford to lose to the below .500 opponent from Ladysmith, Wisconsin. Concordia was not fazed by Mount Senario's no-huddle spread offense, to say the least. Ross Wurdeman and Alex Alvarez scored two touchdowns apiece in the blowout win. Alvarez piled up 161 rushing yards and Regan Else caught yet another shovel pass touchdown delivered by Jarrod Pimentel. Kicker Jess Boyd made both field goal tries and all eight extra points. On the defensive side of the ball, Brian Samek picked off a pass and returned it 46 yards for a touchdown.
Ranked 10th in the NAIA going into the game, Concordia had earned the right to represent the program in the playoffs for the first time ever. Said Meyer afterwards, "Truthfully, it was what I expected. We came out to play well, hard and with class. We got the opportunity to play a lot of younger guys and kept it respectable."
A week later, the 2001 Bulldogs would break completely new ground.
Game 11 (NAIA Playoffs, 1st Round) – November 17, 2001: No. 8 Concordia (9-1) vs. No. 13 St. Ambrose (8-2)
--Site: Seward, Nebraska
· FINAL SCORE: Concordia 31, St. Ambrose 26
· St. Ambrose final 2001 record: 8-3
The spectacle of an NAIA playoff game hosted inside Bulldog Stadium was a sight to behold. No. 8 Concordia welcomed 13th-ranked St. Ambrose University of Davenport, Iowa, to Seward. The contest began inauspiciously as the Bees' All-American running back Nate Norman took the opening kickoff 101 yards for a touchdown. Not only that, Concordia leading rusher Alex Alvarez was quickly relegated to the sideline by an injury. Said safety Troy Schlueter, "We were a little shell-shocked. We maybe were not quite ready for the atmosphere. After we realized we had to play ball like every other game, we settled down and were all right."
Schlueter led the defense with 12 tackles and on the other end, it became a showcase performance for the All-American Ross Wurdeman. He caught nine passes for 138 yards and two touchdowns as a near unstoppable force. The signature play of the game was Wurdeman's 32-yard touchdown reception. On a third-and-16 from its opponent's 32-yard line, Concordia lined up with a trips formation to the right. Wurdeman, split out as the far receiver, caught Jarrod Pimentel's pass at the 26, feinted a pitch to the inside slot receiver, spun around and raced to the end zone, leaving behind a trail of stunned defenders. The touchdown put Concordia in front, 21-20, in the second quarter. The Bulldogs never relinquished the lead the rest of the way in what remained a nail-biter.
When Wurdeman learned he had been selected to the NAIA Hall of Fame in 2019, he quickly called his former quarterback. Said Wurdeman, "I told him that back when we were playing it was never about the numbers, the stats or the honors. Especially when we got to our senior year, we just wanted to go out and play some great football and put some wins on the board."
Another crucial play was David Schmidt's interception after a fumble had given St. Ambrose the ball at the Concordia 28. Jess Boyd also nailed a 32-yard field goal into the wind on a day when every point was critical. Pimentel finished with 267 passing yards while Darin Suckstorf went for 71 rushing yards and two touchdowns. With Alvarez out, Josh Brickner stepped in and carried the ball 10 times for 47 yards. Remarked Coach Meyer, "That's what is very special about a victory like this. A guy like Josh Brickner steps to the plate."
Added Wurdeman after the game, "Our goal at the beginning of the year was to make the playoffs. Now that we made the playoffs, we didn't just want to stop with that. We told ourselves we have the confidence and ability to make it a couple rounds, if not the championship game."
In one of the other eight NAIA first round playoff games, No. 5 Sioux Falls upset No. 2 Mary (North Dakota), 27-21 in overtime, to put two GPAC teams into the quarterfinals. In a playoff setup in which pairings are decided at the conclusion of each round, the NAIA sent Concordia back to Sioux Falls for the national quarterfinals. Could the Bulldogs do it again?
Game 12 (NAIA Playoffs, Quarterfinals) – November 24, 2001: No. 8 Concordia (10-1) at No. 5 Sioux Falls (10-1)
--Site: Sioux Falls, South Dakota
· FINAL SCORE: Sioux Falls 34, Concordia 0
· Sioux Falls final 2001 record: 12-2 (went on to be the national runner up)
It was Concordia-Sioux Falls Part Deux. This time around, the weather was even worse and the field conditions were just as sloppy as the meeting that took place at Howard Wood Stadium back on Sept. 15. The Cougars got their revenge in a lopsided 34-0 decision. The winds howled out of the northwest and rain pelted sideways on a miserable day for the Bulldogs, who still had much to be proud of. In the slog, the Cougars held Concordia to a measly 64 yards of total offense. Said Coach Meyer following the game, "We have no excuses. We need to be two-dimensional in our offense to be successful."
There was no shame in losing to mighty Sioux Falls, which would go on to finish as the 2001 national runner up. Before transitioning to NCAA Division II years later, the Cougars captured NAIA national championships in 2006, 2008 and 2009. A special group of Bulldogs had managed to knock off Sioux Falls in the regular season matchups of 2000 and 2001.
Even worse than dealing with the weather that Nov. 24 day, Concordia played with heavy hearts after the tragic death of wide receiver J.T. Thomas five days prior to the game. Thomas had been involved in a car accident. Said Meyer, "It probably wasn't until Wednesday or Thursday that week that we had any semblance of a practice. It just impacted all of us."
The playoff quarterfinal loss does not define the '01 Concordia Football team, arguably the greatest in school history. Said Sean Stewart years later, "It's an honor and a privilege and I'm proud to say that Concordia University laid a Christian foundation for me. It provided me with the tools to become a servant leader throughout this country and throughout this world in whatever I do. It's provided me a guiding light and Christian values that I've instilled in my Christian home."
Added Erik DeHaven, "Concordia University is one of the greatest places on this Earth. It allowed me to create a relationship with my Lord and savior. It's something I did not have before. I know that's why God led me to that university."
Players like Pimentel understood what it took to get to that point. Said Pimentel, "The biggest thing I take away is an appreciation of building a championship caliber program. That was a lot of fun. When you come into a winning program and keep winning, you don't know what it's like from the other side of it."
"United in purpose," the 2001 Concordia Football team left an everlasting legacy that means much more than a championship ring. For his work in guiding the '01 squad, Courtney Meyer was named the GPAC Coach of the Year and an AFCA Regional Coach of the Year. Said the humble Meyer, "I look at this as a team award."