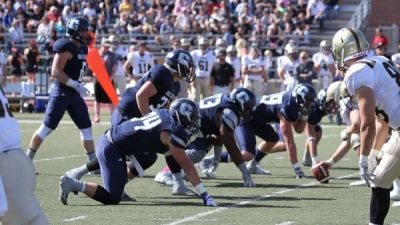 Turnovers plague Bulldogs in loss to No. 12 Northwestern
SEWARD, Neb. – Despite turning it over five times, the Concordia University football team nearly upset a ranked Northwestern team for the second time in three years in another pulse-pounding affair. The twelfth-rated Red Raiders came from behind to steal a 27-21 win over the host Bulldogs in Seward on Saturday afternoon.
Sixth-year head coach Vance Winter's squad is now 3-4 overall and 2-3 in conference play. All four losses have been decided by a margin of seven points or less.
"Obviously against a good team you can't afford to have that turnover margin," Winter said. "We really struggled with turnovers today. We had two in the red zone that cost us points. Credit to Northwestern. They made plays. We have to take care of the ball."
Northwestern (5-1, 5-0 GPAC) took advantage of a fumbled punt late in the fourth quarter, recovering the ball at the Bulldog 16. Four plays later Brady Timmer scored his second touchdown of the day on a two-yard run to give the Red Raiders a 27-21 lead with 3:17 left in the game. Concordia turned it over on downs on the proceeding possession and Northwestern then ran out the clock for its fifth-straight win.
The Bulldogs produced explosive plays for touchdowns, but a minus-five turnover margin proved too much to overcome. Ball-hawking Northwestern cornerback Justin Wohlert (GPAC-leading nine interceptions) picked off three Von Thomas passes. Two of them came with the Bulldogs in the red zone.
Once again the Thomas to Jared Garcia connection was alive and well. The Bulldogs took their first lead of the day when Thomas delivered a strike down field to Garcia, who hauled the ball in and carried it 65 yards for the score to make it 14-7 early in the second quarter. Just a few minutes later Garcia caught his eighth touchdown pass of the season when Thomas found him on a 20-yard scoring play, extending the lead to 21-13 at the time.
"We've got a lot of young players playing due to injuries," Winter said. "Those guys are just good football players. It's a lot of young players who are competing. We're just making a few key mistakes in the game that cost us. Hopefully we'll learn from this down the road.
"I'm proud of this group and how they responded to last week."
Concordia quickly answered the 12-yard touchdown run by Northwestern's Jessie Riley on the game's opening eight-play, 80-yard scoring drive. Freshman Tarence Roby then electrified the Bulldog Stadium crowd by taking the ensuing kickoff 90 yards for his second touchdown of the season. Roby also returned a fumble 45 yards for a score in the win over Midland.
"I saw it was a short kick so I had to get to it as quick as possible," Roby said. "I set up the blocks and ran straight first and I saw the hole open up, so I ran through it. I saw they were moving towards their sideline so I cut back to our sideline. There was just open field."
The Red Raiders outgained Concordia 449-308 on the day. The Bulldog defense struggled to contain Riley, who piled up 145 yards rushing and 33 receiving. However, the performance was an improvement over last week's game at Nebraska Wesleyan in which Concordia gave up more than 500 yards.
Defensive backs Landon Oelke and Tait Sibbel both made 11 tackles while defensive lineman Kyle Rakow again shined with nine tackles – two for loss – and one sack.
Thomas finished 10-for-26 for 189 yards and two touchdown passes. The stout Northwestern defense, ranked No. 1 in the NAIA in total yards and scoring, limited Thomas to 15 yards rushing on five attempts. Bulldog running back Bryce Collins put forth a solid effort with 78 yards rushing on 18 carries. He also caught three passes for 25 yards.
The Red Raiders' streak of 11-straight quarters without allowing a point was snapped when Roby raced to the end zone at the 10:52 mark of the first quarter.
Northwestern quarterback Craig Bruinsma completed 25 of 39 passes for 249 yards and a touchdown. His second quarter touchdown toss to Ben Green brought the Red Raiders within a point, 14-13. That score held up heading into the halftime break.
Concordia had hoped to duplicate its 2012 home win over Northwestern in which it defeated the then No. 11 Red Raiders, 17-16, on homecoming.
The Bulldogs will take the short trip to Crete next Saturday and challenge rival Doane (3-3, 3-2 GPAC). Kickoff is slated for 1 p.m. Concordia has lost eight-straight meetings with the Tigers since a 23-10 Bulldog win in Crete in 2005. Doane had Saturday off following a 27-23 loss to No. 18 Dakota Wesleyan on Oct. 11.