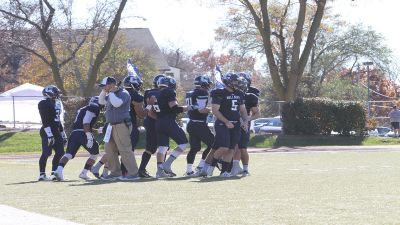 MITCHELL, S.D. – Despite limiting 18th-ranked Dakota Wesleyan to just 158 total yards of offense, the Concordia University football team fell, 17-10, in Mitchell, S.D., on Saturday afternoon. The Bulldogs had more than a two-to-one edge in total yards, but could not overcome six turnovers. The host Tigers sealed the win with a fourth down stop in the final seconds after Concordia had entered the red zone.
Seventh-year head coach Vance Winter's squad dropped its third-consecutive game to a team ranked in the top 20. The Bulldogs are no 5-4 overall and 4-4 in conference play.
"We played really hard, but it was a sloppy game," Winter said. "Both teams really competed as expected. We had some unfortunate turnovers in the first half. That was really disappointing. I thought we weathered all of those things and had some great opportunities. We just didn't make enough plays."
Behind senior quarterback Garrett Folchert, Concordia methodically moved the ball down field on its final possession with a chance to send the game into overtime. A nine-yard pass play to Bryce Collins gave the Bulldogs a first down at the Dakota Wesleyan 16-yard line on the 12th play of the drive. But the Tigers buckled down and forced four-straight incompletions to sew up a win on senior day.
Dakota Wesleyan broke the 10-10 tie early in the fourth quarter when Dustin Livingston took Sandy Fisher's punt 52 yards to the end zone. The junior receiver also caught a 17-yard touchdown pass early in the second quarter to pull the Tigers even with Concordia, 7-7.
But for most of the day, dual-threat quarterback Dillon Turner and the Dakota Wesleyan offense sputtered against Concordia's top-10 ranked defense. The Tigers could not keep junior defensive end Trey Barnes (four tackles for loss, one sack) out of the backfield. Facing consistent pressure, Turner went just 8-for-28 for 67 yards through the air.
"It was a pretty phenomenal effort," Winter said of his defense. "Our D really dominated things versus their offense. They've been putting up some good numbers all year. Even on their scores it was more about us making mistakes. Defensively we played really well."
Barnes and company somehow limited the Tigers to only three points off the six Bulldog turnovers. Dakota Wesleyan's only points off giveaways came in the second quarter after Brady Mudder sacked Folchert and stripped the ball loose. The Tigers recovered at the Concordia 37 but ended up settling for a 25-yard field goal from Daniel Porter.
The Bulldogs held the ball for nearly 32 minutes in time of possession. They pounded away with Collins, who carried 31 times for 127 yards and a touchdown. Folchert completed 19-for-41 passes for 239 yards. He was picked off three times.
The opportunistic Dakota Wesleyan defense made one of its biggest stands prior to Adam Meirose's 19-yard field goal that tied the game, 10-10, with 8:51 left in the third quarter. The chip-shot field goal was set up by a 62-yard bomb from Folchert to Trae Owens, who was tripped up from behind at the three-yard line by Cody Bonte. Collins was then stuffed on the next two plays and Folchert fired an incomplete pass on third down.
Owens led Concordia in receiving with six catches for 122 yards. Defensively, LeDontrae Gooden and Clay Mauro had 10 stops apiece. Barnes totaled nine tackles.
The Bulldogs will close out the 2015 season next Saturday (Nov. 14) when Briar Cliff (3-6, 2-5 GPAC) travels to Seward. Kickoff from Bulldog Stadium is slated for 1 p.m. Concordia will honor each of its seniors during a pregame ceremony. The Bulldogs have won each of the last eight meetings with the Chargers.