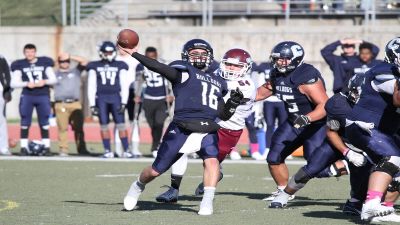 'Tough as nails' Folchert plays hero in win at Midland
By Jake Knabel, Director of Athletic Communications
Garrett Folchert has already taken his share of cringe-worthy hits in 2015. In one particular instance this season he got thrown to the turf so hard by a blitzing Northwestern safety that seventh-year head coach Vance Winter wondered if his senior quarterback would have the ability to peal himself back up. Many observers rightfully asked the same question of the Concordia football team after it dug itself a 35-14 hole at Midland on Saturday.
With TJ Austin unable to go for most of the second half, the quarterback rotation was dead. The Bulldogs needed something big from Folchert, an Ogallala native who had attempted only 11 combined varsity passes over his first three collegiate seasons.
It was hard to tell based on the confidence Folchert displayed. Said Folchert, "There was no panic on our sidelines."
All Folchert did was become the first Concordia signal caller to throw for more than 300 yards in a game since Jarrod Pimentel in 2001. In leading the Bulldogs back from a three-touchdown deficit, Folchert completed 26-of-35 passes for 315 yards while tossing scoring strikes of 75, 17, six and 10 yards. The impressive numbers surprised Folchert himself.
"That did surprise me, honestly," Folchert said. "I don't keep track of that stuff during the game. I didn't think I threw 35 times either. When people were sending me texts and Facebook messages, it was pretty cool to see the support from Concordia and the people around."
Though bruised and banged up in the fourth quarter, Folchert proved unflappable. With the game on the line, the Bulldogs trailed 35-28 late in the fourth quarter and stared down a fourth and goal from the 10. The 5-foot-11, 190-pounder then showed off some surprising improvisational skills.
Rolling to his right, Folchert discovered that his top-two options – receivers Jared Garcia and Carey Harrison – were locked in tight coverage. Not known for his scrambling ability, Folchert bought time and threw across the field to find Brandon Luetchens for the game-tying touchdown in a signature moment for the Ogallala High School product.
"The protection kind of broke down. Things really didn't go according to plan on that play," said offensive coordinator Curran White. "We threw the backside route which we would almost never throw. That was a huge moment. Garrett was able to be aware of where everybody's at on the field and make a great play."
Said Folchert, who knows the playbook as well as anyone, "We never throw backside on that. I saw that (the Midland defender) was out of position. I got rid of it. I got hit and I saw him catch it and fall into the end zone. I kind of had a laugh about it. It worked out."
It's hard to dream up a comeback performance more satisfying for a guy who spent much of his first three seasons at Concordia simply holding for field goals and extra points. But Folchert made huge strides since his junior year. His arm looks noticeably stronger and his throws have been more accurate. Few can match the mental preparedness and determination of Folchert.
"He just goes about his business," White said. "He goes to work every single week. He's preparing himself like he's the starter. He's got a great handle of our schemes and our system. He knows as much or more about the offense as anybody."
Knowledge and maturity were two of the reasons why Folchert thrived at Midland. He didn't sulk while not taking a single snap in the first quarter. Folchert responded when called upon, amassing his 315 passing yards (226 in the second half) over three quarters.
Afterwards head coach Vance Winter used words like "tough as nails" and "competitor" to describe Folchert. By playing to his strengths and displaying unwavering toughness, Folchert helped the Bulldogs storm back for a win that won't soon be forgotten.
Prior to the game-winning touchdown run delivered by Bryce Collins on the fourth-and-one overtime play, Folchert told his head coach, "Let's win it right now."