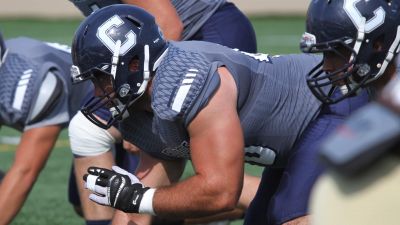 Head football coach Patrick Daberkow likens senior Erik Small to a lumberjack. Said Daberkow, "If this were 100 years ago he'd probably be somewhere chopping down a tree."
At 6-foot, Small may not have the height of Paul Bunyan, but he does have the brawn. His style on the football field is old school. He's a throwback to the days when Concordia stars like Gene Oetting rarely came off the field during an entire game. Those are exactly the qualities that endear a player to Daberkow, who preaches toughness.
"He's a dynamic football player," Daberkow said. "He's a violent player. He's really good at getting extension when he's kicking out a linebacker. The same things that make him good at that are what make him good at playing defensive line. It's the same kind of low, explosive movement. He's just an exceptional football player."
Defensive line you say? Now in his third season as a starting fullback at Concordia, Small also tops the depth chart at the nose guard position that had previously been held down by Ron Jackson. There was one problem Daberkow saw in regards to Small. The native of Los Alamitos, Calif., was one of the team's best players, but he wasn't on the field enough.
The coaching staff knew it had to replace eight defensive starters, including the entire line. The Bulldogs had a better opportunity to maximize Small's impressive strength by allowing him to anchor the interior of the defense.
"Coach Daberkow called me into his office one day and said they were thinking about it," Small said. "We needed more depth there. He thought I'd be able to help out and contribute a little bit. I was all for it. At fullback you only get maybe a quarter of the plays throughout the game. I thought playing defense would let me contribute more."
Small got a late start. He did not work at defensive line at all in the spring, but began taking reps there early during preseason camp this August. Small had played the position in high school, but this was a different level with a different scheme. He appeared to pass his first big exam last week when he recorded five tackles and his first career sack in the season opener at Kansas Wesleyan.
The 252-pounder and weight room star figures to get better as the season goes along. He says one of the biggest adjustments is adapting to the punishment that takes place at the line of scrimmage on every play.
"At fullback you get a running start before you impact somebody," Small said. "Off the line it's a lot of pushing and hand fighting. I'm still adjusting there. And on defense you're always tired. You're never fresh."
Daberkow has an open mind about using some of his best athletes on both sides of the ball. All-conference corner Tarence Roby got multiple looks on offense last week. In addition, freshman Lane Napier has impressed at both running back and linebacker.
The coaches wouldn't put such a burden on a player if they didn't think he could handle it. Small has the right physical traits and the right attitude to make it work. In turn, Small wants to contribute as much as he can to a program that was one of the few that had interest in him after an injury forced him to sit out during his second year at Fullerton College in California.
"I decided I was done with it because I had torn my knee up and I was just over it, I guess," Small said. "In that year off I kind of got the itch to play again. Concordia was actually recruiting my brother (Kevin), who didn't end up coming here out of junior college. I told him to show them my film. They offered me off of that. It was the only offer I had. I didn't know how many people would take a chance on someone who hadn't played for two years."
The Concordia Experience has been a new one, but a "good one" for the born and raised Californian. The experience has been positive to the point that his brother Kevin decided to join him on the team. Kevin has one year of eligibility left as a graduate transfer.
Erik downplays the role he had in convincing his brother to come to Concordia. However, it's clear that Erik has put himself in a position to influence others as a senior with the type of attitude and work ethic that any coach would want on their side.
"We could tell from a personality standpoint that he fit in really well here," Daberkow said. "He's exactly what you want in a player. He's a guy who can play through some pain and has a lunch pail mentality. You never worry about him being late. He's just a hard-nosed, old school downhill football player. That's the kind of guy that you build things around."
Small lists fishing, shooting, video games and America under his interests. He's a criminal justice major, but perhaps lumberjacking is a fallback for Concordia's two-way player.