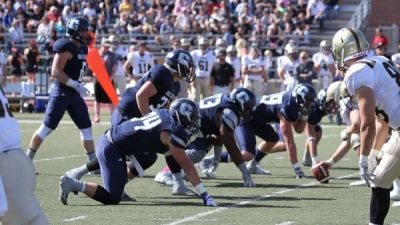 Thomas breaks two school records in homecoming domination of Dordt
SEWARD, Neb. – Senior quarterback Von Thomas broke a pair of school career records and the Concordia University football team racked up 548 total yards in rolling to a 38-14 homecoming Saturday win over visiting Dordt College (0-5, 0-4 GPAC). Thomas got plenty of help from backfield mate Bryce Collins, who put up 142 of his career high 157 rushing yards in the first half.
The blowout win was just what the Bulldogs needed after last week's heartbreaking loss in the final minute to Dakota State. Concordia improved to 3-2 overall and 2-1 in conference action.
"We challenged our guys to play a 60-minute football game. I thought we did a lot better today," head coach Vance Winter said. "We were a lot more efficient. There were some crazy things that happened in that game, but we maintained our composure and did some better things.
"I thought offensively, up front, and Bryce running the ball – we did some nice things controlling the game."
In pulverizing the Defender defense to the tune of 327 rushing yards and 5.8 yards per carry, Concordia outgained Dordt by more than 400 yards (548-122) and possessed the ball for 41:34. The Bulldogs amassed 29 first downs compared to just six for the Defenders. Concordia was also 11-for-17 on third downs while holding Dordt to 1-for-9 on third downs.
Thomas and company had everything working on the chilly homecoming Saturday.
"After last week's loss here at home, we went back and made some minor adjustments," Thomas said. "We started out with an attitude offensively. We had to get back into attack mode and be aggressive and get back to converting on third downs. I felt like we did a pretty good job doing that today."
Thomas broke former star quarterback Jarrod Pimentel's school total touchdown record with a second quarter scoring strike to Jared Garcia in the left corner of the end zone. Garcia made a highlight reel catch over Dordt's PJ Tramell to mark the 53rd total touchdown (38 passing, 15 rushing) of Thomas' standout Bulldog career. The native of Miami, Fla., then eclipsed another of Pimentel's career marks (6,311 total yards). Thomas finished with 244 total yards (and three total touchdowns) on the day and now has 6,422 for his career.
"I never set any goals as far as personal (stats), but I'm going to enjoy it," Thomas said. "My teammates won't let me live it down now. It's a great feeling."
In the running game, Concordia's offensive line opened up massive holes for Collins. The sophomore running back from Boerne, Texas, broke free for a 47-yard rush on the Bulldogs' opening drive, setting up Thomas' five-yard touchdown run. Collins later scored from one and seven yards out as Concordia built a 28-7 halftime advantage.
The Bulldogs led 35-7 early in the third quarter when Thomas added his 39th career passing touchdown, finding tight end Seth Fitzke for a six-yard scoring play that capped an 11-play, 67-yard drive. The touchdown was the first in the career of Fitzke, a Seward High School product.
Defensively, senior defensive lineman Kyle Rakow and company enjoyed their best outing of the season. The Defenders got almost half of their total yardage on a 60-yard touchdown pass from quarterback Taylan Seaman to Xavier Cafee after Concordia had pulled its No. 1 unit.
Take out the late scoring strike and Dordt's option offense averaged just 1.8 yards per play.
"It's always key to play assignment-sound football when you play an option team," Rakow said. "Dordt is good at what they do. Coach's emphasis all week was that if everyone does their part, we can shut them down. I thought we did a pretty good job most of the day of doing that."
Rakow continues to make a habit out of being in the opposition's backfield. The native of Pleasant Dale, Neb., came up with two more tackles for loss on Saturday to bring his team-leading season total to eight. His five total tackles were enough to top the Bulldogs with Dordt running only 36 offensive plays.
The Defenders got used to seeing No. 10 on the field. Thomas ended up completing 21 of 31 passes for 216 yards. He also ran four times for 27 yards on a day when he helped cement his place among some of the best offensive players in Concordia's history.
"Von's just done an amazing job," Winter said. "He's been an amazing leader for us. I'm real happy for him to be able to do that on homecoming with his mother and his fiancé here. He's a great competitor. I love coaching him. I know our guys like playing for him too."
A 38-7 advantage early in the fourth quarter allowed Winter to get a look at lot of his reserves. Senior running back James Ferguson busted a 46-yard run in the fourth quarter and finished with 49 yards rushing. Garcia, who caught his fifth touchdown pass of the season, led the team with six receptions for 33 yards. Nine different players caught a pass for the Bulldogs.
Dordt got its first score on a 50-yard punt return for a touchdown by Markei Goodman that came off a punt of just five yards. The Defenders were suddenly within seven points, but never got any closer.
The Bulldogs renew their rivalry with Nebraska Wesleyan (1-4, 1-3 GPAC) next Saturday in another game set to kick off at 1 p.m. Last season Concordia defeated the then No. 22 Prairie Wolves 19-3 on Oct. 12 in what was the NAIA game of the week. Nebraska Wesleyan fell 55-29 at Doane on Saturday.