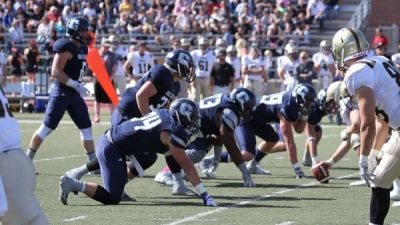 Thomas breaks numerous single-season school records in 2013
SEWARD, Neb. – Concordia junior quarterback Von Thomas used his arm and legs to break a 25-year single-season school record in Saturday's dominant 45-7 victory over Briar Cliff. With 269 combined passing and rushing yards in the win, Thomas finished with 2,508 total yards of offense on the season, eclipsing the previous school record of 2,443 by former quarterback Phil Seevers in 1988.
Thomas also broke single-season marks for pass completions (197), attempts (334) and completion percentage (59.0) in 2013. The signal caller from Miami, Fla., surpassed two of his own records set in 2012 when he completed 165 passes and attempted 331 tosses. Thomas' completion percentage of 59.0 in 2013 topped the previous school record of 55.5 by Jarrod Pimentel in 1998.
This season Thomas set personal career highs with 1,947 passing yards and 561 rushing yards. Over the past two seasons he has started all 22 games, amassing 3,787 passing yards, 1,021 rushing yards and 36 total touchdowns (27 passing, nine rushing). His 4,808 yards of offense over the past two seasons are the most for any player in program history in a two-year period.
Next season Thomas will be expected to fly past Jarrod Pimentel's program record of 5,369 yards of offense over a three-year stretch. Pimentel, a member of the Concordia Athletic Hall of Fame, piled up that yardage from 1999 to 2001, quarterbacking then head coach Courtney Meyer's squad to a co-GPAC title in 2001. Pimentel's 2001 total of 2,150 passing yards remains a school single-season record.
Thomas' 1,947 passing yards in 2013 ranks second best to Pimentel and just ahead of Seevers' 1,938 yards through the air in 1988.
Known more as a defensive-oriented program throughout its history, Concordia has improved its offensive output from 16.7 points per game in 2011 to 24.0 in 2012 and 26.4 in 2013 with Thomas leading the charge in coordinator Curran White's pistol spread offense.
Von Thomas single-season school records broken in 2013:
Total offense: 2,508 yards
--Previous record: 2,443 yards – Phil Seevers (1988)
Pass completions: 197
--Previous record: 165 – Thomas (2012)
Pass attempts: 334
--Previous record: 331 – Thomas (2012)
Completion percentage: 59.0
--Previous record: 55.5 – Jarrod Pimentel (1998)