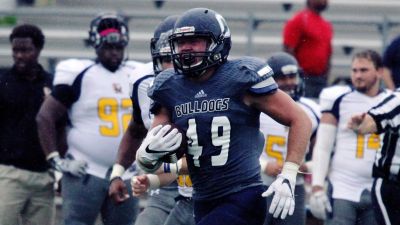 Michael Hedlund has done a little bit of everything. He started his collegiate career as a quarterback before moving to safety and then linebacker. When he was younger, he even took dance and gymnastics classes.
You could call him an "avid tap dancer" – actually, Hedlund would like to set the record straight on that. He may have written about his tap dancing exploits on a preseason 20 questions profile, but he'd really rather chase ball carriers.
"I think one time I was getting ridiculed by Ronald Jackson about how I couldn't dance," Hedlund joked. "I shot him a quick tap dance. From there I just kind of ruined it. With how this team dances and how I dance, I don't think I could win (a dance off). I think I'd embarrass myself."
There's nothing embarrassing about Hedlund's footwork on the field. The native of O'Neill, Neb., may not have the physical stature of the ideal inside linebacker, but he's more than made up for it with speed, strength and instincts. A year after leading the Bulldogs with 105 tackles, Hedlund is averaging 12.8 stops per game, ranking him sixth among all NAIA players.
Hedlund is as reliable as any player on the team. Defensive coordinator Patrick Daberkow knows what he's going to get out of his senior leader every Saturday.
"He really understands football and he's a good leader, too," Daberkow said. "He can rally the troops and get people on the same page. He's our communicator on defense. I trust him to get it done."
From a football perspective, Hedlund was miserable his freshman year. Sitting out did not sit well with him. With Von Thomas leading the quarterback group, Hedlund found himself buried on the depth chart. Knowing this, Hedlund volunteered as a long snapper. Anything to get on the field.
Then in the spring of his freshman year, Hedlund was approached by Daberkow about transitioning to safety, a position he had experience playing in high school. But Hedlund didn't stick there long, only because injuries and lack of depth forced another position change.
"I was kind of used to playing safety," Hedlund said. "When Mike Carroll blew his ACL, that's when they threw me at middle backer my sophomore year. That was tough. There were some big dudes on the inside. The first two games I definitely took a beating. That was the hardest change, going from safety to inside backer."
Now Hedlund looks like a natural at the position. He's a primary reason why Concordia again boasts one of the top defenses in the country. Hedlund was a fine player in 2015. Now he's on another level. Take for example, his gargantuan effort in the team's 34-23 win at Ottawa University on Sept. 10. Hedlund made like Pac-Man in collecting 18 tackles. He also intercepted a pass and forced a fumble in an effort that led to him being named GPAC defensive player of the week.
If conference observers didn't know about Hedlund beforehand, they do now. It's totally cliché, but Hedlund is that lunch pail guy. His motor is always running.
"He does a really good job of diagnosing plays early and his effort's always there," Daberkow said. "He'll make a lot of tackles that other guys don't make because they give up on a play. He's running guys down from the screen game to the power iso. He'll take on a pulling guard. He doesn't shy away from contact. What's unique about him is that he's really strong for his size."
Hedlund's production is matched by few when it comes to Concordia defenders. Hedlund now ranks fourth among all Vance Winter-era players for career tackles. With continued good health, Hedlund figures to rise to the top of that list. He's amassed 218 career tackles with five games remaining in the 2016 regular season.
He's easy to get behind. It's really no wonder that high school teammate Tait Sibbel wanted Hedlund to join him at Concordia. It's also not surprising that the town of O'Neill fills with pride in regards to one of its own. A bus of O'Neill natives will be making the trip to Mitchell, S.D., when Concordia visits Dakota Wesleyan on Oct. 15.
An agribusiness major with farming aspirations, born in Norfolk to parents Mike and Carol, Hedlund is someone Daberkow looks to when pitching Concordia to potential Bulldogs. Hedlund will tell them how, "It was always Concordia for me."
It's been a great fit for both sides. Unfortunately, there is some bad news. Hedlund is "really not a tap dancer." But he's really good at football. Even better, he's exactly the student-athlete "we wanted in the program" as Daberkow put it. Recently some Concordia football players were involved in a car accident. Hedlund even beat his coaches to the hospital in support of his teammates.
Said Daberkow, "That's just who he is."