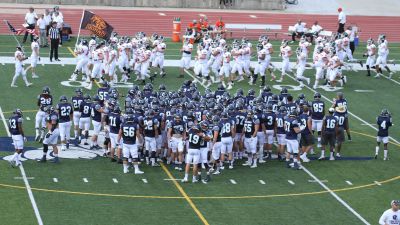 SEWARD, Neb. – Between now and April 20, the Concordia University football team will practice 15 times as part of spring ball on campus. Fans of the Bulldogs can get a preview of what's to come this fall when the program holds its public spring scrimmage on April 20 at 7 p.m. CT. Head coach Patrick Daberkow is preparing for his second season after the 2017 campaign yielded a 6-4 overall record.
First practice: Monday, March 26
Public spring scrimmage: Friday, April 20, 7 p.m. (Bulldog Stadium)
Starters returning: 6 offense, 6 defense
Position-by-position glance
Quarterback
The coaching staff will be looking for a difference maker here. The offense operated in a productive manner in weeks six through nine when Riley Wiltfong returned to health. The only experienced quarterback inside the program this spring is Andrew Perea, who enters his senior season. Perea threw five touchdown passes last season while appearing in seven games. Others with an opportunity to impress during spring ball are Blake Culbert and Jake Kemp. No matter who emerges as the No. 1 guy, the development of quarterback depth will be a high priority. Daberkow says that all three guys currently in camp are adept at throwing the deep ball.
Running Back
Converted receiver and junior-to-be Ryan Durdon turned this position from a major question mark this time a year ago into one of the team's biggest strengths this past fall. He enjoyed one of the best seasons ever by a Concordia running back, rushing for 1,247 yards and eight touchdowns while earning second team All-GPAC accolades. Concordia loses No. 2 back TJ Austin (323 rushing yards). Ideally, the Bulldogs will find a reliable backup to the lessen the burden on Durdon, who averaged 31.8 carries per game during the team's late four-game win streak. Fresno, Texas, native Sir-Zavius Broussard is a candidate for a breakout after getting a taste of the college game in his freshman season. Daberkow feels good about his lead blockers with fullbacks Robert Ferguson and Daniel Langewisch back in the fold.
Receiver
There likely won't be one guy who can replace the production of Jared Garcia, who finished his Concordia career with 161 catches for 2,495 yards and 35 touchdowns over his four seasons. Two returners caught 15 or more passes: Lane Castaneda (23 catches, 233 yards, 3 TDs) and Vincent Beasley (15 catches, 250 yards, 2 TDs). Jackson Hall (25 catches, 318 yards, 3 TDs) decided not to return to Concordia for his junior year. The spring will help determine whether someone such as Castaneda or Beasley is able to emerge as an elite playmaker. With the losses of Garcia and Hall, this position would appear to be one with room for an impact newcomer or two.
Tight End
The Bulldogs did not incorporate the tight ends into the passing game much in 2017, but senior Seth Fitzke was an important part of the running game. His contributions in that regard helped him pick up second team All-GPAC accolades despite only notching four receptions. Senior-to-be Stuart Kolpin was next in line after Fitzke on the 2017 depth chart. The program will miss Fitzke's physicality and toughness. The good news is that another Fitzke – Brady – has three years of eligibility remaining. The 6-foot-5 Brady Fitzke possesses exciting potential and an ability to line up as a slot receiver.
Offensive Line
The 2017 group emerged as one of the best offensive line units in recent history for the program. The anchor is center Matt Romero, a first team all-conference choice. Fellow seniors-to-be in tackle Michael Brewer and guard Grady Koch join Romero as returning starters on what should be another solid o-line. Others with experience are Cole Baumgartner and Dalton Goodenberger. Daberkow has been consistent in stating that an offense is only as good as its line. Starters Hallick Lehmann and Austin Reese must be replaced.
Defensive Line
For the second year in a row, the Bulldogs are looking for a new anchor at nose guard after getting all-conference play the past two seasons from the likes of Ron Jackson and Erik Small. At the defensive end spots in Concordia's 3-4 alignment, starters Aaron Rudloff (34 tackles) and Parker Johnson (28 tackles, 4.5 tfl's) are back in the mix. In terms of pass rushers, the Bulldogs missed former All-American Trey Barnes' production this past fall. Small and Zac Walter tied for the team lead with three sacks apiece last season. This group often got overshadowed in 2017 by the defense's high profile players in the linebacker and secondary units. Daberkow says that a surprise name could end up being one of this unit's top players.
Linebacker
It's rare for a freshman to make the type of immediate impact made last season by inside backer Lane Napier, a David City native. The tackling machine led all GPAC players in stops (97) during the regular season. He also added eight tackles in the backfield during a first team all-conference campaign. He's the headliner of a unit that includes experienced players in senior-to-be Kordell Glause (44 tackles, 4 tfl's), Derek Tachovsky (35 tackles) and Riley Bilstein (16 tackles). The aforementioned Walter can provide a push off the edge in passing situations. The departure from the starting group is Shane Scott.
Defensive Back
No area of the team will be hit harder by graduation than this one. First team all-GPAC stars D'Mauria Martin and Tarence Roby will no longer terrorize opposing quarterbacks. The next big thing could be junior-to-be Nate Gilmore, a safety who made 46 tackles and broke up seven passes last season. Concordia figures to be youthful at corner, where Darius McVay and Davonte Mouton will have an opportunity to step in. They are heading into their sophomore years. Safety Caden Jameson could also push for a starting role in his senior season.
Specialists
The stinger here is losing the game-breaking return abilities of Roby, who piled up 1,041 all-purpose yards as one of the top return men in the NAIA. Durdon also returned seven kicks. Help will be needed in this area. Daberkow and his staff will also be looking for an answer at kicker, a spot held down by senior Brendan Cremin in 2017. That position battle could wind up being won by an incoming recruit. On the other hand, Concordia has a handle on the punting position with sophomore-to-be Brady Fitzke back after he averaged 42.7 yards per punt in his first season as a Bulldog. Fitzke will battle Payton Stevens for the job.
Thoughts from Coach Daberkow
We'll do all sorts of things with our guys offensively. Brady Fitzke will line up at tight end but we'll also split him out at Z receiver and we'll line him up at fullback. He's not as big and strong as (older brother) Seth, but he's probably more versatile from a receiving standpoint … We're going to be a ground-and-pound offense. We have to throw the ball better than we did last year. We're going to run but I think we have the ability to throw more. We need to be a little more unpredictable on first and 10. Last year it was power left or power right. It worked for us in the back half of the season but we have to figure out different ways to distribute the ball … The strength of our defensive unit is our linebacker core. Lane's (Napier) strength lies in his competitive nature. He and Kordell (Glause) just don't accept defeat. They're fierce competitors. Lane has a knack for the ball. He just loves to compete. He's a downhill football player. The sky's the limit for him. He's going to be a special player for us … The amount of playing time on Saturdays that unit (defensive backs) has had has been limited. We don't know what we have yet. We'll know a lot more in a month … Our punt return is a question mark … I think we'll be able to distribute it more where Durdon won't have to carry the load as much as he did last year. He'll still be our primary guy. He's going to get a lot of touches … It's a wide open race (at quarterback). Andrew Perea has had some experience. Jake Kemp has a great arm. All three of our quarterbacks (in for the spring) can throw the deep ball really well. That's what we want to see. It really is wide open.