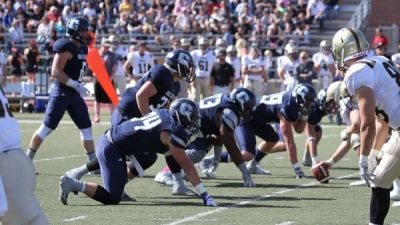 Skill players, defense make strides during football spring season
By Jake Knabel, Director of Athletic Communications
After 15 spring practices, including one scrimmage open to the public, head coach Vance Winter has good reason to be encouraged about the prospects for the 2015 Concordia football team. The eighth season for the Bulldogs under Winter will feature a quarterback not named Von Thomas as well as a hopeful return to stinginess on defense.
"I felt like we got a lot out of every day," Winter said of the spring season. "But like I said to all the guys, spring ball is not the finish to anything. This is the beginning of the process. Our preparation and our work this summer is going to go a long ways, but I think we have a lot of talented guys."
Concordia opened up spring practice on April 8 and then capped the semester with its annual scrimmage that took place inside Bulldog Stadium on May 1. Winter says his team got after each other with physical practices that should set the tone for rugged play in the trenches this fall.
The 2015 Bulldogs already appear to be a hard-hitting bunch.
"I really liked how spring ball ended," Winter said. "I think our guys really competed hard on Friday night (May 1). It was one of the better competitive scrimmages we've had. There was some sloppiness obviously but in terms of hitting, it looked like real game hitting speed and guys were getting after it. We had some scuffles. It was good."
The familiar stars such as 1,000-yard running back Bryce Collins and Jared Garcia (school record holder for touchdown catches in a season) continued their development in the spring and are primed for even better performances this fall. They are headliners of an offensive skill group that includes receiver Carey Harrison, running back Demarques Saulberry and all-conference tight ends Seth Fitzke and Josh Slechta.
Plus TJ Austin did nothing to relinquish his billing as the favorite to emerge as the team's No. 1 quarterback and former Doniphan-Trumbull standout running back Jordan Slough flashed big-play potential. The bulk of these skill players are known commodities to Winter and his staff. Fortunately, there were good stories that surfaced in the spring regarding up-and-comers at less stabilized positions.
"We have quite a few skill guys that we're pretty excited about," Winter said. "Our biggest thing is up front and which guys are going to emerge. We think we have some really quality candidates, but we want to know who are the guys who are going to emerge as some of the better ones."
Ben Balduc, the lone returning starter on the offensive line, moved to offensive tackle and solidified one of five spots up front. The opposite tackle spot may be junior-to-be Hallick Lehmann's to lose. The native of Albion, Neb., has popped in the weight room and on the practice field. Said Winter, "Hallick has a chance to be really good. His testing numbers are off the charts. He's one of the most athletic o-linemen we've had."
After allowing an uncharacteristically high 171.6 yards rushing per game in 2014, the Concordia front seven expects to tighten up. Winter said he saw a much faster defense this spring. That speed should be reflected in a linebacker crew headed up by Michael Hedlund, who also played safety in 2014. Brandon Namuth also had a productive spring.
They will be protected up front by the likes of space-eating nose guard Ronald Jackson as well as Michael Gill and the converted Trey Barnes, is now a defensive end who began his collegiate career as a running back. Said Winter of Barnes, "We think we found a great home for him. I'm really excited about the spring he had."
The secondary looks like an immediate strength with budding corners Tarence Roby and D'Mauria Martin. Tait Sibbel, who can play safety or linebacker, was one of the talks of the spring according to Winter.
Last season Concordia suffered five of its six losses by six points or less while throwing plenty of youngsters into the fire. That experience has shown in a positive fashion this spring.
"Last year we got a lot of young guys a lot of reps," Winter said. "Some guys who were not expected to play vital roles early got a chance to play and I think that is a springboard into this offseason and this year."