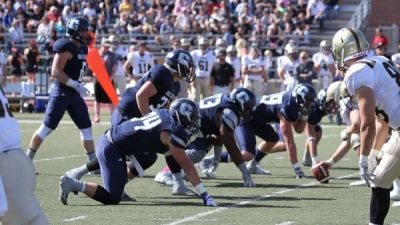 Sioux Falls rolls to 44-7 win over Concordia
The University of Sioux Falls cruised to a 44-7 GPAC football win over Concordia on Saturday afternoon. USF, the No. 1 team in the country, improved to a perfect 10-0 on the season with the win. Concordia ended its season at 4-7 overall and 3-7 in GPAC play.
USF opened the scoring with just over eight minutes remaining in the second quarter. Alex Anderson hauled in a 22-yard touchdown pass from quarterback Jon Eastman, and the Cougars led 7-0. Just one minute later, a safety increased the Cougar lead to 9-0.
With just over five minutes remaining in the first half, Eastman connected with Jon Ryan on a 7-yard touchdown pitch and catch. Ryan's 21st touchdown reception of the season increased the Sioux Falls lead to 16-0. Sioux Falls wasn't done in the first half. Austin Vanhove caught an 18-yard touchdown pass with a minute to play, and the Cougars took a 23-0 lead on Eastman's third touchdown pass of the game.
Early in the third quarter, Chevon Walker broke a 39-yard touchdown run to build the USF lead to 30-0. Kristian Porter added touchdown runs of 26 yards and 13 yards in the third quarter to give Sioux Falls a 44-0 lead heading into the fourth quarter. A 2-yard touchdown reception by Concordia's Kyle Hoffman (Phoenix, Ariz.) put Concordia on the board with just over five minutes remaining in the contest.
Sioux Falls totaled 490 yards of offense (265 passing, 225 rushing) on the day compared to 117 yards (109 rushing, 8 passing) for Concordia. Concordia fumbled the ball seven total times and lost four of them in the loss. USF held a 27-9 advantage in first downs.
USF's Jordan Taylor totaled 104 yards rushing on the day. Walker finished with 51 rushing yards and a touchdown. Eastman completed 17-of-23 passes for 227 yards and four touchdowns. Jon Ryan totaled six catches for 83 yards and a score.
The Concordia offense struggled throughout the game. The Bulldog defense did force three USF turnovers. Heath Broekemeier (Prairie Grove, Ark.) had a game-high 8.5 tackles and a forced fumble to lead the way for Concordia defensively. Stephen Ford (Greenville, Texas) added 7.0 tackles, and Preston Harris totaled 5.5 stops on the day.