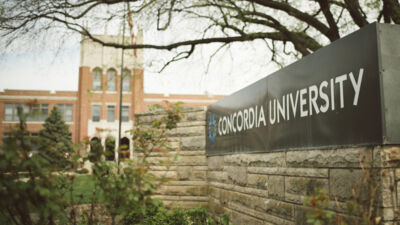 SEWARD, Neb. – Seven members of the Concordia University football team reeled in Daktronics-NAIA Scholar-Athlete recognition, as announced by the NAIA on Friday (Dec. 15). The list of Bulldog honorees includes repeat award winners in seniors Matt Chilman, Hallick Lehmann and Justus Thompson. First-time Scholar-Athletes are senior Parker Hasenkamp and juniors Adam Christiansen, Caden Jameson and Daniel Langewisch. Lehmann is also a three-time CoSIDA Academic All-American.
In order to be nominated by an institution's head coach or sports information director, a student-athlete must maintain a minimum grade point average of 3.5 on a 4.0 scale and must have achieved a junior academic status. A total of 379 football student-athletes across the nation were named 2017 Scholar-Athletes by the NAIA.
Concordia University ranks as the NAIA's all-time leader in number of Daktronics-NAIA Scholar-Athletes with 1,317 and counting. The Bulldogs have been a regular national leader for both scholar-athletes and scholar-teams and are coming off a 2016-17 academic year that resulted in 78 more scholar-athletes and 19 scholar-teams. The 2015-16 season produced a GPAC best 92 Bulldog scholar-athletes and a national best 20 NAIA Scholar-Teams. The 2014-15 season culminated with GPAC-leading totals of 94 Bulldog scholar-athletes and 17 NAIA Scholar-Teams. During the 2013-14 academic year, Concordia garnered 101 Scholar-Athlete honorees (most in the NAIA) and 17 NAIA Scholar-Teams (tied for fourth nationally).
2017 Football Scholar-Athletes
Matt Chilman, Sr. | Las Vegas, Nev.
Adam Christiansen, Jr. | Palmer, Alaska | Journalism and Public Relations
Parker Hasenkamp, Sr. | Hiawatha, Kan.
Caden Jameson, Jr. | Thedford, Neb. | Business Administration
Daniel Langewisch, Jr. | Lakewood, Colo. | Pre-Seminary; Business Administration
Hallick Lehmann, Sr. | Albion, Neb. | Behavioral Science/Psychology
Justus Thompson, Sr. | Parker, Colo. | Behavioral Science/Psychology