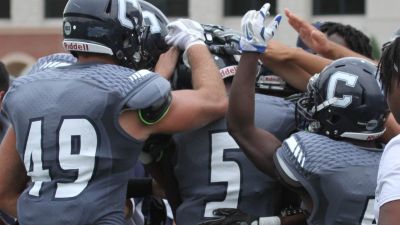 Total satisfaction won't be reached within the football offices at Concordia University until the program ends its postseason drought and climbs to the top of the GPAC – as it did in 2001. But the second half of the 2017 season revealed a program that appears to be moving closer to that aim. The first season of Patrick Daberkow's head coaching tenure included a homecoming victory over then seventh-ranked Doane and a late four-game win streak.
The program earned its first top-three conference finish since 2002. That feat is a real tangible accomplishment to build upon considering the GPAC is rated by statistical metrics as one of the NAIA's top three leagues.
"I don't know if there's another conference in the country that has the top-to-bottom talent that this conference has," Daberkow said. "Morningside was undefeated and Briar Cliff didn't win a game, but everything in the middle was a huge grind. There is never a week off. I think back to the wins that we had and the quality of wins. Holding Dakota Wesleyan to one touchdown was impressive. That offense and that quarterback are prolific. That was a big win. Looking back, it's fun to reflect on those things."
When Concordia reached its 2017 peak late in the season, it featured the power running of Ryan Durdon and one of the NAIA's top defenses led by ball-hawking senior defensive backs D'Mauria Martin and Tarence Roby. Durdon rushed for more than 200 yards on three occasions. Martin picked off three passes in a win over Midland and was named the NAIA National Defensive Player of the Week. Roby made his way onto ESPN's SportsCenter with an electrifying 100-yard interception return for a touchdown.
There was no shortage of talent on a team that also included one of the nation's most productive freshmen in linebacker Lane Napier and an offensive line that developed into the program's best in many years. The only shame is that the Bulldogs waited until game No. 6 to really get rolling. Concordia was perhaps a couple of rough early-season performances away from being a playoff team.
Said Daberkow frankly, "It was disappointing in some ways. I thought our record would be better, but man I learned a lot. I learned so much over the course of this last year and I'm excited about applying it in the future. The disappointment is that we didn't reach some of the goals that we had set."
Some period of adjustment was to be expected. Not only did Daberkow shift from defensive coordinator to head coach, Corby Osten (defensive coordinator), Thomas Byrd (offensive coordinator) and Wes Coomes (special teams coach) each found themselves in new roles. From a personnel standpoint, Durdon transitioned from a receiver with essentially no varsity experience to the team's feature running back and Osten was tasked with replacing eight starters on defense.
On the plus side, two of the starters were Martin and Roby. Martin moved from corner to safety and flourished, recording six tackles for loss, eight pass breakups and five interceptions. Meanwhile, quarterbacks rarely threw to Roby's side of the field, but he still managed seven pass breakups and four picks.
"We have not had two defensive backs of that caliber on the field at the same time since I've been at Concordia," Daberkow said. "They are great competitors. They're passionate. They're fun to be around. They have a great sense of humor. Tarence Roby played angry all the time. D'Mauria is a leader. He knew the defense and he knew opponents well. That's why moving him from corner to safety worked out so well."
Martin and Roby were known commodities before the 2017 season began. Durdon was not. A native of Decatur, Texas, Durdon made a name for himself in no time. He burst onto the scene in the season opener with a 208-yard rushing performance that included a 77-yard touchdown gallop. He never let up. During the team's four-game win streak, Durdon rushed for 136 yards or more each time out on his way to 1,247 rushing yards on the season.
"It wasn't a huge shock," Daberkow said. "We knew he had potential to be a great running back. That's why we moved him there. He's a strong runner. I didn't know how good his breakaway speed would be. I was most impressed with that."
Another breakout star, Napier was the GPAC's lone freshman to earn first team all-conference defensive accolades. Daberkow says the program fended off several GPAC rivals to land the David City native during the recruiting process. Napier shined as a rookie, leading the conference with 97 tackles while also recording eight tackles for loss. He'll be a cornerstone moving forward for a program ready to get over the hump.
A major factor in Concordia's recent rise to respectability has been Jared Garcia, a two-time first team and two-time second team All-GPAC selection over the course of his standout career as a receiver. He finished his collegiate run with program career records for receiving yards (2,495) and receiving touchdowns (35) while also possessing the school single-season record for touchdown grabs (11). He and other seniors like tight end Seth Fitzke and the aforementioned defensive back pair helped the program to a record of 24-17 over the past four seasons.
Those seniors will be missed, but Daberkow likes the foundation that has been put into place. The pieces up front are paramount for achieving success in an offensive scheme reliant upon first establishing the run. A host of players with starting experience are expected back in 2018, including first team all-conference honoree Matt Romero along with Cole Baumgartner, Michael Brewer, Grady Koch and Austin Taylor. Says Daberkow about the offensive line, "I feel good about where we're headed."
It's paragraph 15 so it's mighty time to talk about the quarterback situation. Riley Wiltfong handled the role efficiently when he returned to the controls after the bye week. Having used a redshirt year, the Doniphan, Neb., native has a decision to make as to whether he returns in 2018. Said Daberkow, "I really want him back." It's easy to understand why. Wiltfong played the best football of his career this fall and provides a legitimate dual threat. Senior-to-be Andrew Perea will also return after seeing significant time at quarterback this fall.
The countdown is on until spring football practice arrives. That's not to say that the winter months don't matter. Daberkow has helped foster an atmosphere of accountability. Within that atmosphere, there is no time to waste.
"We have to arrive at every training session, whether it be weight room, skill development or whatever we're doing, with a purpose," Daberkow said. "We have established our goals for next season. We have got to have those goals in mind every time we get under a bar and every time we get ready for a morning workout. We have to have that third down play in our head. We need to get better as football players. We have a lot of guys that are going to need to step into starting roles. We have to prove ourselves in a lot of areas."