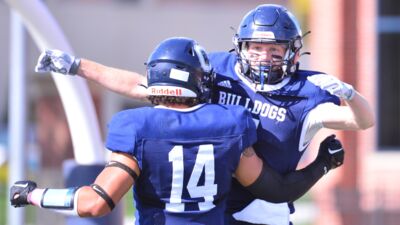 An in-season overhaul of the offense transformed the Concordia passing attack into something never before seen in the history of the program. While the overall record isn't what Head Coach Patrick Daberkow and his staff had in mind, the Bulldogs believe they found an identity that they can carry over into 2023. These weren't the Bulldogs you're used to watching, not with quarterback DJ McGarvie slinging the ball at a school record pace.
There were two frustrating losses to begin the season at the hands of Doane (12-10) and Hastings (21-17). In game three of the campaign, Concordia lost at No. 3 Northwestern and then found itself at a crossroads when trailing 3-0 at halftime at Dakota Wesleyan. From that point on, the Bulldogs became one of the GPAC's most entertaining teams.
"You look at our record and it's disappointing," Daberkow said. "By the time we figured things out offensively, we were in week four. We switched some things up and made some adjustments. We were kind of off to the races after that. There were a lot of lessons learned this year. We broke our school record for total yards per game and we broke records in the passing game. Once we figured out an identity offensively, we kind of took off. We still came up short in some games and need to close the gap in the weight room over the offseason. We have to continue to bring in the right kids. We're very confident in where we're headed. We're not satisfied with where we're at obviously, but we're excited with where we're headed."
Concordia concluded the season at 4-6 with the wins coming over Dakota Wesleyan, Jamestown, Mount Marty and Briar Cliff. Three losses came by margins of four points or fewer and another was decided by 10 points at Midland (41-31) in what was a one-score game until the final seconds. In other words, the Bulldogs are close. They can take comfort in knowing they have a marquee gun slinger in McGarvie, who has a chance to be one of the GPAC's top quarterbacks. The Lincoln North Star High School product broke a single game school record when he racked up 458 yards versus Dordt.
On the way to another school record, for passing yards in a season (2,553), McGarvie connected with receiving talents Korrell Koehlmoos, Luke Lang, Austin Jablonski and Carsen Arline on a regular basis. Koehlmoos enjoyed the best season ever for a Concordia receiver in hauling in 95 receptions for 1,024 yards and 12 touchdowns (all school records). Meanwhile, Jablonski (former Nebraska Cornhusker walk on) found a home at receiver and Lang developed into arguably the league's best tight end. Running backs Devin Zeigler and Mark Arp combined for 961 yards on the ground. The new program record for average total offense per game (407.5) came about even as the Bulldogs dealt with a rash of injuries on the offensive line.
That line was anchored by tackle Kaden Peters, the only player up front to start all 10 games. Concordia was forced to move freshman Carson Fehlhafer over to the offensive line as the injuries mounted. Despite those inconveniences, the Bulldogs posted averages of 33.2 points and 473.2 yards per game over the final six outings of the season. Those are the types of numbers that only NAIA playoff qualifiers Morningside and Northwestern can match when it comes to GPAC offenses.
Said Daberkow, "When you're in your third game of the season and you have three starters on the o-line down and then you lose another one in week four, it makes for some choppy water. I thought our guys handled it well. We had guys step up and really embrace that next man up mentality. Carson Fehlhafer started the year on the defensive line as a freshman and ended up getting moved to offensive line as a starter. That wasn't the plan, but that's life. Sometimes you have to adjust your plans and call an audible. The selfless attitude that our guys have set the table for increased performance as the season went on."
The work by Koehlmoos deserves further praise. The fifth-year player from Pilger, Neb., will depart from Concordia as the program's all-time leading receiver in terms of career receptions (221) and receiving yards (2,894). He and McGarvie clearly had a unique connection. Koehlmoos caught double-digit receptions in five separate games this fall. He also reeled in at least one touchdown catch in seven games and regularly pinned the opposition inside its own 20 with his punting. It wasn't a difficult decision for Koehlmoos to decide to use his extra COVID year of eligibility. Said Koehlmoos, "I knew after my fourth year that I wasn't ready to be done playing yet. Football has been my life forever. One more year of free eligibility – I'll take it. My greatest memories are from playing football."
Defensively, the Bulldogs moved on in 2022 without one of the program's all-time greats in All-American linebacker Lane Napier. Phoenix, Ariz., native Michael Grindey stepped in to fill the void and led the team in tackles (92) while earning First Team All-GPAC accolades. Up front, Devon Polley notched 15 tackles for loss as a constant annoyance for opposing offenses. In the secondary, Kam Baker and Isiaha Conner grabbed Honorable Mention All-GPAC awards. A defense with a bit less experience than the 2021 edition wound up allowing 25.3 points per game and 5.4 yards per play.
"We really saw some guys emerge," Daberkow said. "Michael Grindey is kind of our quarterback on defense getting people lined up and going and Devon Polley is incredibly disruptive. Then you have guys like Jordan Kavaluk and Kyle Sterup. Kyle has some of the longest arms. He sets the edge and can rush the passer. He's able to put tackles on their back and get after the quarterback. I thought he made such progress over the past year. Jordan is tough as nails and it's fun to see the success that group had. We feel like we made progress at linebacker as the season continued. A lot of guys got valuable playing time."
Only 12 Bulldogs took part in senior day festivities prior to the 2022 season finale. It was a campaign that saw Concordia struggle through some growing pains and early offensive struggles. It appears the Bulldogs now know who they are as the calendar soon flips to 2023. McGarvie and Jablonski are on the brink of stardom, the offensive line should be more settled and the defense will be much more experienced as whole. Daberkow will expect those positively trending dynamics will lead to a winning season next fall. At quarterback, McGarvie will look to build upon his two-year totals of 4,037 passing yards and 37 touchdowns tosses.
Now it's time for the players to take to the weight room and for coaches to ramp up recruiting efforts. Said Daberkow, "We embrace the inner meathead. The weather gets cold, you go inside and you lift weights, you eat food and you get bigger. That's the mode we're on now. This week after the season you let the guys take a break and recover. By the time they get back from Thanksgiving break, they're ready to get after it. We're excited about what's to come and finding the right guys in recruiting that fit what we're about at Concordia University Football. We want guys who want to come in here and work. Everyone wants to win on Saturdays, but not everyone wants to wake up at 5:30 in the morning on a Tuesday in February. We believe we're doing a good job of finding those guys. As this team gets older and more mature, I have really high expectations for what this team can be."