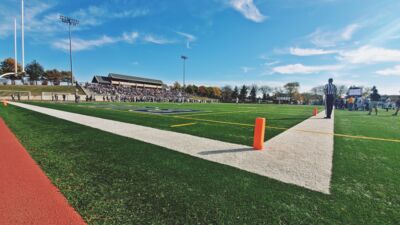 2022 Concordia Football Media Guide (PDF)

Head coach: Patrick Daberkow (23-25, 6th year)
2021 Record: 7-3 overall; 7-3 GPAC (T-3rd)
Key Returners: DB Kam Baker; DB Isiaha Conner; LB Michael Grindey; DL Jordan Kavulak; S Gabe Knisley; WR Korrell Koehlmoos; QB DJ McGarvie; OL Gavin Mull; DL Devon Polley; OL Johnny Robinson; TE Garrett Schardt; OL Christian Schlepp; RB Devin Zeigler.
Key Losses: WR Art Anderson; WR Cayden Beran; LB Shayne Campbell; LB Caydren Cox; S Peyton Mitchell; LB Jorge Ochoa; LB Lane Napier; DL Payton Stevens; RB Jonah Weyand.
2021 NAIA All-America: Lane Napier (AFCA/AP First Team Team); Garrett Schardt (Honorable Mention).
2021 GPAC All-Conference: Lane Napier (First Team/Defensive Player of the Year); Johnny Robinson (First Team); Garrett Schardt (First Team); Caydren Cox (Second Team); Peyton Mitchell (Second Team); Jorge Ochoa (Honorable Mention); Payton Stevens (Honorable Mention).
Outlook
It took some time and perseverance, but the Concordia Football program made the jump in 2021 that it believed it was capable of while going 7-3 and earning a clean sweep of Nebraska GPAC rivals Doane, Hastings and Midland. However, Head Coach Patrick Daberkow and the Bulldogs refuse to believe that they have hit their ceiling. The program's progression since 2018 has been obvious in terms of size, strength, depth of talent and overall confidence.
Where does that leave Concordia entering 2022? To sum it up, the Bulldogs return seven starters on offense and six on defense. Most prominent among them is Garrett Schardt, arguably the top tight end in the NAIA. Perhaps that returning talent, along with a recruiting class including multiple ready-for-action transfers, will put Concordia in the NAIA playoff conversation.
Says Daberkow, "It's good to come off a winning season, but our aspirations are higher than just 7-3 for the program. I believe we have the leadership, the skill level and the coaching to get it done. Trying to get all of that on the same page is always a unique challenge every year. It's good to come off a winning season, but last year doesn't mean a whole lot once that ball gets kicked off on September 3."
The Bulldogs vaulted into a tie for third place in last season's GPAC standings. Based on the conference preseason poll, the expectation is that the rest of the league will still be chasing the likes of Morningside, Northwestern and Dordt at the top. A victory over any one of those foes would be the type of signature win that would put Concordia back on the national radar. The key is for Daberkow's program to continue elevating the offense while maintaining its hallmark – a rugged and physical defense.
The defense is a good place to start. The unit is again coordinated by Corby Osten, who helped five-year star linebacker Lane Napier flourish into the GPAC Defensive Player of the Year and a First Team All-American. The linebacker unit needs to be rebuilt, but the coaching staff is confident in a defensive line solidified by stout returners such as Jordan Kavulak and Devon Polley. The program has shown an annual knack for plugging in the next men up and getting results. The defense limited last year's opponents to averages of 311.6 yards and 19.3 points per game.
"We run to the football," Daberkow said. "We're fast to the ball and we get 11 hats there. That's something we really pride ourselves on. Coach Osten, Coach (Trent) Laune and Coach (Ezekiel) Combs do a great job. Every defense Coach Osten has coordinated has run to the ball. That's something I appreciate about our defensive mentality – it's 11 hats to the ball and playing with speed and confidence. I'm really excited about that group."
Linebacker will be a key area of competition leading up to the season opener. The returners with the most experience include Lukas Coe, Christian Dyhrkopp and Michael Grindey. Fans of the Bulldogs should also keep an eye on University of Nebraska transfer Nick Leader. Meanwhile, the secondary brings back nearly the entire two deep from last season. Corners Isiaha Conner and Carson Core and safeties Kam Baker and Gabriel Knisley held down starting spots at the close of 2021 and will have to fight off challengers to retain those spots. Jayzen Armstrong (injured for most of 2021) is healthy again and will also fight for a starting role.
The bigger question marks may be on offense, although the line is mostly settled considering four starters are back: left tackle Kaden Paters, center Johnny Robinson III, right guard Christian Schlepp and right tackle Gavin Mull. The coming of age of the big fellas up front has coincided with incremental year-to-year improvement for the offense overall. There's more room for progress after the unit averaged 314.6 yards and 23.6 points per game in 2021.
A fifth year for Schardt provides a boost. He's a two-time First Team All-GPAC selection and a security blanket for the winner of the quarterback derby. In four seasons, Schardt has accumulated 72 receptions for 1,188 yards and nine touchdowns. Schardt has been impressed with the athleticism he sees in the offensive group. Now the offensive play caller, Daberkow is attempting to make some slight changes to enhance the unit's explosiveness. Says Schardt, "He's trying to keep it as simple as he can. At the same time, he's implementing things that work – not just on paper but also on the field."
Expanded Daberkow on those thoughts, "We've added some tweaks over the course of the summer and added some things to the playbook. We took a three-week install from the spring and we're condensing it into four days in the fall. It's like drinking from a fire hydrant right now for a lot of the guys, the freshmen especially. We've got a good hard-working group of receivers and tight ends. We feel like we'll have the tools to get it done."
A starting quarterback has not yet been named. As a true freshman in 2021, Lincoln North Star High School product DJ McGarvie threw for 19 touchdown passes. McGarvie has competition from former Cornhusker walk on Austin Jablonski, a Lincoln Pius X High School alum who has generated some buzz with his array of skills. Perhaps both will see playing time at quarterback.
"They're both great guys. I love them both," Schardt said. "I think they both have their own great things going for them. Austin is coming from UNL. He's a great athlete. DJ's got some starting under his belt from last year. He's a good thrower and a good athlete as well. They're both really good athletes. We'll have to see how they compete throughout fall camp."
There are spots up for grabs at running back and receiver as well. Those positions said goodbye to steady performers such as Jonah Weyand, Cayden Beran and Art Anderson. Devin Zeigler stands out as the most experienced running back and, according to the head coach, is one of the hardest workers Daberkow has seen at Concordia. Mark Arp is also in the mix. Back for a fifth year of his own, Korrell Koehlmoos is a playmaker at receiver and is the leading candidate to serve as the team's punter. Koehlmoos is helping break in a new group of receivers that includes 6-foot-6 Jake Justice (father played at Concordia), a transfer from Texas Tech.
As for special teams, there are questions yet to be answered. Dylan Smith could very well end up as the team's place kicker despite playing solely at defensive back as a freshman in 2021. Smith has emerged as the top candidate at that spot with a strong start to preseason camp. Both Conner and Koehlmoos have experience returning kicks. Daberkow says that special teams will be a major point of emphasis as the season opener draws nearer.
For the most part, things have come together the way Daberkow has hoped and recruiting has taken off. The Bulldogs won a series of in-state recruiting battles in the offseason. Some of the freshmen may get an early chance to play, such as running back Carter Seim, who rushed for more than 5,000 career yards in his eight-man prep career. There are plenty of other potential positive stories that could emerge and impact a program that believes it's still on the way up.
"We have a team that really likes to play football," Daberkow said. "It's not like pushing and prodding – we have guys who want to win and put the work in. I've been really impressed with our upperclassman leadership this year. You get a bunch of guys from all over the place that come together in Seward, Nebraska, and work towards a common goal. There needs to be some camaraderie built and bonds need to form. Football does that. Our guys have expedited that with how they've led. I think that's helpful."
Schardt agreed with his head coach in their thoughts that a sweep of in-state rivals is nice, but not the end game. Of course the Bulldogs would love to accomplish that feat again in 2022, and then take things a step even further. Says Schardt, "It obviously means something to us. Now let's strive for more, like conference championships instead of just winning the games in state."
Concordia will take on rival Doane underneath the lights on Saturday, Sept. 3 as the two sides kick off the 2022 season at Papik Field in Crete, Neb. The Bulldogs will make their first home appearance of the campaign when they host Hastings as part of homecoming on Sept. 17.