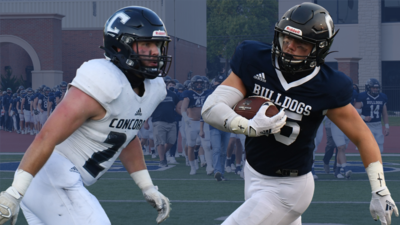 2021 Concordia Football Media Guide (PDF)
Head Coach: Patrick Daberkow (16-22, 5th year)
2020 Record: 4-4 overall; 4-4 GPAC (5th)
Key Returners: DB Jayzen Armstrong; WR Art Anderson; WR Cayden Beran; LB Shayne Campbell; WR Korrell Koehlmoos; DB Peyton Mitchell; OL Gavin Mull; LB Lane Napier; OL Johnny Robinson; TE Garrett Schardt; OL Christian Schlepp; RB Jonah Weyand.
Key Losses: OL Cole Baumgartner; QB Blake Culbert; WR/P Lane Castaneda; DL Chase Hammons; DB AJ Jenkins.
2020 NAIA All-America: Lane Napier (AFCA Second Team).
2020 GPAC All-Conference: Korrell Koehlmoos (First Team); Lane Napier (First Team); Garrett Schardt (First Team); Christian Schlepp (First Team); Jonah Weyand (First Team); Peyton Mitchell (Second Team); Johnny Robinson (Second Team); Chase Hammons (Honorable Mention); Chevy Stout (Honorable Mention).

Outlook
Optimism abounds in the preparatory month of August for a 2021 Concordia Football team that league coaches have pegged for fifth place in the GPAC. In a rough and tumble conference, three teams in particular managed to separate themselves from the rest of the pack last season. There will be no easing into this fall with the Bulldogs staring down a season opener at Morningside, the program that has set the standard in the GPAC. It will be the ultimate litmus test to see how far Head Coach Patrick Daberkow's program has come.

A season ago, Concordia took care of the bottom half of the league while starting out 4-0. The Bulldogs flirted with a possible 5-0 start, trailing by a single possession in the final few minutes of a loss at Northwestern. Daberkow and company will know they've truly arrived when they break through in such matchups with perennial playoff contenders.

"We had a good offseason," Daberkow said. "As a staff, we felt like we have an organized plan and we feel good about our preparation. We're trying to execute what we set in motion in January. I love the leadership on this team. It's been a really welcoming environment for the new guys to come into and be a part of. You're only really gauged by Saturdays. I feel like we're on track though."
There's continuity in place with eight starters returning on both sides of the ball. In addition, coordinators Corby Osten and Reggie Corbin remain in place and have reason to believe their respective units will be improved. Over the past few years, the running game has been a work in progress. It stands to reason that the offensive line (four returning starters), featuring all-conference stalwarts in Johnny Robinson III and Christian Schlepp, will take another step forward.
At running back, Jonah Weyand has added muscle with a goal of being able to handle the load for the full 10-game slate. Weyand equaled a GPAC single-game record last season when he rushed for five touchdowns in the overtime win over Hastings. He earned first team all-conference recognition, but may have only scratched the surface of his full potential. Daberkow also likes the depth behind Weyand with Lyle Whitney and Devin Zeigler ready to step in as needed.
"We need to improve some durability," Daberkow said. "I think if you shake hands with Jonah I think you'll see a guy who has taken that call seriously. He's put on some good weight and has maintained speed. We feel really good about his progress and the progress of the rest of that room. We have a great running back room – great young men who are pushing each other hard and cheering each other on. It's a fun group to be around."
The threat of Weyand out of the backfield could make the passing game more dangerous. Wyatt Ehlers enters the picture for what will be his first season as a starter. Ehlers will have a plethora of experienced pass catchers at his disposal. The trio of Art Anderson, Cayden Beran and Korrell Koehlmoos has combined for career totals of 253 receptions, 3,181 receiving yards and 16 touchdowns. Not only that, the Bulldogs boast a returning first team All-GPAC tight end in Garrett Schardt.
For Concordia to make a serious run at breaking into elite company within the conference, the offense must take another step forward. Weyand believes he and his teammates are coming of age. Experience won't be an issue.
"I think guys have a chip on their shoulder," Weyand said. "This is one of the more veteran teams we've had. The last couple of years we've had to rely on freshmen and sophomores. Those guys who were making plays as freshmen and sophomores are now juniors and seniors. We know what to expect and we know what our opponents will look like. I think adding all that together and creating that winning culture in the locker room is something that will benefit us this year. I think our locker room is changing. We have guys working their butts off who want to see results on the field."
If Weyand is to be considered the face of the offense, All-American linebacker Lane Napier is most certainly the face of the defense. Last season Napier became the GPAC's all-time leader in tackles (currently at 401 career stops). In terms of production, there really is no equal when it comes to Bulldogs to have played the inside backer position. Napier and the linebacker crew that includes Shayne Campbell, Caydren Cox and Jorge Ochoa is the rock of what figures to be another tough-nosed 3-4 defense.
As for the rest of the defense, the biggest question marks appear to be up front. In the secondary, two-time second team All-GPAC safety Peyton Mitchell provides leadership and stability. At corner, Jayzen Armstrong enjoyed a productive 2020 that included 33 tackles, an interception and a forced fumble.
Said Daberkow, "It's exciting to have Lane back and we're also excited about our whole group of upperclassmen linebackers. We feel like we're deep at that position. We have the luxury of having a lot of guys back for their fifth years. We've seen the development that has taken place in the weight room with some of those guys. We've seen a ton of progression from freshman year to where they're at now. It's Lane and it's everybody, that whole group."
Added Napier, "We started out 4-0 right away (last season) and I think we got complacent with who we were and what we were doing as a program. When we started facing some of those tougher teams we realized that stuff wasn't going to work. We knew we were going to have to work harder if we wanted something to turn around."
A battle has been playing out among specialists this preseason as Concordia deals with an injury to kicker Jordan Spilinek and works to replace punter Lane Castaneda. The staff likes the return abilities of the likes of Carson Core and Koehlmoos. Core, a Seward High School product, is also angling for more reps within the offense.
Daberkow is pleased with how the program is progressing in virtually all areas, but he understands this team will be judged based on the on-field results. This entire team is now made up of student-athletes that were recruited since Daberkow was named the head coach in December of 2016. It's also the most veteran team the Bulldogs have put forth since the 2017 squad that went 6-4.
"We will outhit our opponents," Daberkow said. "We strive to be a disciplined team, a physical team and a relentless team. We talk to our guys a lot about accountability, toughness and authenticity. This sounds like coach talk, but if you do the simple things at a really high level it's probably going to go your way on the scoreboard. When we fail to do those things, the scoreboard doesn't agree with you. We're going to keep pounding the rock and keep coming back for more. I really feel good about this group. We're going to see what happens when things start flying. Then we'll find out what we're really made of."
Said Weyand, "The biggest thing I'm focusing on this year from a leadership standpoint is getting our guys to finish games. If we go into games knowing that we have an opportunity to win the game, I think that changes how you play. I think we have the talent and we have the coaches. I'm looking forward to seeing how guys come together and finish. We've put in so much time in the offseason, and we don't do that for nothing."