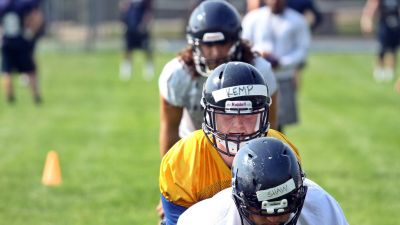 Head coach: Patrick Daberkow (6-4, 2nd year)
2017 Record: 6-4 overall; 5-3 GPAC (3rd)
Key Returners: RB Ryan Durdon; LB Kordell Glause; OL Grady Koch; LB Lane Napier
Key Losses: RB TJ Austin; TE Seth Fitzke; WR Jared Garcia; OL Hallick Lehmann; DB D'Mauria Martin; DB Tarence Roby; OL Matt Romero; FB Erik Small; QB Riley Wiltfong
2017 NAIA All-America: Tarence Roby (AP first team; AFCA second team)
2017 GPAC All-Conference: D'Mauria Martin (first team); Lane Napier (first team); Tarence Roby (first team DB/second team KR/PR); Matt Romero (first team); Ryan Durdon (second team); Seth Fitzke (second team); Jared Garcia (second team); Erik Small (second team); Sebastian Garces (honorable mention); Nate Gilmore (honorable mention); Kordell Glause (honorable mention); Grady Koch (honorable mention); Hallick Lehmann (honorable mention); Austin Reese (honorable mention); Shane Scott (honorable mention)
Outlook
With nearly a full month separating the team's preseason camp report date (Aug. 9) and the season opener (Sept. 8), the 2018 Concordia University football team likely owns the program record for most preseason prep time. Second-year head coach Patrick Daberkow doesn't seem to mind. Considering the number of camp injuries and the youthfulness of the roster, there was no need to rush the opening kickoff.
Daberkow will have a proven star to lean upon on both sides of the ball in the form of junior running back Ryan Durdon and sophomore inside linebacker Lane Napier. Their presence is comforting for a program undergoing complete overhauls along the offensive line and in the secondary.
"It's good to make the mistakes with these young guys now because we have time to correct them," Daberkow told the Lincoln Journal Star following last week's scrimmage with Nebraska Wesleyan. "We'll have more freshmen in the starting lineup than we've ever had since I've been here (12th season, first 10 as an assistant). We need to grow up and grow up fast. But when we do, I think we can be pretty darn dangerous."
There are just 10 seniors on the roster, but based on the GPAC preseason polls, coaches and media seem to have faith in a program that has produced plenty of All-Americans in recent years and has not dipped below five wins in a season since 2011. The Bulldogs were picked fourth by both the coaches and the media. Concordia placed third last season with the highlights being a homecoming win over Doane that snapped a lengthy series losing streak and then a late-season run of four wins in a row.
Offense
Those victories may have been harder to come by if it were not for the rise of Durdon. Not just a breakout surprise among Bulldogs, Durdon put himself among the NAIA's elite backs with 1,247 yards rushing, just 18 yards shy of a school record. During Concordia's four-game win streak, Durdon toted the rock 127 times on his way to breaking a program record for carries in a season (227). With the development of sophomore Payton Kidder, redshirt freshman AG Simba and true freshman Jonah Weyand, the burden on Durdon should be lessened.
"We're very excited about him coming back," Daberkow said of Durdon. "We have a lot of depth at that spot. There are a lot of different styles in our running backs."
In other words, the running back position is one of the least of the team's worries. The question marks lie elsewhere for an offense that features a variety of looks, including pro-style I-formation and air-it-out spread formations. Through fall camp, a quarterback has actually emerged as the No. 1 guy (more on that later). Whichever player sees action under center will have a potential breakout receiver in senior Vincent Beasley to throw it up to.
Beasley, who has a career stat line of 23 catches for 316 yards and two touchdowns, has made plenty of highlight reel grabs during preseason camp. He'll be joined in the receiver corps by up-and-comers such as sophomores Art Anderson, Lane Castaneda (leading returning receiver with 23 catches for 233 yards) and Peyton Mitchell.
Beasley says there are many candidates to be this year's Durdon, meaning the offensive skill player who comes out of nowhere to become a consistent playmaker. Says Beasley, "I feel like all our guys are going to have pretty good seasons if they do what they do, just focus play by play and not try to think so far ahead. I feel like the more we practice and the more we buy in and realize our coaching staff really knows what they're talking about – I think everybody will have a pretty good season. I can't really narrow down to one guy."
It's been a bit of a juggling act at the quarterback position for each of the previous four seasons. No signal caller has started each game of the season since Von Thomas left in 2014. After taking a circuitous route to get there, Jake Kemp of Decatur, Texas, currently stands atop the depth chart. Kemp has battled redshirt junior Andrew Perea, sophomore Blake Culbert and true freshman Luke Lang for the job. One or more could see action in place of last season's primary starter Riley Wiltfong.
"We ask them to make some checks and audibles, but it's not an overly complicated position," Daberkow said. "We believe football is a simple game made complicated by coaches and we're trying not to make it too difficult. They'll figure it out. There are some intangible aspects to the quarterback position and I like where we're at with those guys. They're good locker room guys. We feel good about the quarterback spot. We'll ask our quarterback to get involved in the run game and to be able to throw the deep ball."
Daberkow has done his best to deflect attention from the quarterback position, though it's obviously the most high profile role on a football team. Kemp and the quarterback group will need some help from a rebuilt offensive line with just one returning starter – senior Grady Koch, who is set to move to left tackle. Stuart Kolpin has transitioned from tight end to guard to help fortify the unit. Daberkow has also liked what he's seen from potential starters in Roy Garza at guard, Evrett Shaw at center and Cole Baumgartner at tackle. There could also be a true freshman that jumps into the mix at some point.
While there are question marks, tight end is a position with loads of talent, even if it is inexperienced. Sophomore Brady Fitzke, who now wears the No. 49 jersey that had been donned by his older brother Seth, will be a much bigger factor in his second year in the program. Fitzke has the ability to line up all over the formation. Also in the running for playing time is freshman Logan Kreizel, who put up monster numbers as a prep at Lincoln Lutheran High School.
In sum, there's certainly room for improvement for an offense that sported national rankings of 48th in total yardage (371.5) and 59th in scoring (24.6) last season.
Defense
Hard-nosed defenses have been the backbone of Concordia football in recent seasons. Last year's turned in solid results, ranking 15th nationally in scoring defense (21.4) while featuring a tremendous secondary led by first team All-American Tarence Roby. Like the offense, the defensive side of the ball has been gutted by departures in at least one position group. The secondary will include all brand new starters, but the good news is that the Bulldogs are teeming with experience in their front seven.
On paper, the linebackers are the biggest area of strength on the roster. Lane Napier tried his hand on both sides of the ball as a true freshman before finding a home at an inside backer spot in the program's 3-4 scheme coordinated by Corby Osten. Napier and senior outside linebacker Kordell Glause are the poster boys of a defense that figures to remain solid. There are plenty of other names vying for time at linebacker, including Riley Bilstein, Tanner Schwaninger, Derek Tachovsky, Zac Walter and others.
"At linebacker, we really feel good about our group," Daberkow said. "We have a lot of blue collar guys who are tough kids. Lane Napier is having a really good fall camp. So is Kordell Glause. He has really improved over four years. He's the leader of that unit. We really have about five, six, maybe even seven guys who we would feel comfortable starting for us."
Napier made 97 tackles as a rookie, leading all GPAC players during the regular season. He could eventually put himself in the conversation with other recent Bulldog stars at the position. In the GPAC era (2000-present), Michael Hedlund's 261 career tackles rank as the highest total for a Concordia linebacker. While Napier racks up the stops, Glause is as steady as they come in all aspects of the position.
Up front, ends Parker Johnson and Aaron Rudloff are the veterans on a defensive line built more for speed and agility than for power and plugging up holes. This group was all set to get a boost from former Bulldog baseball slugger Kaleb Geiger until he tore his ACL in camp. Fortunately, junior Gary Nieuwkoop appears ready to step into a starting spot at nose guard, a position occupied by all-conference standouts Erik Small and Ron Jackson the previous two seasons.
Then there's the secondary, where only Caden Jameson's name is recognizable among returners who saw significant varsity action in 2017. Now a senior, it's Jameson's time to shine. He recorded 13 tackles and an interception in last season's finale against Morningside. He will man one safety spot alongside options like Devon Jackson and transfer Johnny Johnson. At the corners, Darius McVay, DeVonte Mouton and Olajuwon Ferguson are all capable starters.
There may never be another one quite like Roby to terrorize quarterbacks who visit Bulldog Stadium, but the current group should continue to make Concordia competitive against the pass.
"We feel like we can be pretty good," Daberkow said. "We lost a lot of talent, but just because those guys aren't here anymore doesn't mean the guys behind them were lousy. Last year Tarence Roby and D'Mauria Martin were two of the best defensive backs in the country. We have some young guys and a couple transfers we expect to make an impact. I'm very hopeful and excited about the future with those guys."
Osten has assumed control of the defense while Daberkow now places more of his influence upon the offense. Nothing looks dramatically different defensively in terms of the scheme. One thing that would help a mostly inexperienced secondary is for Concordia to put more heat on quarterbacks. It registered only 15 sacks last year with Walter and Small sharing the team lead (three apiece). Still, the Bulldogs limited opposing quarterbacks to a 47.8 percent completion rate and allowed fewer than 4.0 yards per rush.
With uncertainty at quarterback, Concordia would like to be able to hang its hat on stout defensive play once again. This unit ranked in the top five nationally in total defense as recent as 2015 when it allowed only 279.6 yards per game.
Specialists
The kicker battle may end up going into the season. For now, Jorre Luther and Alan Sharp are the frontrunners to handle field goal kicking duties. At punter, Brady Fitzke appears to be a likely candidate to take on the role for the entire season. He averaged 42.7 yards per punt on 22 attempts last season. The return units have big shoes to fill with the game-breaking Tarence Roby having graduated. Concordia has been auditioning to replace him.
Final analysis
Just over a week out from the opening game, the Bulldogs are not quite as healthy as they would like to be. Thus, there are some advantages to starting at least a week later than most college football programs. A youthful, but talented roster will have to grow up quickly. Once game week hits, it will be a 10-week meat grinder against mostly conference foes, with the exception of the Sept. 8 opener versus NCAA Division III Buena Vista University (Iowa). There seem to be more unknowns than there were this time a year ago. It should make for both an unpredictable and never boring journey.
And it's OK to dream big. No one across the landscape is expecting the Bulldogs to make a dent nationally. They did not receive any votes in the NAIA preseason coaches' poll. Is there enough developed talent here to surprise people? Says Vincent Beasley, "I would do anything to go to the playoffs. That's something that I'm used to (from high school). We've had some misfortunes since I've been here. We've had a lot of great coaches and great games. I feel like we always scrape the surface of what we can do."