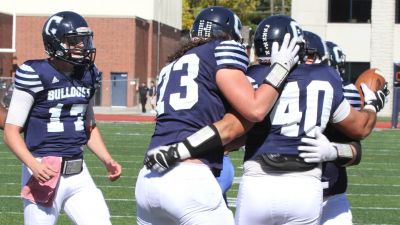 Head coach: Patrick Daberkow (1st year)
2016 Record: 7-3 overall; 5-3 GPAC (4th)
Key Returners: QB TJ Austin; TE Seth Fitzke; OL Keddrick Fuselier; WR Jared Garcia; LB Kordell Glause; OL Grady Koch; OL Hallick Lehmann; DB D'Mauria Martin; DB Tarence Roby; OL Matt Romero; FB Erik Small; QB Riley Wiltfong
Key Losses: DL/P Trey Barnes; RB Bryce Collins; S Cory Evans; S Le'Dontrae Gooden; LB Michael Hedlund; DL Ron Jackson; DB/LB Matt Keener; WR Trae Owens; DL Nolan Schroeder; LB Patrick Skwara
2016 NAIA All-America: Trey Barnes (first team)
2016 GPAC All-Conference: Vance Winter (coach of the year); Trey Barnes (first team); Jared Garcia (first team); Michael Hedlund (first team); D'Mauria Martin (first team); Tarence Roby (first team-KR, second team-DB); Bryce Collins (second team); Cory Evans (second team); Le'Dontrae Gooden (second team); Ron Jackson (second team); Grady Koch (honorable mention); Matt Romero (honorable mention); Nolan Schroeder (honorable mention); Erik Small (honorable mention)
Outlook
For the 10th time in program history, Concordia Football has a new head coach. After seven seasons coordinating rugged defensive units, Patrick Daberkow takes over the top job at his alma mater. His passion for the profession, for the school and for cultivating men of faith and character are evident.
He's preaching three specific traits: accountability, toughness and authenticity. If everyone buys in, Daberkow just might elevate the program above last year's successes, which included a final national ranking of 19th.
"As far as our 2017 season goes, we have very high expectations for what this season can be, but we also recognize that we have a lot of work to do," Daberkow said. "Defensively, we need to replace eight starters. We expect some leadership from some guys who haven't gotten a lot of playing time in the past, but have had really great springs."
The Bulldogs concluded 2016 with a fourth-place league finish, perhaps one win short of earning a playoff berth for the first time since 2001. In the GPAC preseason polls, the coaches picked Concordia fifth while the media pegged it for sixth. The predicted slide back may have to do with the coaching transition, uncertainty at quarterback or the lack of returning starters on the defensive side of the ball.
No one inside the program views this as a rebuilding season whatsoever. The Bulldogs will have the opportunity to prove the doubters wrong without even leaving the neighborhood. They will host each of the GPAC's preseason top four teams at Bulldog Stadium, where opponents went winless in 2016. Says first team all-conference defensive back D'Mauria Martin, "We're not going to take a step down from where we've been. We're going to keep striving forward."
Martin, defensive back mate Tarence Roby and linebacker Kordell Glause are the lone returning starters for a defensive unit that has been stellar in recent seasons. Martin and Roby are bona fide stars and make for one of the top secondary duos in NAIA football. Daberkow calls Martin "one of the smartest players I've ever coached." Not just a cover corner, Roby can hit people and provide electrifying plays in the return game.
Then come the question marks. The defensive line will look completely different without All-American Trey Barnes, nose guard Ron Jackson and end Nolan Schroeder. Most of the linebackers will be up-and-comers, but Daberkow feels good about the group, which got an infusion of talent in last fall's recruiting class. In the secondary, Sebastian Garces also has starting experience. In terms of sheer athleticism, this defense will be on par or better than those from years past.
"We're going to fly around and we're going to have fun," Martin said. "We might make mistakes here or there, but we're going to have fun doing it. We're going to stop people. I want us to be remembered as one of the top defenses ever to play at this school. That's what I want us to be. I just want us to have fun."
As part of a revamped coaching staff that includes defensive coordinator Corby Osten and special teams coordinator Wes Coomes, Thomas Byrd has come on board in hopes of adding juice to an offense that averaged 25.8 points per game last season. The quarterback situation is unsettled heading into fall camp, though both TJ Austin and Riley Wiltfong have extensive experience. The biggest headliner on offense is senior receiver Jared Garcia, who owns program receiving records for touchdowns in a season (11) and for a career (29). Garcia has grown accustomed to thrilling crowds with one-handed grabs and an impressive elusiveness when in the open field.
For Daberkow, everything starts up front. The return of Hallick Lehmann from an ACL tear fortifies the left tackle spot. The offensive line also features tackle Grady Koch and guard Matt Romero. The depth and experience of this unit is a major plus for a team that will be replacing prolific running back Bryce Collins. Jordan Slough and the rest of the running back crew should have a solid line to run behind.
"I think regardless of your scheme you're going to be as good as your offensive line," Daberkow said. "Our offensive line has put in a lot of work this offseason. They've put in a lot of extra hours and time with our offensive coordinator. We're excited about that group. Hallick Lehmann and Austin Reese come back for their senior years."
Two of the offense's brightest stars are tight end Seth Fitzke and fullback Erik Small. Like Lehmann, Fitzke is coming off a torn ACL. Fitzke figures to be one of the league's best tight ends. He is equally adept at blocking and catching passes. Meanwhile, Small is one of the strongest players on the team. Fullbacks may be a dying breed in the age of air raid college attacks, but Concordia is determined to make use of Small as a lead blocker.
Those are the known commodities. The unknowns will have much to say about whether the Bulldogs outperform outside expectations and contend for that elusive playoff berth. Martin sees positive growth from the young players who must contribute for Concordia to again be a top 25 team in 2017.
"I've been very impressed with a lot of our younger guys," Martin said. "Coach O (Corby Osten) told me we only had three remaining starters from last year. I didn't know that. I was like, 'Wow.' This offseason I've been pushing the younger guys like, 'It might be your time. If you want it you have to go get it.' A lot of people have stepped up. A lot of them are here in the summer working out with us because they know it's nitty-gritty time. It's almost season time."
Being that it is Daberkow's first rodeo, some amount of on-the-job learning is to be expected. The culture and the philosophy are in place. Daberkow has put a lot of energy into helping the program earn respectability. Where will it go from here?
"I believe we have a tough-minded and physically tough team coming in this fall," Daberkow said. "We're taking one day at a time and we're learning as we go. With all the beliefs I have about building men and off-the-field program stuff, I'm passionate about winning. We're going to pour every ounce of effort into that endeavor and into the future. I believe in the guys in our locker room."
The Daberkow era officially kicks off on Saturday, Sept. 2 with a night contest at Kansas Wesleyan University (9-2 in 2016), a member of the Kansas Collegiate Athletic Conference. Game time is set for 6 p.m. CT from Salina, Kan.