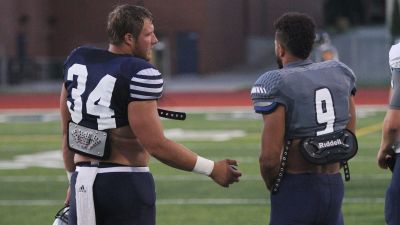 Head coach: Vance Winter (34-41, seven years)
2015 Record: 6-4 overall; 5-4 GPAC (T-4th)
Key Returners: QB TJ Austin; DL Trey Barnes; RB Bryce Collins; TE Seth Fitzke; OL Keddrick Fuselier; WR Jared Garcia; S Le'Dontrae Gooden; LB Michael Hedlund; DL Ron Jackson; DB D'Mauria Martin; DB Tarence Roby; FB Erik Small; QB Riley Wiltfong
Key Losses: OL Ben Balduc; P Sandy Fisher; QB Garrett Folchert; DL Clint Gardels; DL Michael Gill; TE Josh Slechta; LB Clay Mauro; K Adam Meirose; LB Brandon Namuth; LB Tait Sibbel
2015 NAIA All-America: Trey Barnes (second team)
2015 GPAC All-Conference: Ben Balduc (first team); Trey Barnes (first team); Bryce Collins (first team); Seth Fitzke (first team); Jared Garcia (first team); Tarence Roby (first team); Le'Dontrae Gooden (second team); Michael Hedlund (second team); Tait Sibbel (second team); Keddrick Fuselier (honorable mention); Clint Gardels (honorable mention); Ron Jackson (honorable mention); D'Mauria Martin (honorable mention); Clay Mauro (honorable mention); Erik Small (honorable mention)
Season Outlook
The current group of seniors has helped make Concordia football a program to be reckoned with once again. Over the past three seasons, the Bulldogs have gone a combined 18-14 and have climbed as high as 14th in the national rankings. That's pretty good. Now eighth-year head coach Vance Winter wants to see his program take that next step. It's time to go from good to great.
There's real and tangible evidence to support the idea that Concordia may be on the brink of eclipsing its Winter-era high of seven wins in a season. A total of 17 starters return, including seven from a defense that ranked in the top five nationally in total yards in 2015. Morningside head football coach Steve Ryan likes the Bulldogs so much that he even bypassed the likes of Doane and Dakota Wesleyan (both finished above Concordia last season) when handing out his first-place vote in the GPAC preseason poll.
"You start looking at our league, everybody runs a gauntlet," Winter said. "The cream rises to the top. You've got to be able to lock in and play great football. I feel real comfortable that if we're the best version of us, we've got a great shot to beat anybody on our schedule. We've shown we have the capabilities. We've got to be more consistent about it."
Concordia's 2016 roster packs star power. Players such as defensive end Trey Barnes, running back Bryce Collins, receiver Jared Garcia and cornerback Tarence Roby are proven and experienced commodities that carry themselves with swagger.
With a much more experienced offensive line, headed by Keddrick Fuselier, there's a much better chance that the offense will match an already stifling Bulldog defense. While Winter and his staff are looking for another receiving threat to emerge, they know they can count on Collins and Garcia, two of the best in the GPAC, if not the country, at their position groups. Collins has run for 2,666 yards and 27 touchdowns over three years in Seward. Said Winter of Collins, "His ability and the way he works is something that really motivates our offense. They see a guy who really cares, really competes and is willing to do whatever it takes for the team. That's Bryce. You talk about work ethic and all those things, but he's really talented. He's a guy that gets everything out of his ability."
Garcia, who has caught 85 passes for 1,363 yards and 19 touchdowns in just two seasons, figures to see plenty of footballs thrown his way by both TJ Austin and Riley Wiltfong, and perhaps even the rocket-armed Andrew Perea. Austin (11 career games) has more experience and is a difficult ball carrier to bring down. He's a definite dual threat with a career 12-to-3 touchdown-to-interception ratio. Wiltfong's strengths as a passer should complement Austin well.
Both have instilled confidence in their teammates. There's a general positive feeling about the quarterback situation. The Bulldogs won't have just one quarterback – and that's OK with them. Says Collins, "I think the whole offensive scheme is comfortable with both of them. We have TJ who's just a dominant player and Riley is right there with him. They both have their unique style. It just works."
Austin and Wiltfong may have to make due for a while without the services of tight end Seth Fitzke, who tore an ACL during spring practice. In the passing game, Trae Owens emerged as a big-play receiver last season. Holdovers in Vincent Beasley and Brandon Luetchens will also be in the mix. As will a group of rookies.
One piece of the offense that is easy to overlook is fullback Erik Small. Bulldog fans may not have paid much attention, but the coaching staff gushes about Small, whose weight room prowess has translated into results on the field. Said Winter, "Erik Small is a dude. He's a grown man playing football. I love the physical aspect he brings. He's a great one-on-one blocker, very physical and can dominate at the point of attack. I just love how he plays. I love how he finishes blocks. I love how, on the point of impact, he wins."
On the other side of the ball, there's at least one major star at every level. Barnes exploded in his junior season on the way to second team All-America honors. The linebacker corps is led by Michael Hedlund, who topped the team with 105 tackles last season. In the secondary, Concordia possesses an embarrassment of riches with shutdown corners in Roby and D'Mauria Martin. Safety Le'Donatrae Gooden made a huge impact last season after transferring from Southern Oregon.
There have been fantastic defenses overseen by coordinator Patrick Daberkow in recent seasons. This one might be the best.
"Every year is different," Winter said. "We have a lot of guys returning but proving ground is on Saturday. We really like our group. We think they're wired right and we think they play the right way. We have a lot of athletic ability, a lot of speed. We feel like we're going to be able to cover people. We've got good players at every level of our defense. A big thing is just consistency. To be a dominant D, you have to be a D that travels. I think that group has a chance to be in that upper tier."
The biggest question marks come at kicker and punter, positions that were occupied by seniors in 2015. Finding answers at those spots will be crucial for a program that has been bitten by a series of close defeats over the past few seasons. Modesto Community College (Calif.) transfer Brendan Cremin has a leg up on the place-kicker job. He's shown good pop in preseason camp.
Concordia should find out early on whether it deserves mention as an upper tier team in the GPAC. The Bulldogs, who appeared just outside of the national top 25 in the preseason poll, will take on fellow playoff contenders Northwestern (Sept. 17), Doane (Sept. 24) and Morningside (Oct. 1) in consecutive weeks to begin conference play.
The last Bulldog team to capture the GPAC crown (2001) upset powerhouse Sioux Falls early in the season and sent a clear message to the rest of the league. The 2016 edition will have a similar opportunity, one that Collins and company relish. League coaches placed Concordia third in the GPAC preseason poll. That's their highest preseason ranking since 2002. Expectations have clearly been elevated inside and outside the program.
"We obviously have all the right keys in place to make this team and this season ours," Collins said. "I just think it will naturally come. I think it's finally the time. It will be something that we don't even think about. It will just happen."
SEASON OPENER: Concordia will welcome the University of Saint Mary (Kan.) to Seward on Sept. 3 as part of the GPAC-KCAC Challenge. Kickoff is slated for 1 p.m. from Bulldog Stadium. The Spires went 3-8 overall in 2015.