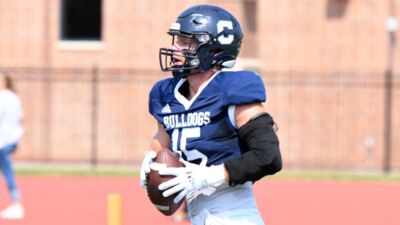 College Football America Release
SEWARD, Neb. – Recognized as an NAIA Honorable Mention All-American at the close of the 2021 season, Concordia University star tight end Garrett Schardt has been named to College Football America's 2022 NAIA Preseason Starting Lineup. As the lone tight end in the lineup, the media entity has rated Schardt's as the top player in the NAIA at his position. College Football America produces a yearly college football annual that covers all levels of collegiate football.
This past season, Schardt became the first Bulldog tight end to be honored as an All-American since Nebraska Football Hall of Famer Ross Wurdeman in 2001. A two-time First Team All-GPAC selection, Schardt started all 10 games in 2021 and produced 32 receptions for 504 yards (most on the team) and five touchdowns. He caught at least one pass in all but one game on his way to posting career highs across the board. Over four seasons, Schardt has accumulated career totals of 72 receptions for 1,188 yards and nine touchdowns. Schardt is a native of Davenport, Neb., and a Bruning-Davenport-Shickley High School alum. He earned his degree in Agricultural Science from Concordia.
Said Head Coach Patrick Daberkow of Schardt, "Garrett's a load to tackle and he has the speed of a wideout. It makes it really difficult when he has the ball in his hands."
College Football America also unveiled its NAIA preseason top 30 teams. Three GPAC squads were included: No. 1 Morningside, No. 4 Northwestern and No. 24 Dordt.

2022 College Football America NAIA Starting Lineup

Offense
Pos., Name, School, Class
QB Joe Dolincheck, Morningside, Sr.
RB Marques Burgess, Keiser, Sr.
RB Ali Scott, Grand View, Jr.
WR Cade Moser, Northwestern (IA), Sr.
WR Jaquan Ebron, Bluefield, Sr.
TE Garrett Schardt, Concordia (NE), Sr.
OL Moses Hicks, Midland, Jr.
OL Andrew Carter, Carroll (MT), Jr.
OL Keegan Martin, Bethel (KS), Sr.
OL Alex Huisman, Dordt, Sr.
OL John Cano, Reinhardt, Sr.

Defense
Pos., Name, School, Class
DL Devin Adams, Peru St. Jr.
DL Jaleel Halloway, St. Xavier, Sr.
DL Cole Parker, Kansas Wesleyan, Sr.
DL Ty Barbazon, Doane, Sr.
LB Parker Fryar, Northwestern (IA), Jr.
LB Dylan Wampler, Montana St.-Northern, Sr.
LB Kole Murlin, Siena Heights, Sr.
DB Justin Johnson, Indiana Wesleyan, Sr.
DB Sage Chen-Young, Keiser, Sr.
DB Sidney Porter, St. Thomas (FL), Jr.
DB Noah Van't Hof, Northwestern (IA), Sr.​​​​​​​

Special Teams
Pos., Name, School, Class
P Casey Rauch, Concordia-Ann Arbor, Jr.
PK Nathan Hamilton, Grand View, Sr.
KR Kel Hawkins, Campbellsville, Jr.
PR Caleb Schweigart, Morningside, Sr.
AP Scott Tumilty, St. Francis (IL), So.