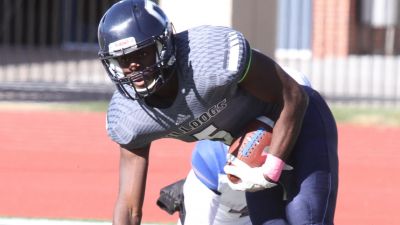 Victory Sports Network All-Americans
SEWARD, Neb. – Tarence Roby has been cleaning up on postseason awards. Another one arrived after New Year's when Victory Sports Network named Roby to its NAIA All-America team. Other entities that have showered Roby with All-America accolades were the American Football Coaches Association and the Associated Press.
Roby 2017 postseason honors
Associated Press First Team All-American
Victory Sports Network First Team All-American
American Football Coaches Association Second Team All-American
Finalist for Cliff Harris Award (given to top small college defensive player)
First Team All-GPAC
Omaha World-Herald All-Nebraska
Other recent Bulldogs to garner All-America recognition were defensive lineman Trey Barnes (2015 and 2016), defensive back Darnell Woods (2013) and kicker Kenny Zoeller (2012). Roby joins other All-American defensive backs such as Woods and Sean Stewart (2002), the program's all-time interception leader and a member of the Concordia Athletic Hall of Fame.
Roby starred as one of the most electrifying talents in the conference. The native of Rockford, Ill., has been named an all-conference choice in each of his four seasons in Seward. The highlight reel play of his senior season was a 100-yard interception for a touchdown in the win over Ottawa that landed him on ESPN's SportsCenter. On the year, Roby posted 31 tackles, seven pass breakups, four interceptions and a forced fumble. He also piled up 1,041 all-purpose yards (718 kick return, 166 punt return, 151 interception return) while serving as one of the nation's top return men. Roby compiled 141 tackles, 27 pass breakups and nine interceptions over his Bulldog career.