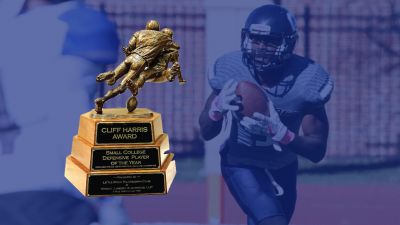 SEWARD, Neb. – For the first time since the Cliff Harris Award originated in 2013, a Concordia University football representative has been named a nominee. Senior defensive back Tarence Roby made the list of nominations that includes elite defensive players from around the nation. The Cliff Harris Award is presented to the top defensive player in the country representing NAIA and NCAA Division II and III institutions.
Also a first team All-GPAC choice and NAIA second team All-America selection by the America Football Coaches Association, Roby is one of 32 NAIA defensive standouts to make the list of nominees. A prestigious selection committee made up of former college and pro football greats will select the winner. In addition to the Cliff Harris Award overall winner, the top vote getter from each division will also be announced.
Finalists for the award will be released on Dec. 20 with the Cliff Harris Award winner to be announced on Dec. 23. The honoree will be recognized at the Little Rock Touchdown Club's annual awards banquet on Jan. 11, 2018. The winner will receive the $3,000 Cliff Harris Award trophy presented by Cliff Harris, along with featured speaker Marcus Allen.