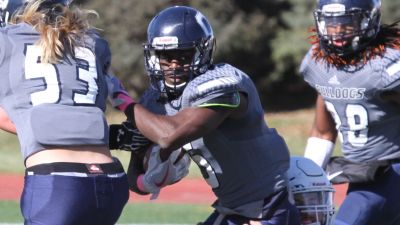 SEWARD, Neb. – A stellar senior season continues for Tarence Roby, one of the top corners and return men in NAIA football. On Monday (Nov. 6), the conference tabbed Roby as the GPAC/Hauff Mid-America Sports Defensive Player of the Week. Roby collected the same honor on Sept. 11. Collectively, the Bulldogs have reeled in five conference player of the week awards in 2017.
A native of Rockford, Ill., Roby picked off a pair of first quarter passes in last week's 35-7 win at Briar Cliff. He returned his first interception 51 yards, setting up a Jared Garcia touchdown four plays later. Roby's second pick thwarted a Charger red zone drive. Roby also made three tackles while helping aid a defense that held Briar Cliff to seven points and 264 total yards.
On the season, Roby has recorded 27 tackles, six pass breakups, four interceptions and a forced fumble. On the national leaderboards, Roby ranks fifth in kickoff return yards per attempt (30.4) and sixth in punt return yards per attempt (11.7).
Roby and the 25th-ranked Bulldogs (6-3, 5-2 GPAC) will host No. 3 Morningside (10-0, 7-0 GPAC) at 1 p.m. CT on Saturday in the regular-season finale for both teams. Concordia owns a four-game win streak.
GPAC players of the week in 2017
Nov. 6 – Tarence Roby
Oct. 30 – Lane Napier
Oct. 16 – Ryan Durdon / *D'Mauria Martin
Sept. 11 – Tarence Roby
*National Defensive Player of the Week