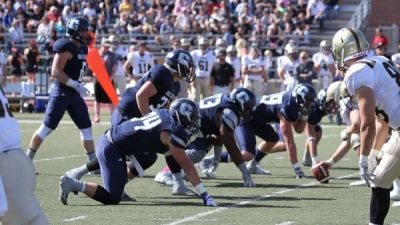 Roby kickoff return touchdown leads to GPAC weekly recognition
SEWARD, Neb. – On the strength of a 90-yard kickoff return for a touchdown in last week's 27-21 loss to No. 12 Northwestern, freshman Tarence Roby has been named the GPAC/Hauff Mid-America Sports Special Teams Player of the Week. The Monday announcement marks the second time Roby has earned a GPAC weekly award. He was also tabbed the conference's defensive player of the week on Sept. 22.
Roby's kickoff return for a touchdown answered a scoring drive by the Red Raiders on the game's opening possession. The native of Rockford, Ill., hauled the kickoff in at the 10-yard line and ran straight up the middle. As he approached midfield, Roby feinted to his left and then burst to the right, leaving the Northwestern kicker tripping over his own feet.
"I saw it was a short kick so I had to get to it as quick as possible," Roby said after the game. "I set up the blocks and ran straight first and I saw the hole open up, so I ran through it. I saw they were moving towards their sideline so I cut back to our sideline. There was just open field."
On the day, Roby totaled 112 kickoff return yards on two attempts. He also made four tackles from his cornerback spot.
The former Northern Illinois Huskie has scored twice this season on returns. Roby's first touchdown came on Sept. 20 when he scooped up a fumble and took it 45 yards to the end zone as part of a 35-28 home win over Midland.
Roby and the Bulldogs (3-4, 2-3 GPAC) return to action on Saturday to play rival Doane (3-3, 3-2 GPAC) in Crete at 1 p.m.