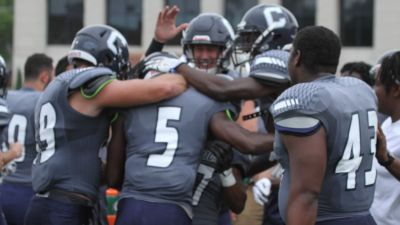 SEWARD, Neb. – Tough, physical defense and the star power of senior Tarence Roby were on display Saturday afternoon as the Concordia University football team made its 2017 home debut. While making his first career start at quarterback, junior Andrew Perea helped the Bulldogs to a 24-6 victory over visiting Ottawa University.
The results defensively have been encouraging for a unit that replaced eight starters from the 2016 team. Saturday's game marked win No. 1 in the head coaching career of Patrick Daberkow. His squad is now 1-1 on the year.
"I was incredibly proud of how they did," Daberkow said of a defense that allowed 299 yards and forced three turnovers. "They were asked to step up to the table a couple of times and they just did a really good job. That opening drive we missed a couple tackles on third down or we probably would have had a goose egg, but I was proud of their performance."
Roby put the game on ice with the play of the day in the fourth quarter. The former Northern Illinois University walk on made a leaping interception of a Connor Byers pass. That's when the fun began. Roby appeared to be contained by a swarm of Braves, but kept the play alive by busting a series of tackles before turning on the jets for a 100-yard touchdown return. Roby's big play equaled a GPAC and NAIA record for longest interception return.
Roby made three tackles from his cornerback spot, but it was what he did in the return game that gave Ottawa fits. Roby piled up 222 all-purpose yards, including 91 on kick returns and 31 on punt returns. His 100-yarder was something to behold.
"When I picked it, I didn't know I was in the end zone," Roby said. "I thought I was on the one so I just ran out and I saw a guy, so I ran back. I figured I had to get out of the end zone as soon as possible. I just made a few moves. I only saw linemen so I figured if I get past them, I'm off to the races."
Roby was far from the lone standout on defense. Linebacker Lane Napier, who also got two carries as a running back, led the way with eight tackles. Nate Gilmore added seven stops in addition to an interception. Elsewhere, Kerry Grigsby stripped and recovered a fumble, Kevin Small delivered the game's most vicious hit and Sebastian Garces blocked a punt deep in Braves territory. It all added up to an impressive effort for coordinator Corby Osten's defense.
Offensively, Concordia has used the first two games to establish an identity as a physical downhill rushing attack spearheaded by a veteran offensive line. The Bulldogs pounded the rock on Saturday, rushing 44 times for 158 yards. Breakthrough back Ryan Durdon rattled off 94 yards and a touchdown on 27 rushes. His 24-yard touchdown run in the first quarter put Concordia in front for good.
What's the reason for the early season success for the converted receiver? "The people up front," Durdon answered. "That's it. Anybody can run for 200 yards when they block like they did last week."
Perea got nearly all the snaps at quarterback and went 13-for-21 for 123 yards. His day included a 26-yard scoring strike to senior Kiyoshi Brey. The native of Winchester, Calif., was the top target on the day. He caught five passes for 80 yards while picking up the slack for Jared Garcia, who sat out for the second straight game due to injury. Arthur Anderson, Lane Castaneda and Seth Fitzke each hauled in two passes. Riley Wiltfong carried two times for 19 yards and freshman Sir-Zavious Broussard (five carries, 18 yards) saw his first collegiate action.
As part of the strong defensive effort, Riley Bilstein, Garces and Kordell Glause each came up with one sack of quarterback Connor Byers. The Ottawa signal caller struggled, going 19-for-38 for 147 yards and two picks. Braves (0-2) running back James Reeder gained 91 rushing yards on 20 attempts. Mauricio Uribe scored Ottawa's lone touchdown on a six-yard pass from Byers.
Conference play opens up next Saturday (Sept. 16) with a trip to Orange City, Iowa, for a clash with Northwestern (2-0). Kickoff is set for 1 p.m. CT. Last season the Bulldogs used a smothering defensive effort to defeat the Red Raiders, 9-7, inside Bulldog Stadium. Northwestern is off to a hot start having defeated Ottawa, 41-16, and 15th-ranked Dickinson State University, 37-3.
"Coach (Matt) McCarty does a great job," Daberkow said. "They're a class program. That is always a tough place to go play, but we'll have them ready by Saturday."