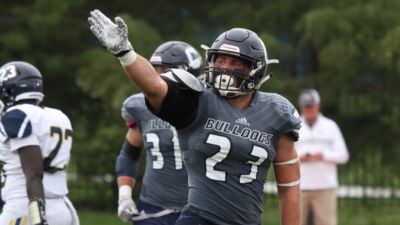 Patrick Daberkow and the rest of the Concordia University football coaching staff would have been hard-pressed to find a negative review during their recruitment of Lane Napier. The guy who wore No. 25 for Nebraska state powerhouse Aquinas High School caught everyone's attention because he was everywhere, on both sides of the field.
Is he a running back? Is he a linebacker? If the Bulldogs were fortunate enough to land the David City native, they would figure that out later.
"It was really what all the high school coaches in the area thought when they talked about Lane Napier," said Daberkow of what drew Concordia to Napier. "He impressed a lot of people when they played against him. Other coaches would talk about how good Lane Napier was. His film backed that up. Getting to know him through the recruiting process we could tell he was a guy we wanted to be part of our program. We were very happy when he committed."
While Daberkow has no doubt that Napier would also be productive carrying the football, he has no plans to move Napier out of his inside linebacker spot. He's just too valuable in that role. He proved it as a freshman when he racked up 97 tackles, including eight for loss. It's rare for a rookie college football player to establish himself as a starter and maintain that status for an entire season. Even rarer it is for a freshman to be recognized as a first team all-conference player. Napier accomplished all of that.
He was far from the typical freshman. Those who saw him play in high school probably weren't particularly surprised by his immediate success. He certainly has the respect of now 29-year Aquinas head coach Ron Mimick. Napier helped the Monarchs win Class C-2 state championships in 2014 and 2015. Mimick told the Lincoln Journal Star in 2016, "He's pretty quiet, but he's our best athlete and a good, solid worker. On that alone, the kids will follow him."
It's become cliché, but Napier really is that hard-nosed, zero-drama type of player that every coach wants to have. He says the right things. He credits those around him for helping him rack up tackles. He says it's what the Concordia defensive linemen do up front that has freed him up to make plays.
His latest performance was one of his best. The GPAC named Napier the conference defensive player of the week after he grinded his way to 21 tackles, 2.5 stops for loss and a sack in the 16-13 win at Jamestown on Sept. 15. He now has 127 career tackles over 12 college games. Essentially, he feeds his hunger by eating up opposing ball carriers. All this from a guy who ran for 113 yards and two touchdowns in Aquinas' 2015 state title game victory.
"I came in (at Concordia) as a running back," Napier said. "I really liked to play on defense in high school and I felt like that was probably my stronger suit, but I was doing what would help the team out the best. After the second day of practice I moved to linebacker. I guess it all fell into place from there."
For the record, Napier actually did carry the ball six times last year as a temporary two-way player. With Ryan Durdon's emergence at running back, Napier could settle in at linebacker and show why he was coveted by so many GPAC schools.
In his recruitment, Napier liked the idea of staying close to his hometown and Concordia was the school he connected with most.
Recalls Napier, "I took visits to all those places (Doane, Morningside and Midland). When I came on Concordia's campus I had that feeling inside me that this could be a special place for me. Family is really important to me, so that helps out, too. I went here three or four times my senior year. I was good friends with Seth Fitzke and got to know a lot of the older guys. That's probably the reason why I came."
Napier even stuck with Concordia through a change at head coach. He made his commitment prior to Vance Winter's resignation. While the head coaching position stood unfilled, Daberkow (formerly the defensive coordinator) continued to reach out to Napier, one of the prizes of Concordia's 2017 recruiting class.
At the rate he's going, Napier has a chance to put his name in the same conversation with some of the program's all-time greats at the linebacker position. During the GPAC era, Micheal Hedlund's 261 tackles are the most in a career by a Bulldog linebacker. Napier has eight games left in his sophomore season and is halfway there.
"He's a special player," Daberkow said. "He could still play running back if we needed him to. He's just got such a knack for the ball. Linebacker is obviously a position that treats him best. We are very happy with his progress at linebacker, and he still has room to improve. There are some aspects of linebacker play that he is very much a work-in-progress on. We don't even think he's reached his ceiling yet."
Napier is humble enough to agree that he's not a finished product or a perfect player. Those are aspects of his personality that allowed him to earn the respect of everyone in the program from very early on. Said Napier, "Coming in I was not expecting to have the season that I had. I came in and I was laid back. I wouldn't say I was the most aggressive person right away. I was just seeing how things went and how things played out. Once one of our linebackers got injured some older guys were telling me, 'This is your spot. Step up and play it.' I did that and it all just worked out."
You might not know if you saw him walking down the street. Lane Napier stands 6-feet tall, on a good day. But he's a football player. The kind that fits perfectly with what Concordia football is all about.
Said Daberkow, "He's a pretty quiet kid, pretty low key. He's just a shut up and work kind of player."