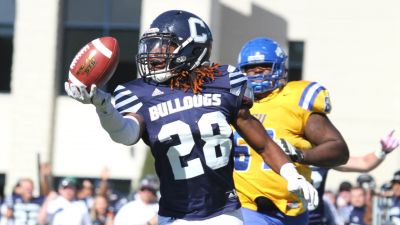 What went into your decision to come to Concordia?
I got here and it was a little bit of a culture shock. I didn't really know where Nebraska was coming from Texas. I got here and got around the people. They're really generous and nice. They care about you. That's one thing that made me commit here. It's close-knit. It's truly like a family away from home.
What were the toughest adjustments for you at college?
Being by myself. I had to depend on myself. I didn't have any family around. And the weather. The weather was one of the toughest things, especially the winters. When it got into the negatives, I didn't know what to do.
What do you tell incoming players from warm weather areas about how to deal with it?
I tell them first of all to get a jacket and some boots. That's the first thing I tell them. Make sure you've got that. Plan to be here for four years.
What was your reaction like when you found out that Patrick Daberkow was promoted to head coach?
I enjoyed it. When Coach (Vance) Winter stepped down, I heard his name was in the running. I wanted him to be our head coach immediately right after that. He's passionate about what he does and what the Bulldogs mean to him. I used to wear other colleges' stuff and he used to get on me so much about it. He just strives for the Bulldogs to be successful. That's one thing I appreciate about him. His demeanor never changes. He could be made at me or happy. He always teaches life lessons when he talks. That's one thing I appreciate.
What are some of the biggest changes that have occurred since Coach Daberkow became head coach?
Accountability. He talks about it all the time. That's one thing he has stressed. He has made people run for it. Just be accountable and honest. Our discipline has changed a lot.
You've played on some pretty good defenses the last few years. What do you think has made this program so successful on that side of the ball?
It's how close we are. We all come together. It's going to be hard to stop us if we're all on the same page communication-wise. It's just us having fun. That's what we love doing on the defensive side. You can tell on Saturdays.
You've played opposite Tarence Roby at the cornerback spots. Is there a friendly rivalry between the two of you? What's that relationship like?
Me and Robe don't really have any rivalries. But if he catches a pick, I want to catch a pick. That's a competition between us, but we just strive for the defense to do well. It doesn't matter if he makes a play or I make a play. We all just come together and play. We don't really care about stats, but we both want to be, at the end of the season, first team.
Everyone talks about how big high school football in Texas is. What can you say about the experience you had in high school?
It was an experience that I'll probably never feel again, playing in front of so many people and the atmosphere of it. The atmosphere of high school in Texas is just spotlights. I played on TV plenty of times. It's electric in the air all the time. I like having the spotlight on myself, especially on the field. In high school I enjoyed that.
Some people are going to look at the losses on the defensive side of the ball when you lose guys like Trey Barnes, Michael Hedlund, Le'Dontrae Gooden and Cory Evans. Some good players have moved on, but how impressed are you with some of the guys that have a chance to fill those roles?
I've been very impressed with a lot of our younger guys. Coach O (Corby Osten) told me we only had three remaining starters from last year. I didn't know that. I was like, 'Wow.' This offseason I've been pushing the younger guys like, 'It might be your time. If you want it you have to go get it.' A lot of people have stepped up. A lot of them are here in the summer working out with us because they know it's nitty-gritty time. It's almost season time. We're not going to take a step down from where we've been. We're going to keep striving forward.
What do you want the 2017 team to look like and to be remembered for?
How fast we play and how fun it is to watch us. We're going to fly around and we're going to have fun. We might make mistakes here or there, but we're going to have fun doing it. We're going to stop people. I want us to be remembered as one of the top defenses ever to play at this school. That's what I want us to be. I just want us to have fun.
Quick hitters …
Most memorable game at Concordia?
We lost the game, but it was my sophomore year when we played Doane here in overtime. That was probably one of the most fun games I've played. The atmosphere was electric. It was a pretty big game.
Favorite professional sports team?
For NBA it's the Spurs. For NFL it's the Ravens and the Cowboys.
Famous athlete or celebrity you'd like to meet?
LeBron James.
Favorite thing about living in Nebraska?
The freedom I have. It's open. I don't really have anybody bothering me or anything like that.
What do you miss most about Texas?
The food. Authentic Mexican food. I miss that every morning. Breakfast tacos – I miss that.
Funniest teammate?
That's pretty tough. There are a lot of goofy ones on the team. I'd have to say Deion Staley or Vincent Beasley.
Favorite home cooked meal?
Mine would be fried pork chops with some collard greens and mac and cheese with peach cobbler on the side.
Best pure athlete on the team?
That's a tough question. I'm going to say myself, but in honesty it would probably be (Tarence) Roby.
Favorite cartoon character?
SpongeBob.
Best advice you've received?
Stay positive. Keep pushing forward. I've heard it up here and I heard it in high school.
Biggest pet peeve?
Not matching what you dress. I don't know why but it's just something that gets to me sometimes.
Do you have to play fashion police with your teammates?
I do that all the time. If you look funny, I'm going to tell you.
If you could only be on one social medium, which would you choose?
I don't really do a lot of it, but it would probably be Snapchat.
If you had to give away all of your electronic devices but you could only keep one, what would you keep?
PS4. I have to keep that. I don't care about my phone. I need my PS4. I play it all the time.