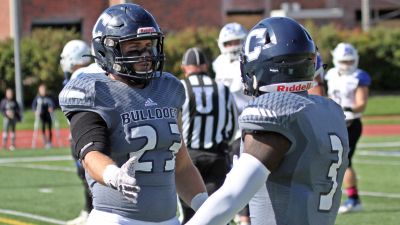 Tackling machine Lane Napier has one more season left to terrorize opposing GPAC squads. He's already racked up a program GPAC-era best 347 tackles and has been named a first team all-conference linebacker three times. The David City, Neb., native and Aquinas High School product fielded our questions in an interview that took place on Thursday (May 7).
Q&A with Lane Napier
Since classes moved online after spring break, what are some things you miss the most about the normal college experience?
One of the big things is just missing the guys. I saw Gerald Morris tweeted something about not knowing you're going to miss 5 a.m. running or morning workouts. That really hit me because you do miss them. You miss being with the team. Sometimes I think we take it for granted and you don't look at what it's doing for us. You just look at it based on the negative of getting up early. I definitely miss that.
You're not still getting up at 5 a.m. then?
Oh no, no, no. I tried, but it didn't work.
Normally you would have had spring football going on in April. What is the biggest thing you felt like you missed out on from a football perspective?
We missed out on an extra spring of learning more and trying to get better as players. It was going to be a big spring for me trying to get my shoulder all rehabbed and back to where it should be. I honestly think it's about experience for some of these younger guys. That's what spring ball's all about – getting them more reps and more used to everything.
The second semester is important for making gains in the weight room. Where did you sense this team was from an overall weight training perspective when everything happened and most people went home?
I thought our work in the weight room had been the best that I've probably ever seen it. We had kids that were just crushing their personal bests and putting up crazy numbers. That was always good to see. Once everyone had to go back home all you see is guys working out on Snapchat and sending videos in group chats. We've taken that with pride.
Is that the way you're usually keeping up with teammates – through social media, text messages and that type of stuff?
Yeah, besides living in Seward that's about the only way that I've been able (to keep up). I've talked to some of them on the phone and FaceTime'ed and all that stuff.
Without the access that you normally have to the weight room and facilities at Concordia, what is your situation like for working out?
You have to be creative, I guess. I've been doing a lot of at-home stuff. I'll go on a run – I don't really like to go on long runs. It's been helping me out. You have to be creative at home with stuff that you have. You have to be open to anything.
What are you doing to occupy your time, like learning new skills or playing video games?
Besides school I've been doing a lot of fishing. It's been a nice semester for me to be able to grab my kayak or boat and fish. I've loved it. I just go around Seward to some of the smaller lakes.
You had three senior starting linebackers alongside you last year. What can you say about some of the younger up-and-coming guys that might have a chance to take some of those spots?
They're going to be just as good. I've seen those guys play JV and they play hard, fast and physical. It might take them a little bit to get used to the faster pace of the game, but I think they'll be able to come right in and help us out.
How does it change anything for you having younger players around you at your position group?
I don't think it changes much. I was looked on at as the same as everyone else on the field, even when I was younger. I was looked at to be a leader. I don't think it's really changed anything. Now the younger kids will look up (to me). I just have to keep trying to lead the team.
What is something you haven't accomplished your first three years that you want to accomplish in 2020? Be GPAC Defensive Player of the Year? More team success?
It's been a goal my whole time here to try to win the GPAC or even try to make the playoffs. That would be a really big step for the culture of the team with other kids coming in and seeing that. We've had a couple hard seasons the last two years. We were close on a lot of things, but just weren't close enough. I think everyone realizes that and that's why you see all the work we're putting in this offseason even without being able to use the weight room.
Do you provide any kind of input towards your brother Kyle (Aquinas High School) on what he should look for in a college?
Everyone says it and you kind of think that ain't right but it's just got to feel like home.
What's something you're most looking forward to about this summer?
Hopefully sometime the weight room will open back up. I can tell you when that happens it's probably going to go crazy in there. That's one thing I'm really excited for.
Describe what this team's mindset is like heading into 2020. You mentioned how the last two seasons have included a lot of close losses and now you're trying to get over that hump.
I think our mindset right now is that we have to finish and finish strong. If we want to quit having those feelings of, 'oh man we were close, but we didn't get it done,' we have to work three-four times harder. We have to always keep pushing each other. I think that's where we're at. We know what we've got for players. As a team we need to execute and physically beat up the other teams.